I took liberties in calling this "pesto" but I figured any sauce that contains a whole lot of basil could count. This is great for weeknights since it comes together really easily. I used a pressure cooker for my rice/barley to make preparation a bit simpler. Leftovers taste great too!
Barley & Brown Rice Pesto Salad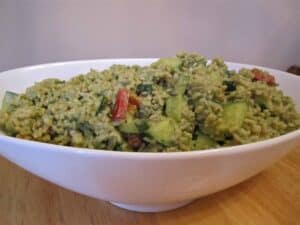 Cook barley and brown rice using stove-top or pressure cooker methods. Drain both grains after cooking and rinse with cold water. This helps the rice and barley from congealing together when cooled.
Combine the pesto ingredients (except oil) in a food processor or blender. Pulse together until ingredients are finely minced or pureed together. Slowly drizzle in oil or broth until pesto sauce forms.
Dice the cucumber and bell pepper. In a large bowl combine the diced vegetables, barley and brown rice. Add the pesto and toss to coat! Taste best at room temperature.
Serves 6: Calories: 214., 8.5g fat., 5g protein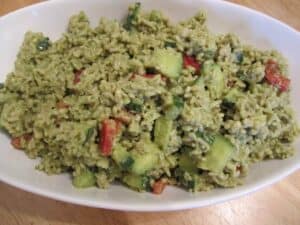 Enjoy!