I was cleaning out my pantry the other day and realized that the bottle of olive oil I recently bought was almost gone.
Really?
Guess that's my cue to cut back.
Sure, olive oil is healthier than margarine/butter. There's lots of research that shows benefit in adding poly and mono unsaturated fats in place of saturated fats.  But that doesn't give free reign over that or any other oil to be used as liberal as I seem to have been using it the past month. Salad dressing here, dipping sauce there, it's easy to start drizzling olive oil on fresh summer vegetables and get carried away. I know better, this is not exactly a health food.
So, I got to thinking… I need to create more oil free dishes that don't lack flavor or mouthfeel. I used this roasted garlic trick for my cream of mushroom soup last year and completely forgot about the method. I have no idea why! It's the perfect sub for cream and oil. It adds a savory complexion to the sauce and is a perfect balance to the 1/4 cup of cashews. It's also light enough that it doesn't compete with summer's best flavors, basil and tomato.
What oil free dishes would you like to see next?
In blog news, I finally broke down and bought a big-girl camera and could not be more excited! I have never been happy with my photographs and hope that a better camera and more photo lessons will help bring my dishes to life.
Onto the food…
Creamy Orecchiette Pasta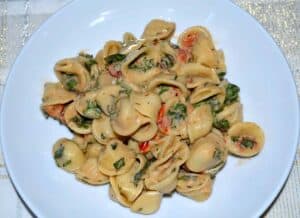 Ingredients:
1 lb. Orecchiette pasta
4 heads garlic
1/4 cup cashews
1 cup packed basil leaves
2 cups cherry tomatoes
1 cup vegetables broth, divided
1 cup white wine or vegetable broth
2 tsp. dired rosemary, divided
2 tsp. crushed red pepper, divided
1 tsp. dried oregano
1/2 tsp. dried thyme
generous pinch salt/pepper
Directions:
Slice the top 1/2″ off the garlic heads. Place into a pyrex dish with the garlic heads facing up. Add 1 cup white wine (or vegetable broth if using) and 1 tsp. rosemary, 1 tsp. red pepper. Cover with aluminum foil. Place into a preheated 375 degree oven for 75 minutes.
When the garlic is done, remove from the oven and let cool to the touch. Pop the softened garlic cloves out of it's shell and place aside.
Place halved cherry tomatoes into an oven safe dish. Cover with 1/2 cup vegetable broth and remaining crushed red pepper and rosemary. During the last 40 minutes of roasting the garlic, place the tomatoes into the oven.
When the garlic and tomatoes are almost finished cooking, bring a large pot of salted water to a boil. Add the orecchiette and cook until al dente. Drain reserving 1/2 cup pasta water.
Finely chop the basil.
Place the reserved roasted garlic cloves, cashews, salt/pepper and 1/2 cup vegetable broth into a blender or food processor. Puree for 3-5 minutes until silky smooth.
Combine the cooked pasta, baked tomatoes (and reserved juice), garlic-cashew cream, basil, and pinch salt/pepper. Toss to combine. If the sauce is too thick, add a bit of reserved pasta water.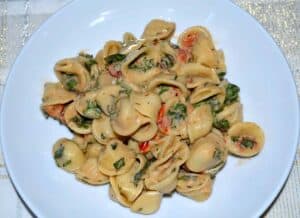 Enjoy!