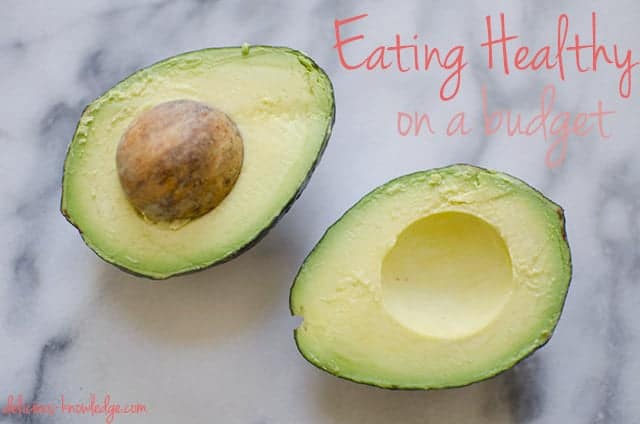 When I talk to clients about the barriers of eating healthy, I typically get the same response: convenience and money. Somewhere along the way, the myth that eating healthy had to be expensive caught on like wildfire- and it's been difficult to shake ever since.
Let's talk honest for a moment. Eating healthy can be expensive but it doesn't have to be that way. Really. If you want to shop exclusively at Whole Foods and buy most of your produce organic, that's perfectly fine. That may even be preferable to some but it's not the only way it has to be.
If you are looking to transform your life through diet, please trust that you don't have to mortgage your house in order to do so. In fact, you might even save money along the way.  Eating healthy on a budget starts with a foundation of mostly inexpensive staples (like whole grains  & legumes), a modest amount of vegetables and fruit, sprinkled with healthy fats and proteins along the way. The average american diet is the opposite: heavy on the expensive protein (like meat & dairy) & heavy on the processed foods (a false bargain).



Foundation foods are items that make up a large percentage of your diet. While portion sizes will be different for everyone, the quality and types of foods are the same. Inexpensive powerhouses like beans & whole grains make this list. If I could convince everyone to eat more beans, I think we would have a happier world.
Personally, I eat a lot of beans. Like alot. They are a rich source of protein, complex carbohydrates, fiber & iron. All nutrients that my body needs, wrapped up in a little bean package. They also happen to be cheap. Dirt cheap. $1 a pound cheap. Show me any other source of healthy protein than can be bought for $1 a pound.
Of course, that number references dried beans, not canned beans. While canned beans are fine (just rinse after opening), dried beans are a budget-conscious foodies dream. For easier prep, consider a pressure cooker. I know, another appliance for your kitchen but to save time preparing whole grains and beans, a pressure cooker really cannot be beat. An initial investment at first, if you start buying dried beans and bulk grains, it will quickly pay for itself. I use ours a few times a week when I want need beans but don't want to spend hours of soaking and draining. Garbanzo beans ready in 10 minutes? Let's get cooking! (and then let's make hummus).  For pressure cookers, I recommend this traditional one and this programmable one.
Besides beans, whole grains are another inexpensive staple. The list is endless: buckwheat, millet, oats, brown rice, couscous, quinoa, teff, spelt, kamut, farro, pasta… whatever strikes your fancy. I usually buy my whole grains in bulk and store them in canning jars until I'm ready to use. This method allows me to buy only what I need and save on expensive packaging and branding. (If you do end up going with a pressure cooker, you can use it to make whole grains in a snap! The perfect one-two punch: saving money & time)

Vegetables and fruits are the other cornerstone of a healthy diet. I will preface this by saying that both fruits and vegetables can be very expensive, but again- they don't have to be. I will also argue that you should be spending a larger portion of your grocery budget here. Not only are you going to get the biggest bang for your nutrient buck (literally), enjoying lots of fruits and vegetables will ideally save you money in the long run (in the form of health care).
1.Consider frozen:
Yes, frozen. I use frozen vegetables all the time and really, there isn't any nutrient difference. That's because frozen fruits and vegetables are packed at the peak of ripeness, ensuring that they contain their respective vitamins, minerals and antioxidants. Those items also stay there until you are ready to cook them, unlike fresh produce which decreases in nutrient availability the longer they sit on grocery store shelves.
My favorites: spinach, kale (for morning smoothies), berries, peas, green beans, and organic corn.
2. Buy in season:
This may be obvious but it bears mentioning. Purchase in season to save money and win on taste! Strawberries on sale in May will always taste better than full-price ones in November. Always.
3. Canning:
For my overachieving friends, try canning! There are a slew of excellent cookbooks out there (start here & here) that show you how to preserve excess in-season produce. It's a great way to save all year. I try to can pasta sauce, salsa, peppers and cobbler/pie filling when I can.
So, we've got the majority of our plate filled: whole grains, beans, and vegetables. Now let's accessorize! With more protein and healthy fats.
Thankfully, as a plant eaters, protein isn't very expensive. If I wasn't worried about a micronutrient deficiency, I could live on tofu. For $1.50 a package, I'm totally ok with that. Tempeh is another favorite option and our Trader Joe's sells 8oz. packages for $1.99- plenty for BL and I with possible leftovers depending on the meal. Meat-substitutes are delicious, but tend to be a little pricey. Buy them in bulk or stock up when they are on sale.
Personally, I splurge on quality oils and nuts/seeds. I notice a huge difference in taste when I use quality olive oil over the cheaper stuff. Since I don't use that much in my cooking, a $15 bottle will last me a few months. Just like grains, I buy my nuts and seeds in bulk, place them in glass jars and then stick them in the fridge or freezer.
For a fun project- take a look at your last grocery receipt. See where you spent the most money and (using these tips) where you can change things up! If you're looking for healthy, inexpensive recipes- check out the recipe page with over 400 options.
As always, I would love to know your thoughts and comments! Please share your own tips as well!