When life hands you tomatoes, you make tomato sauce. And pizza. And tomato sandwiches. And tomato-basil risotto.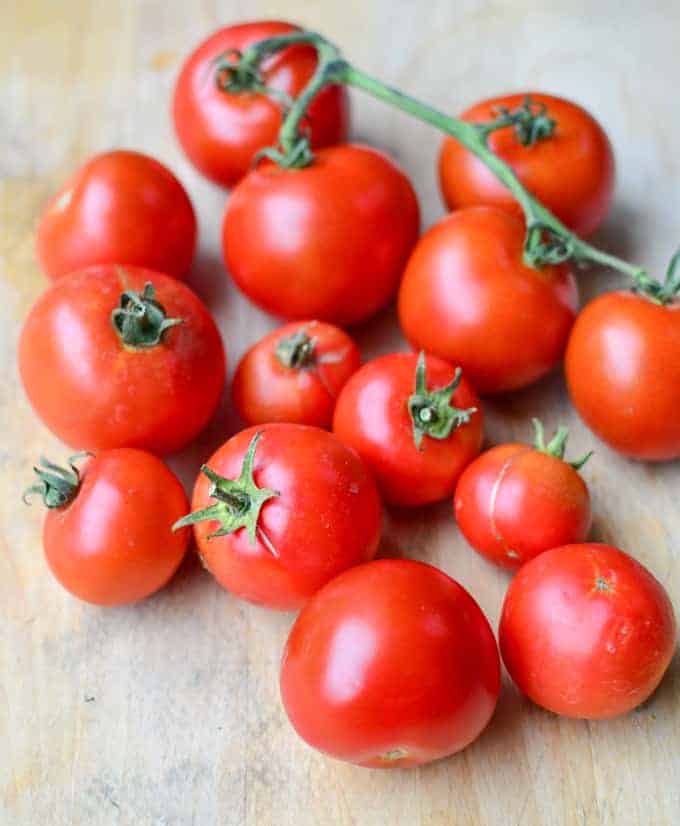 Some people like flowers. I prefer tomatoes. Thankfully, my best friends have large tomato plants and I get gifted with extra tomatoes often. Since fresh tomato sauce is the gift that keeps on giving, we'll start there. So simple, this fresh tomato basil sauce is originally my mom's recipe that I've tweaked over the years.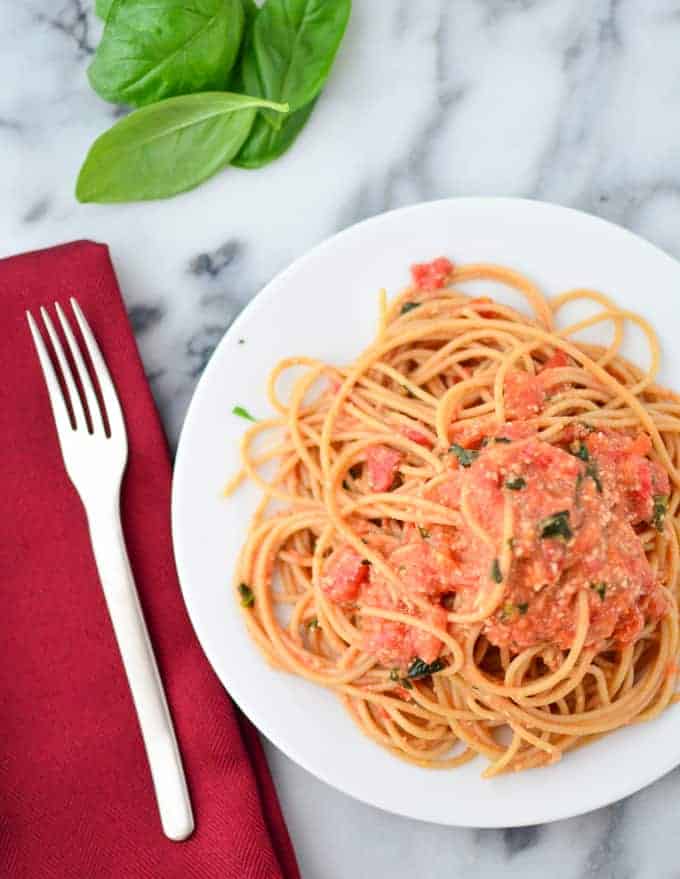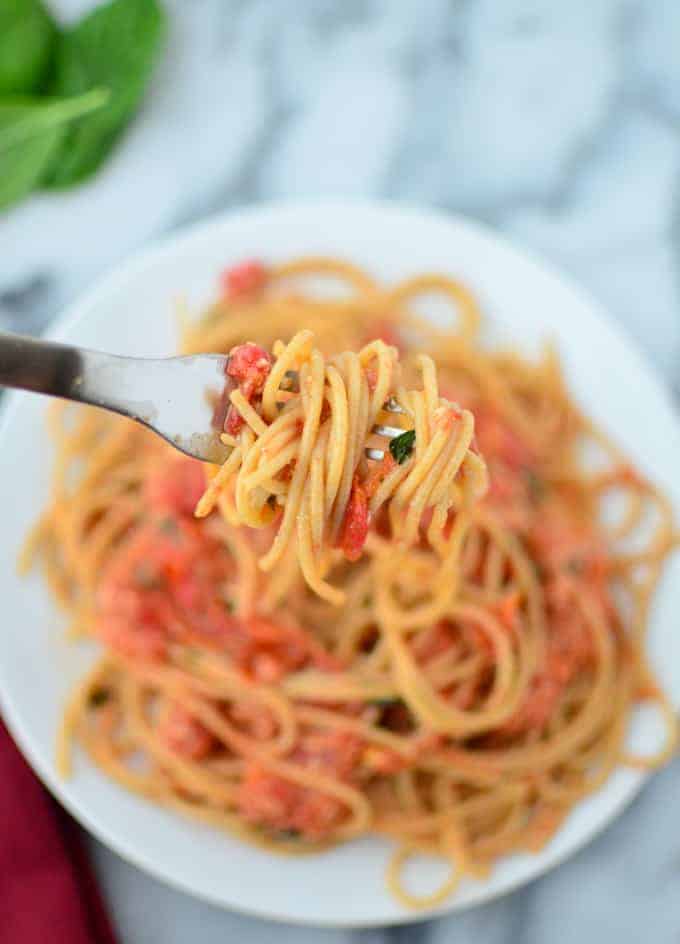 Perfect Pomodoro Sauce with Pasta
Ingredients
¼ cup good quality olive oil
4 cups chopped tomatoes
½ cup fresh basil, roughly chopped
4-5 cloves garlic, thinly sliced or minced
2 tsp. sugar
1 tbsp. Earth Balance Butter (or other non-hydrogenated margarine)
Salt
1 lb. pasta (I prefer linguini or angel hair for this sauce)
Instructions
In a sauce pan, heat the oil over medium heat.
Add the garlic and the salt, cook for 1 minute, stirring frequently until fragrant but not burned. If you burn the garlic- remove it or else it will ruin the sauce.
Add the tomatoes and sugar and cook for 10-15 minutes until reduced and thick.
In the meantime, prepare your pasta; bring a large pot of salted water to a boil. Add the pasta and cook according to package directions. Drain, reserving ½ cup of pasta water.
Check on your sauce, if you like it chunky then leave it as is. I prefer a smoother sauce: using a immersion blender and pulse the sauce a few times to make a tomato sauce with a few chunks of tomatoes. Alternatively, you can puree a cup of sauce in a blender and add back to the tomatoes.
Add the torn basil and butter to the sauce. Toss with the hot pasta and ½ cup pasta water.
I tossed this with a bit of Veggie Parmesan Cheese: Place ¾ cup cashews, ¼ cup nutritional yeast, ¾ tsp. salt, ¼ tsp. garlic powder in a food processor and blend until fine and powdery.
Nutrition Information
Calories:
371
Fat:
13
Saturated fat:
2
Carbohydrates:
58
Fiber:
8
Protein:
12
Once you make this sauce, enjoy it on just about everything. I like to double the recipe and make a pot of this tomato basil risotto. It couldn't be simpler, just saute arborio rice in a tbsp. of olive oil like you normally would and alternate vegetable broth and tomato sauce to thicken the risotto with. Serve with freshly torn basil.