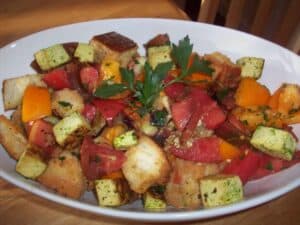 You have to try this recipe! It's the perfect summer meal; you could serve it by itself or with a nice green salad or ear of corn. It's so simple to make, but beautiful enough to make for a party. In fact, I'm taking it to a bridal shower today. Enjoy!
Grilled Panzanella Salad
Ingredients:
3 large tomatoes, cut into cubes
1  eggplant, thick sliced
1/2 loaf good-quality bread (day old is better), cubed
1 recipe baked tofu croutons (below)
1 recipe dressing (below)
The key to this recipe is to try to make all of the cubes (bread, tomatoes, eggplant, and tofu) similar in size.
To start, I tossed to eggplant slices with sea salt and let drain overnight. I then rinsed the slices and patted them dry before grilling. You don't have to do this, but it makes the eggplant less soggy. I used the grill for this recipe, but you can use a grill pan, panini press, or oven.
Season both sides of your eggplant with a little salt and pepper. Lightly brush the slices of bread with olive oil. Heat your grill to medium-high and place the slices of bread and eggplant on. The eggplant will take longer than the bread, about 8-10 minutes per side until soft. Cube the bread and eggplant and place in a bowl with cubed tomatoes. Add the baked tofu croutons and toss with the dressing.
Baked Tofu Croutons
1 lb. tofu, cubed
1/4 cup orange juice
1 tbsp. olive oil
1/8 cup lemon juice
1 large handful parsley, chopped
Start with drained tofu. Puree together the orange juice, lemon juice, olive oil, parsley, and salt/pepper. Toss with tofu and marinate for  5-6 hours or overnight. Bake at 400 degrees for 15 minutes, rotating every 5 minutes.
Dressing
2 tbsp. olive oil
1/2 lemon, juiced
1/8 cup parsley, chopped
1/8 cup basil, chopped
Mix all ingredients together in a food processor or bowl. Drizzle over salad and toss. Season with salt and pepper.