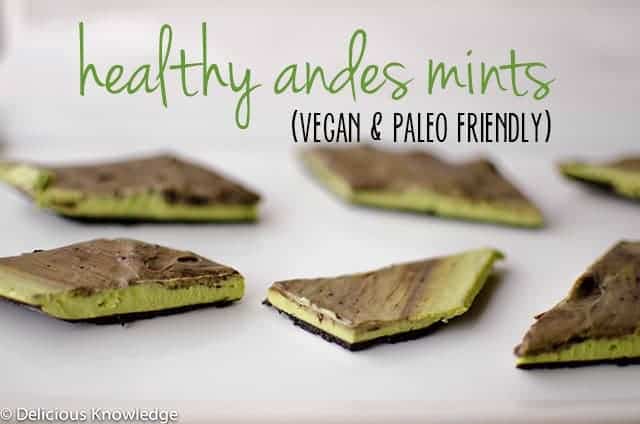 I spent most of last week in bed. While it was fabulous to catch up on Netflix favorites (30 Rock, The Killing & Lie to Me) this year's flu totally rocked me.
Since I didn't have much of an appetite, I craved only two things: sweets & soup. As much as I wanted sugar, I also knew that probably wasn't the best choice for someone home with the flu. Enter these healthy andes mints. Crispy dark chocolate with a creamy mint layer. Easy enough for someone under the weather to whip up, and perfect with a cup of tea (Tazo Wild Sweet Orange Tea
 The. Best.)
In addition to having to call off clients & work, the other downside to being sick was not being able to continue my training. Fresh off the energy from the new year, I was so excited to begin a new bootcamp class and take advantage of the warm weather with runs outside. Instead, the only cardio I got was getting out of bed and downstairs to the kitchen.
I am planning on easing into workouts this week, focusing on recovery and getting back in the game. In addition to the 1/2 marathon that BL and I signed up for in March, we just entered a duathlon in April. (I run, I bike but I sink like a dead fish.)  I'm excited for another event to keep us motivated.
We both decided that we wanted a goal to work towards before the wedding. I love the idea of training & sweating together as I think it's important for us to focus on something that isn't the wedding. Run in march, bike/run in April, and tie the knot in May.
This week's training schedule [8 weeks until the 1/2]:
Monday: Nothing, more tea & rest.
Tuesday: 3 mile run
Wednesday: Bootcamp &  Yoga
Thursday: 3-4 mile run & Yoga
Friday: Bootcamp
Saturday: 6 mile run
Sunday: bike ride & yin yoga
I think this schedule is nice to ease back into distance running and giving me enough breaks with yoga and a light bike ride to end the weekend.
Are you training for anything this Spring?