I am really excited for fall to get to Northern California; boots, pumpkins, and hearty soups are some of my favorite things.  A big bowl of soup and crusty bread are one of my favorite combinations and my go-to on a fall day. Thanks to my sister for coming  up with this recipe, looks delicious!
Lentil Soup with "Sausage"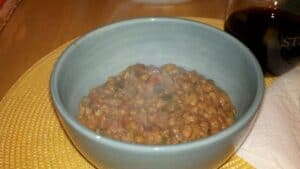 Ingredients:
1 lb vegetarian sausage
1 large onion, chopped
1 stalk celery, chopped
2 large carrots, chopped
1 small zucchini, chopped
6 cups vegetable broth
2 (14 1/2 ounce) cans diced tomatoes, undrained
2 -3 garlic cloves
1 teaspoon salt
2 cups dry lentils, brown
black pepper
red pepper flakes
basil
oregano
parsley
thyme
1. Brown sausage and sweat onion
2. In a large pot combine all ingredients bring to boil.
3. Reduce heat,cover.
4.  Simmer for about 1 hour or until lentils are tender. Add water if necessary, for desired consistency. I like to puree about 1 cup of the soup and add back to pot to give it a thicker consistency.
Nutrition Information, makes about 8 servings: 336 calories, 5.6g fat, 42g carbohydrates, 19.5g fiber, 29g protein