Thanks to one of my sweet clients, I was gifted with a giant bag of fresh cherries last week. Usually I have no trouble eating my body weight in fresh fruit but by Thursday I was getting bored and needed to use up the last bit.
I was thinking of cherry pie, the favorite picnic staple, perfect for all the potato salad we have been having around here.
But… I was bored with pie. I started making my dough and lost any desire for a slice of cherry pie. It just seemed too heavy a dessert, and probably one I would be eating in it's entirety since BL isn't the biggest cherry fan.
You know what's not boring? Mini cherry pies. Cute little handheld desserts perfect for sharing with the neighbors. I get to save 1 (or 3 but whose counting?) pies for myself and gift the rest away. The perfect pay it forward gift from the cherries I had been given.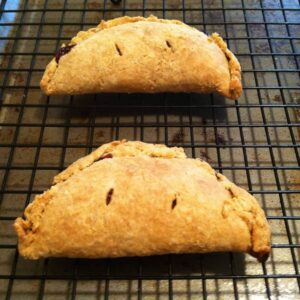 Mini Cherry Pie
Ingredients:
1 1/2 lbs. whole cherries
1/8 tsp. cinnamon
1/8 tsp. nutmeg
1/3 + 1 tbsp. sugar
1/8 tsp. salt
1 1/2 tbsp. cornstarch
Dough:
1 cup all purpose flour
1 cup whole-wheat pastry flour
1 tsp. baking powder
1/2 tsp. salt
6 tbsp. cold Earth Balance baking sticks (or non-hydrogenated vegetable shortening)
1 tbsp. sugar
7 tbsp. cold ice water
In a stand mixer, food processor, or large bowl combine the flours, baking powder, sugar, salt. One tbsp. at a time, add the butter. If using a stand mixer or food processor- pulse until the butter is incorporated in. If using a large bowl, cut the butter in with two knives or a pastry cutter. Keep doing this until all the butter is added and the dough looks like coarse meal.
One tbsp. at a time, slowly add the cold ice water to the dough and pulse or stir until it comes together. You might not need all the water. When finished, turn the dough onto a cutting board/smooth surface and combine to make a ball. Wrap in plastic wrap and place in the fridge for ~1 hour to chill.
Meanwhile, make the cherry mixture. Pit and chop the cherries. Combine all the ingredients for the filling except the cornstarch. Heat over medium-high heat for 5-6 minutes until cherries have reduced and the sugar has dissolved. Place the cornstarch into a small bowl and add 1 tbsp. of the liquid from the heated cherry mixture. Stir together until the cornstarch has dissolved and place into the cherry-sugar mix. Keep stirring over medium heat another 10 minutes until mixture has thickned. Remove from heat and let cool.
Remove the dough from the fridge and divide into 6 balls. Roll each ball out into a circle. (If I was more of a pastry chef I could tell you the size of the circle but I am lazy and didn't measure… ) Place ~2-3 tbsp. of cherry mixture onto the center of the pastry circle and fold over. Crimp or crease the seal to close. Be careful not to add too much filling that the dough doesn't crimp.
Place the pie onto a baking stone and continue to make the rest of the pies. With a sharp knife, make 2 slits in the top of the pie to let steam escape. Bake at 365 for ~20 minutes until crust is browned.
Remove from oven and sprinkle with powdered sugar. Let cool.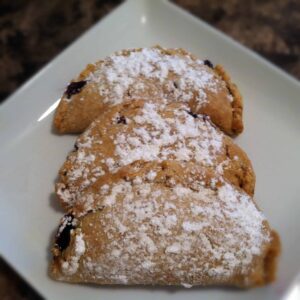 Eat one and give to friends!