Yum! The ultimate holiday indulgence… pumpkin cheesecake. Although this isn't exactly calorie free, this recipe is much healthier than a traditional cheesecake. Most are made with 4 packages of cream cheese! I'm all for a treat or two over the holidays, but I prefer to make better for you items that are just as delicious as the "real thing."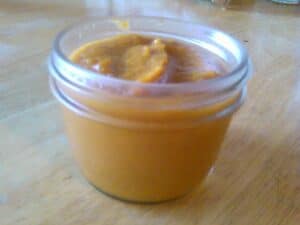 I made Morgans Pumpkin Buttera few weeks ago and was looking for a fun way to use some of it up. You don't have to make the butter to enjoy this recipe, but I highly recommend it. Not only will you get to use it in this cheescake recipe, but you'll also have leftover pumpkin butter to spread on other holiday fare.
Pumpkin Cheesecake with Gingerbread Crust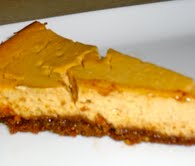 Crust Ingredients:
1 cup gingersnaps, finely crushed
1 cup walnuts, finely crushed
4 tbsp. Earth Balance margarine, melted
In a blender or food processor, finely combine the walnuts and gingersnaps. Empty into a bowl and add the melted maragine. Quickly stir to distribute the margarine amoung the crumbs. Empty the crust batter into a 10″ springform pan and press crust into the bottom. Bake at 350 degrees for 10-12 minutes until set. Remove from oven and combine ingredients for filling.
Filling Ingredients:
1 1/2 cups Morgans Pumpkin Butter *
1 package silken tofu
1 8 oz. container tofutti cream cheese or other cream cheese
1/2 cup sugar or maple syrup
2 tbsp. corn starch or arrowroot powder
Combine all ingredients in a blender or food processor and combine until creamy and smooth. Pour ontop of the crust and bake for 45-50 minutes in a 350 degree oven. Mine came out a bit cracked ontop but you can avoid this by baking in a water bath. Simply cover the seals of the springform pan with aluminum foil (so the water doesn't seep in and make the crust soggy) and place in a larger baking dish filled a few inches deep with water. Bake as directed above.
*No time to make pumpkin butter? No problem. Just combine a cup of pumpkin puree with 1/2 cup sugar, nutmeg, cinnamon and a touch of ginger. Process with the other filling ingredients.
Enjoy!