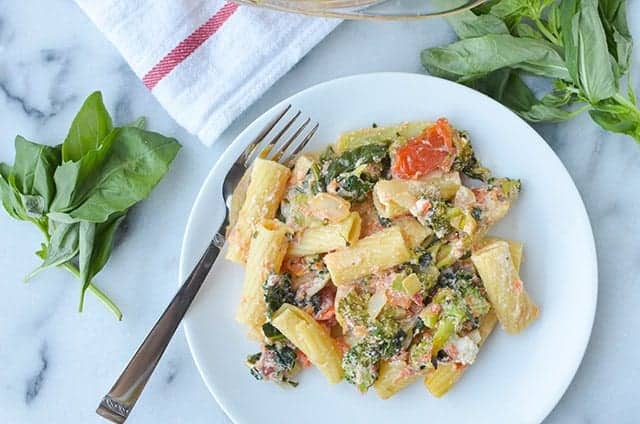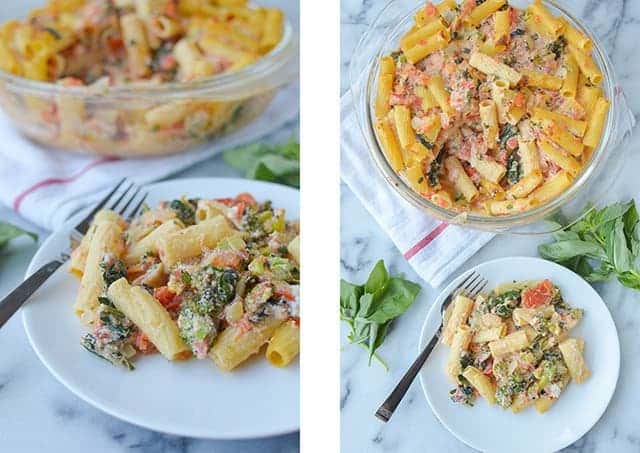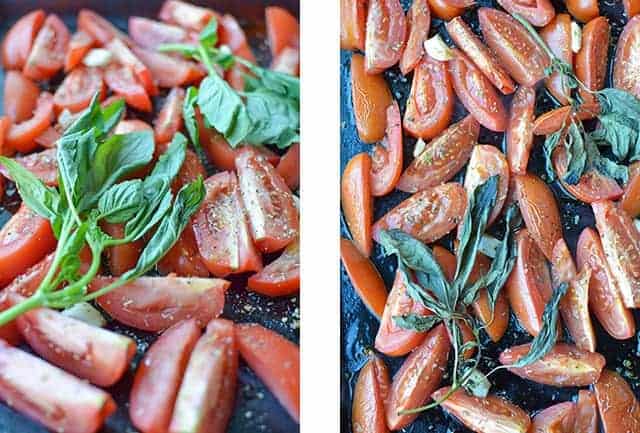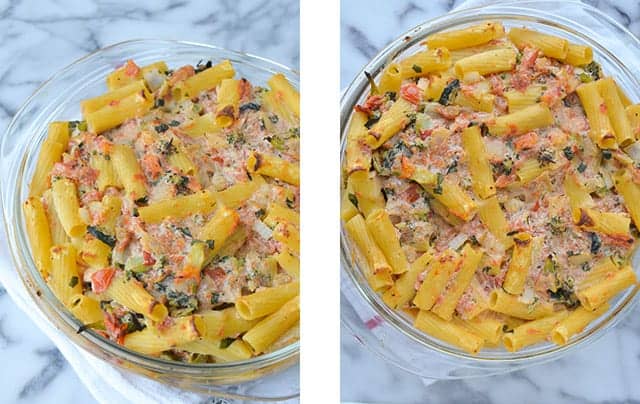 When your last name is Caspero, it's an unspoken assumption that you know your way around a pasta or two. I swear by the time I was 10, I had already been taught the secret to homemade sauce, how to make perfect manicotti shells, and how to whip up a baked ziti casserole in 30 minutes flat.
Because, in my family, that's how you showed love.
New baby in the family? Bring the over some ziti. Family friend ill? Make the ziti. Neighbors moved in down the street? You get the idea.
Even in college, my friends knew that whenever there was a gathering of any sort, I would be bringing a giant pan of baked ziti. So, after hearing this month's theme for Recipe Redux- "share a story of classic cookware – and a healthy recipe to go with it," I knew I would be remaking our beloved baked ziti.
The only issue was the idea of a classic cookware… mainly in the fact that I didn't own any. When I moved out to California eight (eight!?) years ago, I did it with two suitcases filled with whatever appliances I could make fit. Over the years, I've done an excellent job of owning more cookware than someone with my size kitchen should, but none of them have been hand me downs.
When I first started grad school, with my limited budget yet large desire to grow my own kitchen collection, I distinctly remember purchasing two must have items: a good knife and a Pyrex baking dish. My mom uses her pyrex dish for almost everything: brownies, casseroles, and of course- ziti. So while I didn't get her dish, I know that if I was to inherit a classic cookware item, this would have been it. Not only is a glass baking dish one of the most versatile items, it's also the perfect vessel for baked ziti. After all, as a kid in a new state, new town and new school- I had a lot of people to meet and a lot of ziti to prepare.
The original recipe consists of mostly pasta, ricotta cheese, mozzarella, and sauce. Amazing? Of course! Nutrient dense? Not even a little bit.
For this version, I left out the mozzarella cheese entirely and subbed in roasted broccoli and kale. Swapping out calorie- dense cheese for healthy vegetables was a no-brainier. Not only did this lighten the calories significantly, the added texture was a welcome change. Creamy sauce, noodles and perfectly roasted vegetables=Amazing! These days, "put some kale on it" has become my motto. If you're not a fan of cooked kale (<i>like my sweet BL</i>), then leave it out or add extra broccoli.
While jar sauce is fine for a throw-together casserole, for this version I decided to make a fresh roasted sauce using torn basil, roma tomatoes and garlic. Roasted until slightly sweet and caramelized, the fresh tomato sauce totally makes this version.
I don't know why I didn't do this years ago. Maybe it's because this was such an iconic dish that it never dawned on me to change it. Well, I'm glad I did. Not only will I be passing this version on to my kids, I will also be sharing it with all the other Casperos.

Baked Rigatoni with Broccoli and Kale
The perfect crowd-pleasing meal. Baked rigatoni stuffed with fresh tomato sauce, broccoli, kale, and ricotta cheese.
Ingredients
2 lbs plum tomatoes, sliced into quarters
4 cloves garlic, crushed
⅓ cup chopped basil leaves plus 2 sprigs
4 tbsp. olive oil, divided
1 head broccoli, cut into small florets
1 cup kale leaves, torn into bite size pieces
½ cup onion, finely chopped
1 tbsp. Italian seasoning
¼ tsp. crushed red pepper flakes
1 lb. rigatoni noodles
2 cups ricotta cheese (for vegan or dairy-free version, try my tofu ricotta cheese recipe)
½ cup vegetarian Parmesan cheese
Instructions
Preheat the oven to 425 degrees F.
Place tomatoes, crushed garlic and two sprigs of basil onto a baking sheet and drizzle with 2 tsp. olive oil and pinch each salt and pepper.
Place in the oven and bake for 25 minutes until softened and lightly browned.
On a separate baking sheet, combine the kale and broccoli. Drizzle with another 2 tsp. of olive oil and pinch salt and pepper. Place in the oven and roast for 15 minutes.
While the vegetables are cooking, prepare the noodles.
Bring a large pot of salted water to a boil. Add the rigatoni, reduce heat to medium and cook for until al dente (about 10-12 minutes depending on brand). Drain noodles, reserving 2 cups of pasta water. Set aside.
In a large sauce pot, heat 2 tbsp. of olive oil over medium-high heat.
Add the onion, pinch of salt, pepper, Italian seasoning and red pepper flakes.
Cook, stirring occasionally until onion is translucent and golden brown, about 10 minutes.
When the tomato and garlic pan have finished cooking, remove them from oven and roughly chop. Add the tomatoes and garlic to the onion pot and stir.
Add the cooked broccoli, kale and pasta to the tomato sauce pan.
Stir together and add the chopped basil leaves and ricotta cheese.
From here, add the reserved pasta water ¼ cup at a time. You want everything to stick together, but not too runny. I ended up using 1 cup of water but you might need more. Just add ¼ cup at a time, stir and see.
Transfer to a large baking dish and return to the oven.
Top with Parmesan cheese and bake for 15 minutes until lightly browned on top.
Remove from oven and let stand for 10 minutes before serving.