Living in an 100+ year old townhouse has its charms: Quant living space, decorative molding, ornate door fixtures, and I'm pretty sure it's haunted. Not included in this list is the zero storage space, few electric outlets, and lack of central air. Our tiny window air-conditioner doesn't get much use from October to June, but once summer rolls around it's almost impossible not to turn it on. I swear, most nights I feel like I should be renting out our living room to a hot yoga studio or sauna.
I will also freely admit that we go out to eat a lot more often during the warmer months as turning on the oven makes the entire house an inferno well into the wee-hours of the morning.  Therefore, you'll see why I was very excited to see this month's Recipe Redux theme: No Cook Meals. Please, I've been doing just that since June 1st! This is a rotating favorite and I cannot get enough of it. Lighter than most greek salads, you'll want to add this to your favorite summer no-cook salad recipes.
Greek Salad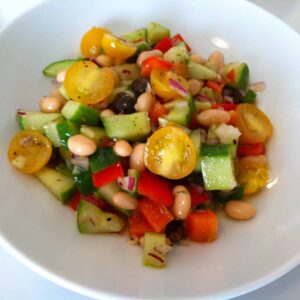 Marinade:
1/4 cup red wine vinegar
Scant 1/2 cup extra-virgin olive oil (use the good stuff)
1 tsp. Dijon mustard
1 tsp. juice from Kalamata olives, below
1 1/2 tsp. dried oregano
1 clove garlic, minced
salt/pepper
Salad Ingredients:
1 can White Northern beans (Cannellini beans), rinsed and drained
1 English cucumber (or other thin-skinned variety), seeded and sliced into chunks
2 bell-peppers (red, yellow, orange, preferably), diced
2 cups cherry tomatoes, halved
1/2 cup Kalamata olives, pitted and rough chopped
1/2 red onion, finely chopped
Tofu-feta or Feta cheese- optional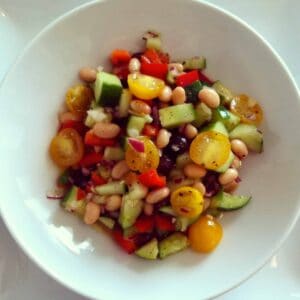 Place the vegetables and feta (if using) into a large bowl. Combine all of the marinade ingredients except for the olive oil. Slowly whisk the olive oil into the marinade ingredients until thick. Pour over the vegetables and let sit for at least 1 hour.
To make this even more "light," pour out the marinade that has shifted to the bottom of the bowl.
What are your go-to no-cook meals?