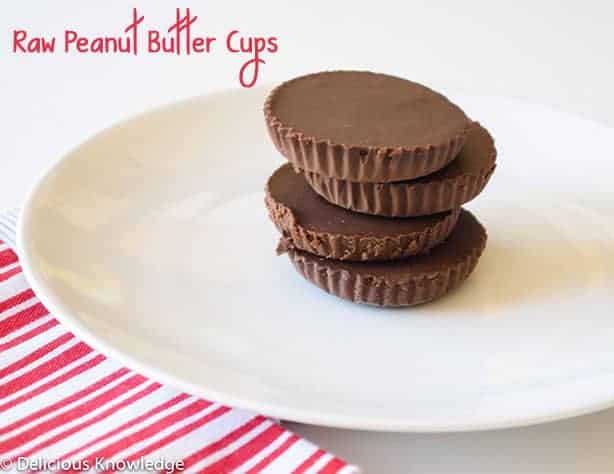 Where did the last month go? I feel like it was only yesterday that I brought you last month's Recipe Redux (Strawberry Cheesecake Parfaits) and now we are back again with "raw desserts".
I don't know what it is about peanut butter cups but they get me every. single. time.
And while Alicia Silverstone's baked version are still one of my favorite desserts, I can make these in under 10 minutes- start to finish. A huge bonus when I'm tired, want something sweet, and don't have the patience or time to heat up the oven.
For me, I enjoy raw desserts most in the summer, when the 100+ degree days in Northern California are the norm and the last thing I want is something hot and sweet. Cool and sweet will do just fine. I relish the weeks when I only turn on the oven a handful of times. Raw food just feels better, lighter, and exactly what I want to be enjoying from May until October.
Here's the thing, just because a dessert is "raw", doesn't mean it's any healthier. It might be, but it doesn't guarantee it. While these are a lot less processed than their more famous version, it's still dessert.
You've been warned, they are addictive. I can't be responsible if you enjoy all twelve in one day ; )

Recipe Redux: Raw Reese's Peanut Butter Cups
Raw Peanut Butter Cups! Vegan peanut butter cups with homemade chocolate.
Author:
Alex Caspero MA, RD
Recipe type:
dessert, snack
Ingredients
4 tbsp. raw peanut butter
½ cup cocoa powder
¼ cup + 3 tbsp. cup coconut oil
½ cup maple syrup
¼ tsp. salt
Instructions
Add the cocoa powder, maple syrup, salt & coconut oil to a blender or food processor. Pulse a few times until well combined.
Line a muffin tin with 12 paper muffin liners.
Pour chocolate mixture each muffin liner, just to coat the bottom.
Place in the freezer until hardened, about 5 minutes.
Add 1 tsp. of peanut butter to each muffin.
Cover with remaining chocolate.
Place in freezer until hard and ready to eat.
Also submitted to Healthy Vegan Fridays