This meal is all about letting the flavors of the roasted vegetable and fresh lemon juice shine. I know I say it all the time but roast, roast, roast your vegetables for maximum flavor!  Using fresh vegetables in a pasta sauce reduces the need for excess oil, cheese, or other flavorings. The trick to this dish is making a fresh, uncooked tomato sauce with just lemon juice, heirloom tomatoes, and salt/pepper. When the hot pasta combines with the sauce it slightly warms it and allows the flavor to coat the noodles. I used whole-wheat penne here but feel free to use whatever pasta or whole grain you like.
So refreshing!
Roasted Cauliflower Penne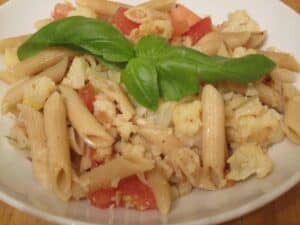 Ingredients:
8 oz. whole wheat penne pasta
1 head cauliflower, cut into small florets
1 tbsp. fresh rosemary
1 tbsp. olive oil
2-3 large heirloom tomatoes
1 large lemon, zest and juice
1 tsp. red pepper flakes
Preheat oven to 400 degrees F. In a large bowl, toss the cut cauliflower with oil and a pinch of salt and fresh ground pepper. Toss together and  place cauliflower onto a roasting pan; bake for 25-30 minutes. Cauliflower will be cooked and slightly brown at this point.
While the cauliflower is roasting, bring a large pot of salted water to boil. Add the penne and cook until al dente. Combine the cooked pasta with the roasted cauliflower, pan juices, lemon zest, lemon juice,  and chopped tomatoes. You want the hot pasta and cauliflower to lightly cook the tomatoes.  Finely chop the rosemary and add to the pasta along with the red pepper flakes.
Per serving (4): 255 calories, 5g fat, 49g CHO, 9.6g fiber, 11g protein
Serve warm or room temperature!