I love Spring/Summer and am excited for the upcoming season, warm weather means more outdoor activities and longer days. However, I am trying to enjoy the last bit of winter with roasted root vegetables and this hearty stew. A simple, hearty meal this is a great way to add more vegetables and whole grain into your diet.
Roasted Vegetable Stew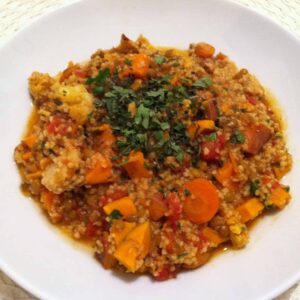 Ingredients:
1 cup lentils
1 head cauliflower
3 medium sweet potatoes
8 carrots
1 28 oz. can diced tomatoes
1 cup whole-wheat couscous
1 cup cooked chickpeas (or canned)
9 cups vegetable broth (or use water and add concentrated vegetable broth)
1 tsp. cayenne pepper
1 tbsp. curry powder
1 tsp. turmeric
1 tsp. paprika
1 tsp. red pepper flakes
1/4 cup chopped cilantro
1/4 cup chopped fresh mint
1 lemon, juiced
Preheat the oven to 400 degrees F.
In a large soup pot, bring the vegetable broth to a boil. Add the canned tomatoes, turmeric, paprika, curry powder, cayenne pepper, cumin, red pepper flakes, and lentils. Reduce heat down to medium, cover and simmer for 30 minutes until lentils are tender. Add the chickpeas to the pot once the lentils are done.
While that is cooking, chop the sweet potatoes, cauliflower, and carrots into bite-size pieces. Toss with 1 tsp. oil, 1/8 tsp. salt, pepper and place on a baking or roasting sheet. Bake at 400 degrees F for 30 minutes. When done, remove and place vegetables into the soup pot.
Cook the couscous: Bring 2 cups of water to a boil, add couscous, cover and remove from heat. Let stand 5 minutes and fluff with a fork.
Stir in the cilantro, mint and fresh lemon juice just before serving. Add the cooked couscous to the vegetable pot. If you need more liquid, add more broth.
Enjoy, what winter meals are you squeezing in one last time?