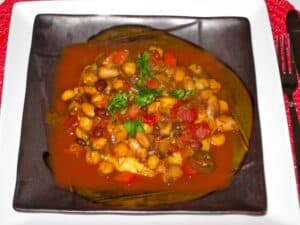 This is my take on chili and cornbread. Creamy polenta topped with a hearty stew is perfect winter comfort food.
Chili:
1 large yellow onion, chopped
1 large can hominy, drained
1 can kidney beans
1 can cannellini beans
1 jalapeno, finely diced
1 red bell pepper, diced
1 can diced tomatoes
1 qt. vegetable broth
3 garlic cloves, minced
Spices:
2 tsp. dried thyme
3 tbsp. chili powder
2 tsp. cocoa powder
1 tsp. cinnamon
1/2 tsp. ground allspice
1 tsp. cayenne pepper
1/2 cup fresh cilantro, chopped
Polenta:
3 cups soy milk or other milk
1 cup vegetable broth
1 cup cornmeal
3 tbsp. earth balance butter
Heat 2 tbsp. oil in a large soup pot. Add onion, garlic, bell pepper and 1 tsp. salt and cook 5 minutes until onion is translucent. Add spices and cook an additional minute. Add drained hominy, tomatoes, beans, broth and jalapenos. Bring to a boil, cover and reduce heat to a simmer for at least 20 minutes stirring frequently. Add cilantro just prior to serving.
Polenta: Heat broth and milk over medium high heat. When bubbles start to break on the surface, gently whisk in the cornmeal and stir together. Reduce the heat to low, and let cook for 15 minutes until thick, stirring often. Stir in butter the once polenta has finished cooking.
Serves 6. To serve: place 2/3 cup of polenta in a large bowl, top with 1 heaping cup of stew.