First off, I am so excited to get a new camera next week. This picture doesn't do this dish justice. It was so colorful and flavorful. I actually wish I served it on Halloween because the orange and black together were stunning!
I loved the idea of putting Nori in a salad, thanks The Health Seekers Kitchen! I made this for a quick weeknight dinner with the ingredients I had on hand, but feel free to empty out your fridge and pile on the vegetables. The carrot-ginger dressing is one of my favorite go-tos. Use the leftovers as a dip.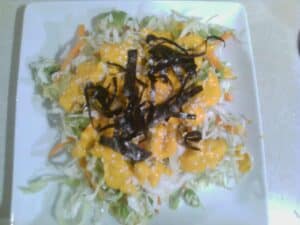 Carrot-Ginger Dressing:
2 large carrots, diced
1 1/2 tbsp. white miso paste
1 tbsp. sesame oil
2 tsp. oil
2 tbsp. rice wine vinegar
1 tbsp. minced ginger*
2 tbsp. water
Place all ingredients in blender or food processor to combine.
Salad: makes 4
1-2 sheet(s) nori seaweed, julienned
1 large avocado, diced (or 2 small)
1 cup frozen edamame, thawed
1 head radicchio, shredded
1 head savory cabbage, shredded
1 carrot, matchsticks.
2 tbsp. sesame seeds, toasted
Combine all ingredients in large bowl except seeds and nori. Toss to combine.
To serve, dish out salad, top with dressing, nori, and sesame seeds.
*I used the tube ginger, found in the produce section of most supermarkets. It worked great in the dressing and saved me time and energy!