Confession time: we probably eat stir-fry at least twice a week. It's a great way to pack a ton of vegetables into a meal and the warm, spicy sauce tastes like comfort food to me. I recently made this  for our stir-fry night and it was a big hit. I used seitan in this recipe, but you could substitute any protein you have on hand.
Sweet and Sour Stir Fry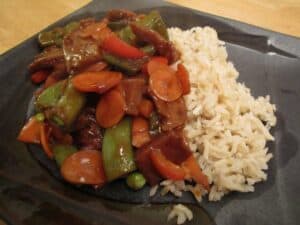 1 lb seitan, diced
2-3 cloves garlic, minced
3 cups sugar snap peas, halved
3 carrots, sliced
2 tbsp. oil or vegetable broth
Sweet and Sour Sauce:
2 tbsp. balsamic vinegar
1 tbsp. soy sauce
1 tbsp. corn starch
3 tbsp. ketchup
3 tbsp. maple syrup or other liquid sweetener
1/4 cup water
Mix together the ingredients for the sweet and sour sauce and set aside. Heat a large skillet or wok to medium heat. Add 2 tbsp. broth or oil. Once heated through, add the garlic and quickly toss for 1-2 minutes. Add a pinch of salt and stir.
Add the seitan to the garlic oil and fry for 5-6 minutes until the seitan cooks through and has a nice crust on it. Add the carrots, stir and cook for 2 minutes. Add the sugar snap peas and cook for another minute. Turn the heat down to medium low and add the sauce. Stir and let cook for 5 minutes until the sauce has thickened.
Serves 4. Per serving: 240 cal, 7g fat, 33g protein