Pass the BBQ! Smoky, saucy BBQ chickpea sandwiches topped with healthy, low-fat rainbow slaw.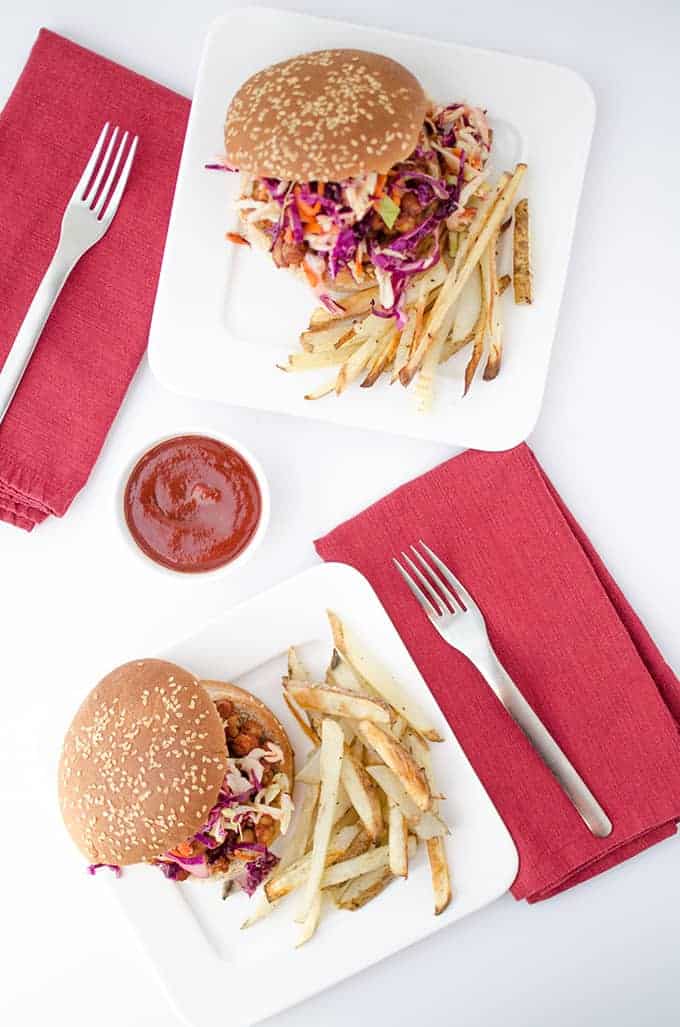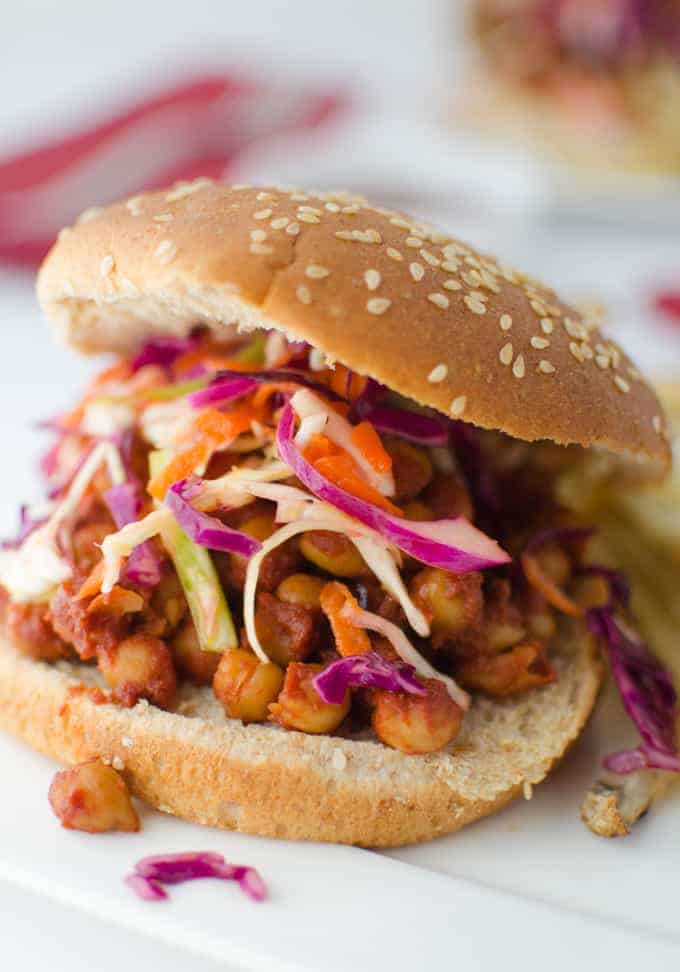 Now, this is a sandwich.
Far from your typical, tired vegan sandwich, this hearty option is loaded with goodness: smothered BBQ chickpeas piled high with dairy-free, low-fat rainbow slaw. Yeah, the fiber content of this sandwich is outta control.
Don't hesitate to place an extra napkin in your lap because things are about to get messy. In the best way of course.  I love a substantial sandwich like this that requires two hands and a fork to eat.
I don't know why it took me so long to put this sandwich together. BBQ baked chickpeas are my go-to when I am looking for a quick, protein-packed dinner.  So, I guess it was inevitable that I would make them into a BBQ sandwich.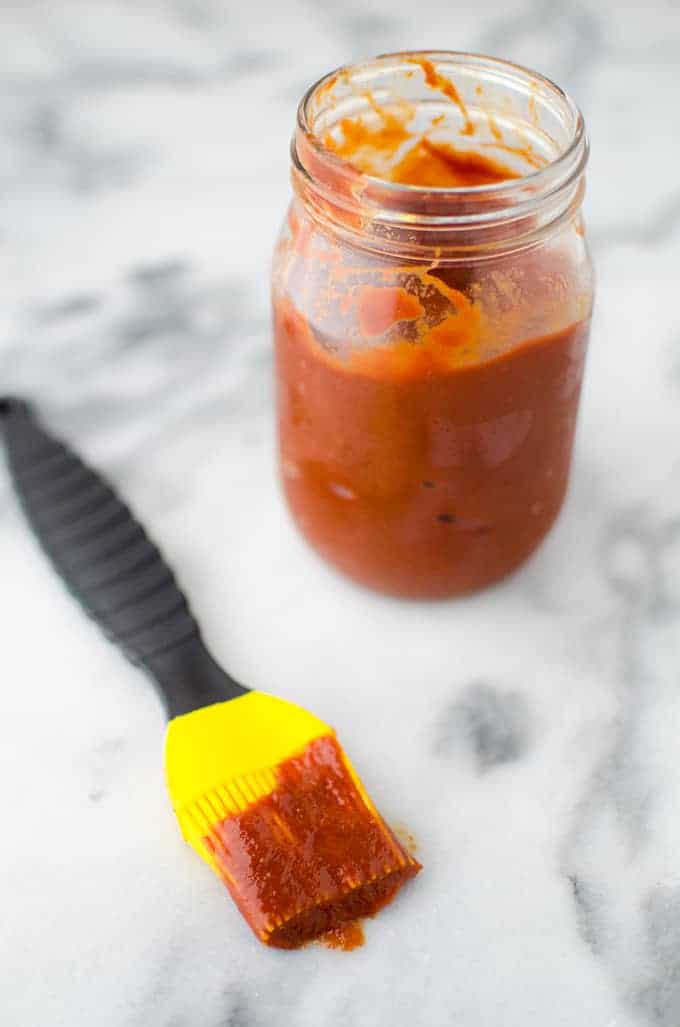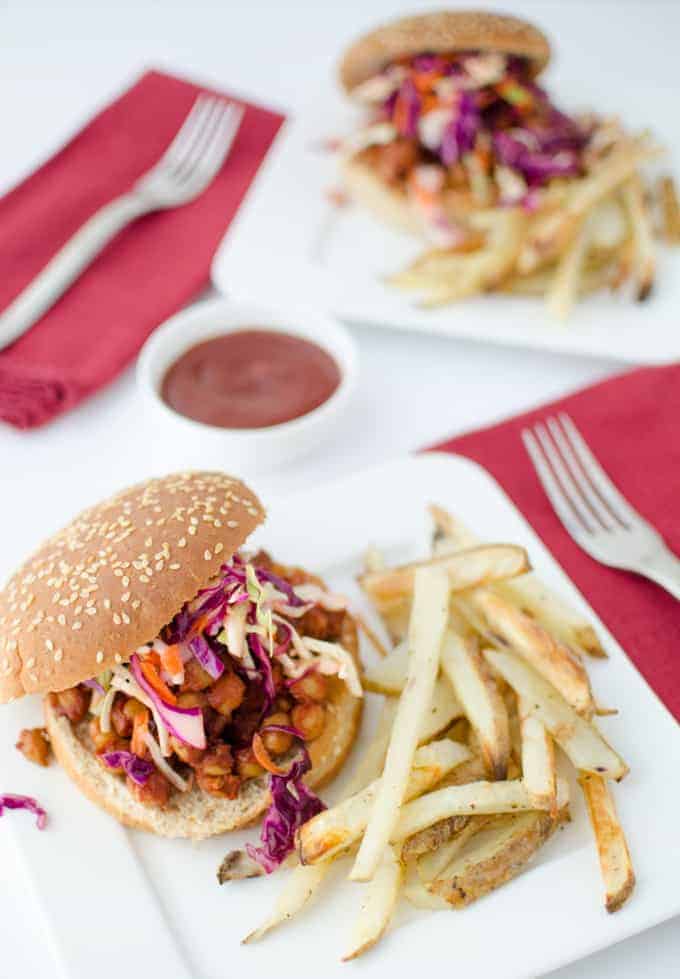 This is also what we call a man meal. Ladies, don't get me wrong- I am the first one to put this into our weekly rotation, but the combination of homemade BBQ sauce and simple slaw means that this meal was custom made for BL.
Even when I ate meat, I was never a fan of BBQ- which says a lot being that I've lived in North Carolina, and my dad still considers himself the King of BBQ. Besides the fact that I wasn't a big fan of pork, I never understood the BBQ infatuation that consumed our entire town. Then, perhaps it's fitting that I became head over heels crazy about BBQ when I converted it to be vegetarian-friendly. Hearty garbanzo beans can handle the sweet heat from the BBQ sauce without any greasy aftertaste.
Like any good originally southern girl, I whipped together a quick sauce to simmer the beans in. If you are looking for a no-fuss dinner- use the bottled stuff. My favorite kind is Annie's Original or Annie's Smoky Maple.
Served with perfectly crispy baked french fries from the OSG Cookbook and you have a casual weeknight dinner or a lazy weekend lunch.  If you're serving a crowd, throw the chickpeas in a slow-cooker with extra sauce to keep warm. Set out the sides and let everyone DIY their type of BBQ sammy.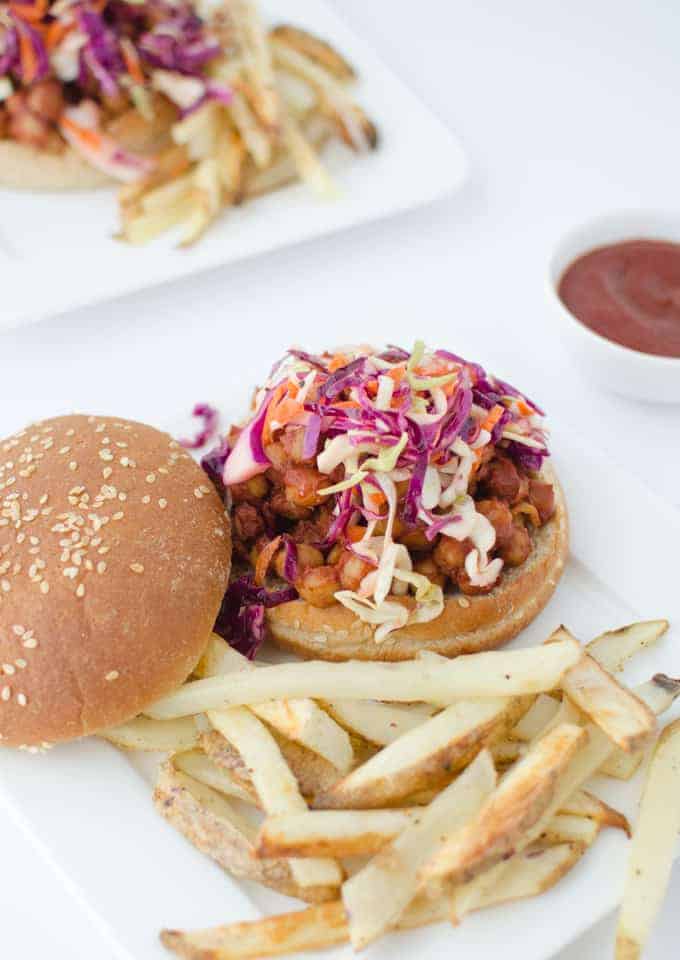 BBQ Chickpea Sandwiches with Rainbow Slaw
Pictured with oven-roasted crispy fries from the
Oh She Glows
Cookbook.
Ingredients
Rainbow Slaw: ½ head red cabbage, very thinly sliced
½ head napa cabbage, very thinly sliced
1 carrot, shredded
¼ cup lemon juice
¼ cup olive oil
1 tbsp. maple syrup
salt/pepper
BBQ sandwich: 1 can of tomato sauce
4 tbsp. tomato paste
½ tsp garlic powder
¼ tsp onion powder
½ tsp. cayenne pepper
⅓ cup molasses
⅓ cup maple syrup
⅓ cup apple cider vinegar
1 tbsp. soy sauce
2 cans chickpeas
Sandwich Buns for serving
Instructions
Whisk together the lemon juice, olive oil, maple syrup and pinch salt/pepper. Toss with shredded cabbage and carrots. Place in the fridge until ready to serve.
Puree together the ingredients for the BBQ sauce: tomato sauce, tomato paste, garlic powder, onion powder,1/4 tsp. cayenne pepper, molasses, maple syrup, apple cider vinegar, and soy sauce.
In a medium saucepan, add the chickpeas and BBQ and bring to a low simmer.
Cover and cook for 15-20 minutes until thick and warm.
Serve on buns with rainbow slaw