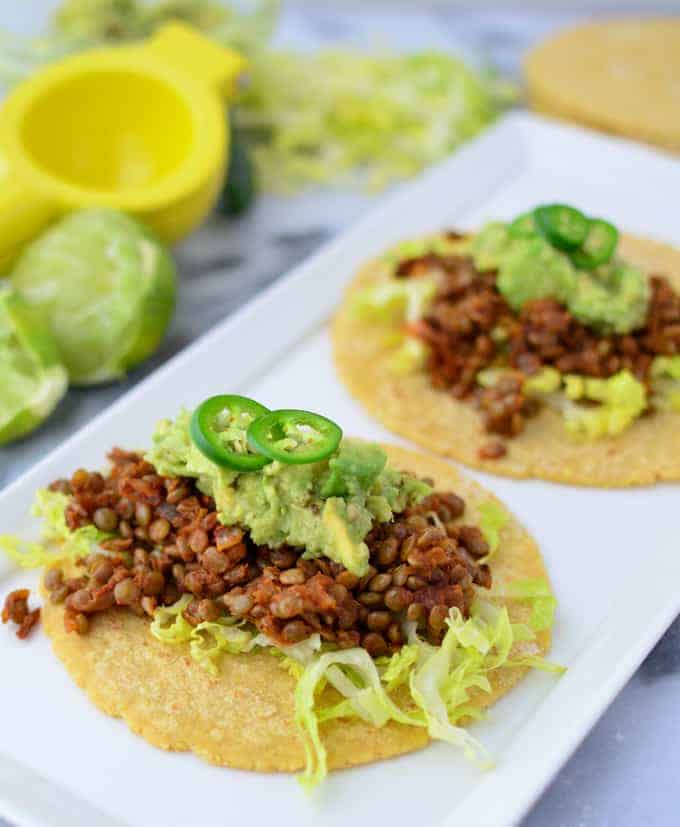 Of all the recipes that I've put on this blog, these lentil tacos are my favorite. My I-hope-you-will-make-these-first recipe, as I am confident in their ability to win over any die-hard omnivore.
Not only is this meal healthy, it's also pretty inexpensive and quick to make. A win-win in my book. Of all the subs for ground beef, lentils are probably one of my favorite. They are high in fiber, iron and protein and one cup provides almost all of your daily folate needs.
If you're trying to lower cholesterol levels try subbing lentils for ground beef/turkey/chicken in your pasta sauces, burgers, and these tacos. I've made these for many carnivores and everyone asks for the recipe.  And, coincidentally, this recipe is gluten-free if you sub corn tortillas for flour. Vegan, gluten-free, this meal pleases everyone!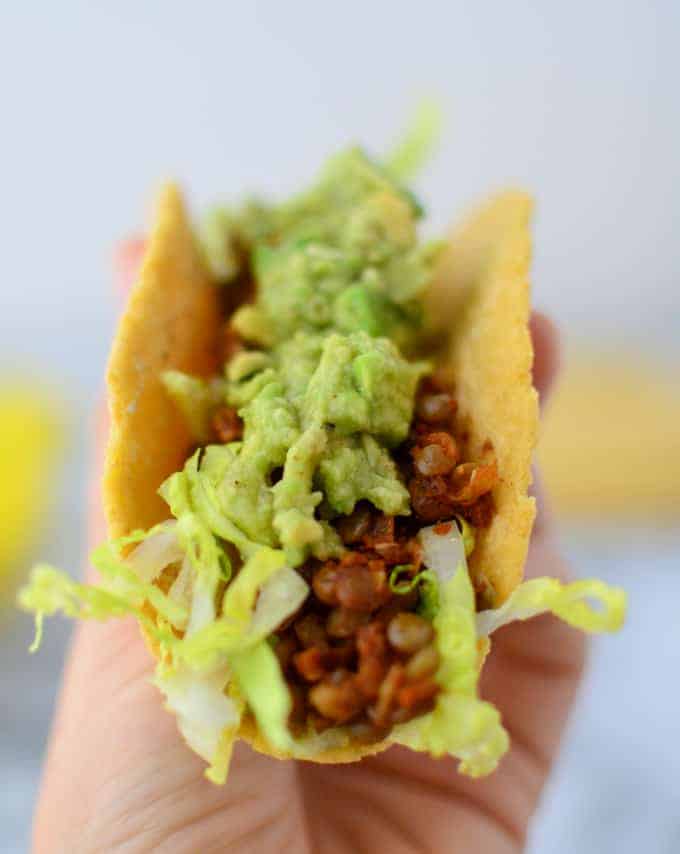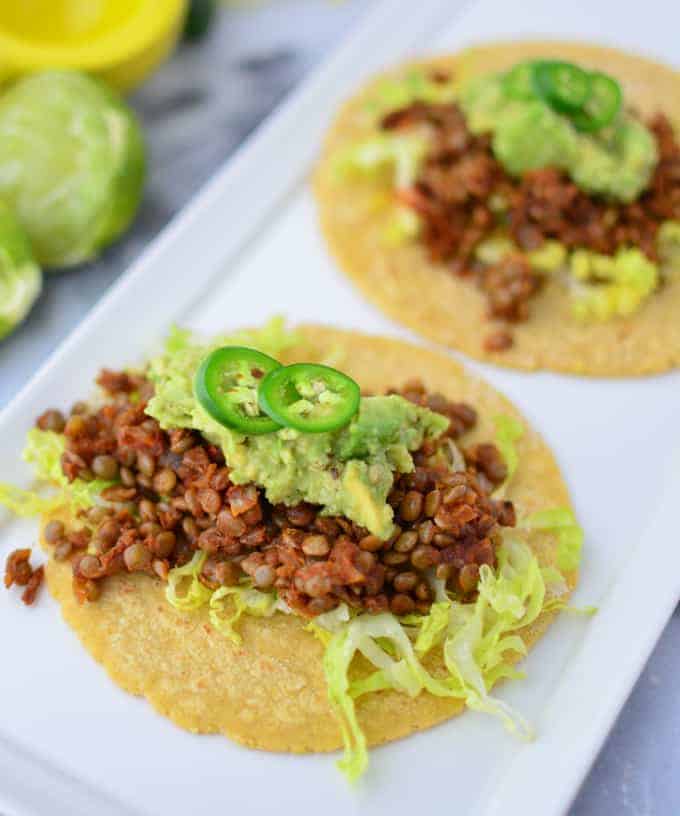 Vegan Lentil Tacos
The perfect vegetarian swap for ground beef tacos! Same amount of protein, ½ the fat and zero cholesterol.
Ingredients
1 cup lentils, cooked
1 white onion, finely diced
1 tbsp. olive oil
1-2 garlic cloves, minced (What can I say? I'm Italian, I throw garlic into every dish. If that's weird for you in taco filling, omit it)
¼ cup of vegetable broth
Corn or Flour Tortillas
Spice mix:
1 tablespoon chili powder
¼ teaspoon garlic powder
¼ teaspoon onion powder
¼ teaspoon crushed red pepper flakes
¼ teaspoon dried oregano
½ teaspoon paprika
1½ teaspoons ground cumin
1 teaspoon sea salt
1 teaspoon black pepper
Taco toppings: shredded lettuce, sliced jalapenos, homemade guacamole
Instructions
In a large frying pan over medium high heat, sweat the onion in 1 tbsp. oil. Stir frequently, about 4-5 minutes until the onion is translucent. Add the garlic and spice mixture and cook for another minute or two, stirring frequently. You don't want to burn the spices just crank up the flavor by cooking them.
While you are cooking this, warm the tortillas. You can do this in the oven or microwave. I just place them on the burner behind my frying pan and let them warm up while I cook the filling, this way I don't have to turn on the oven.
Add the lentils and stir to combine. Add the vegetable broth and using a potato masher or fork, gently mash the lentils until they start to look like ground meat. Cook another few minutes until hot. If the lentils start to dry out, add another tbsp. or two of vegetable broth (can also use salsa here)
Place a heaping spoonful or two into the taco shell and add your fillings. The filling will make about 10-12 tacos, depending on how stuffed you like them!