15 minute Spicy Bean Dip with Homemade Tortilla Chips! A must-make for tailgates, football games, and parties! Save this one when you need a fast, healthy appetizer option.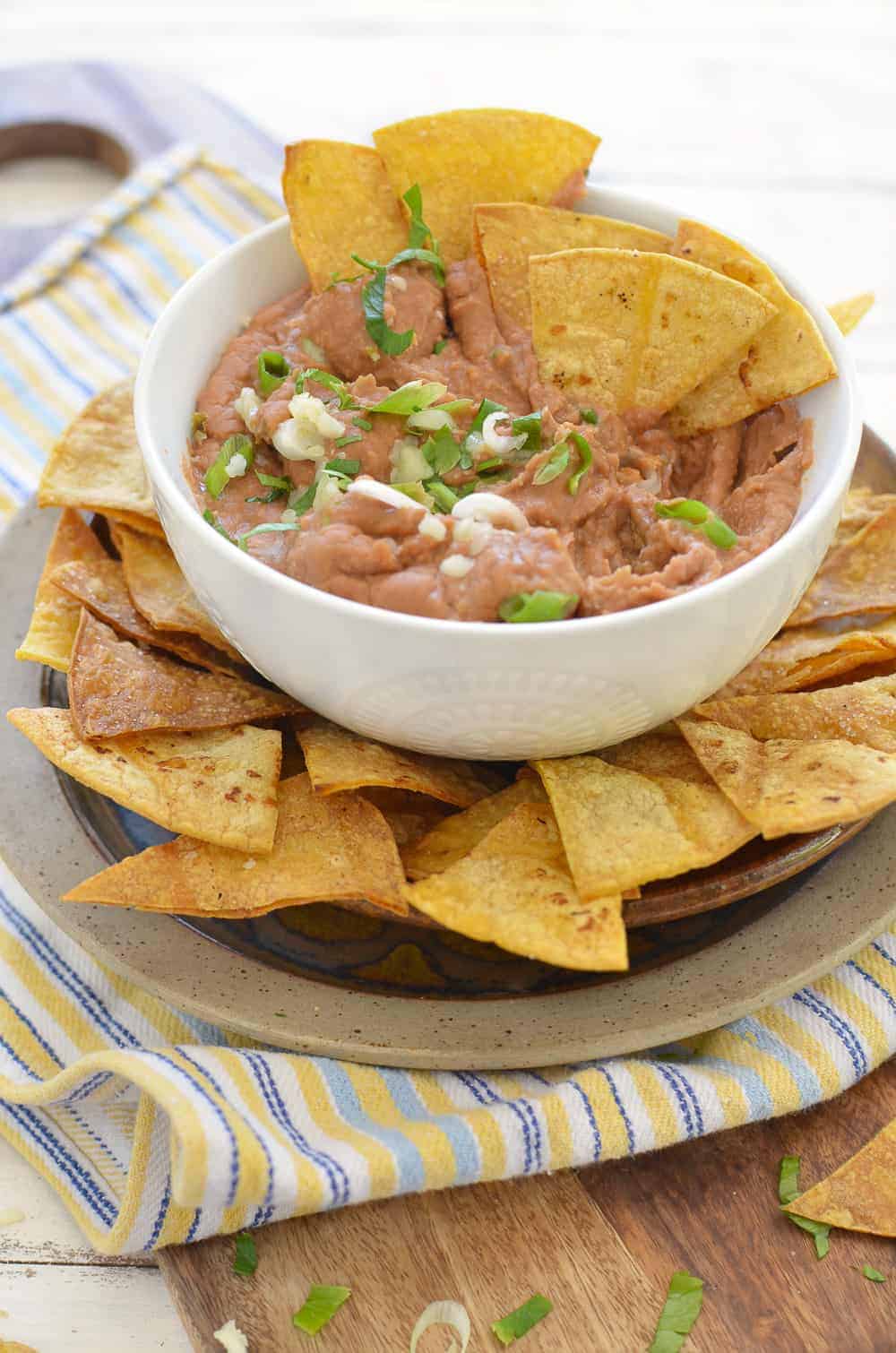 Chipping & Dipping, it's kind of become my theme of late.
I 100% blame my husband for my recent obsession with chips and salsa. Before I met him, I reserved chip eating to Mexican restaurants and lackluster Superbowl parties. Now, we find ourselves almost weekly cuddling on the couch, watching a movie with a bowl of chips and dip in between us. It's an easy answer to what's for dinner, especially after a day full of cooking and testing recipes.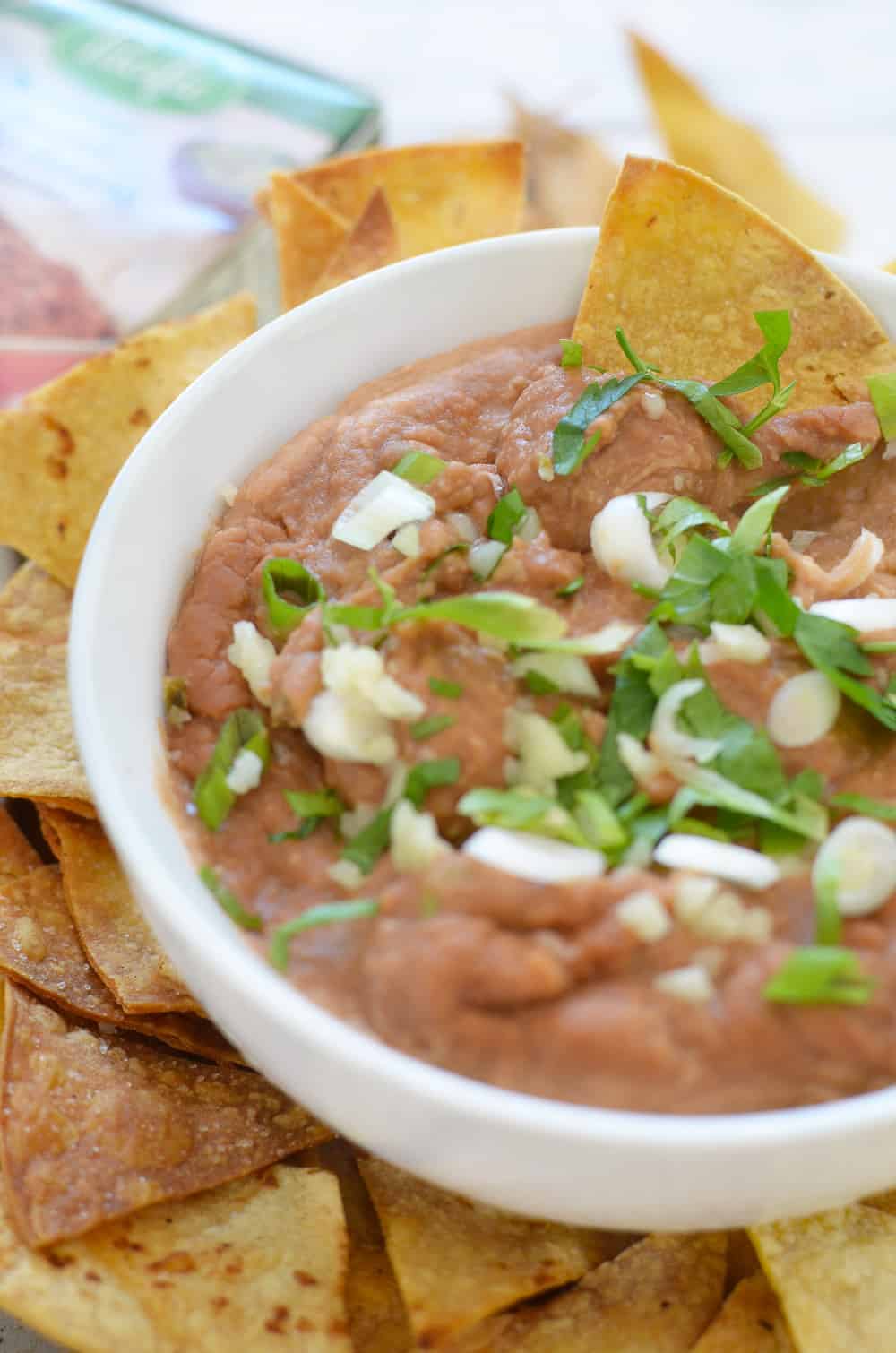 While chips and salsa does have some nutritional benefits, I knew I could improve on our weekly habit. This creamy pinto bean dip is packed with protein and ready in just 15 minutes.
The base is one of my favorite weeknight dinner shortcuts- Pacific Foods organic refried pinto beans. When I'm not using these beans to make this dip, I'm smearing them onto tortillas for easy quesadillas, topping them on vegetable tostadas or heating and eating them with a spoon. Because, beans. Is it weird that I have such an obsession with beans? I suppose it could be worse. Combining my two loves- beans & chips seems like only a natural progression.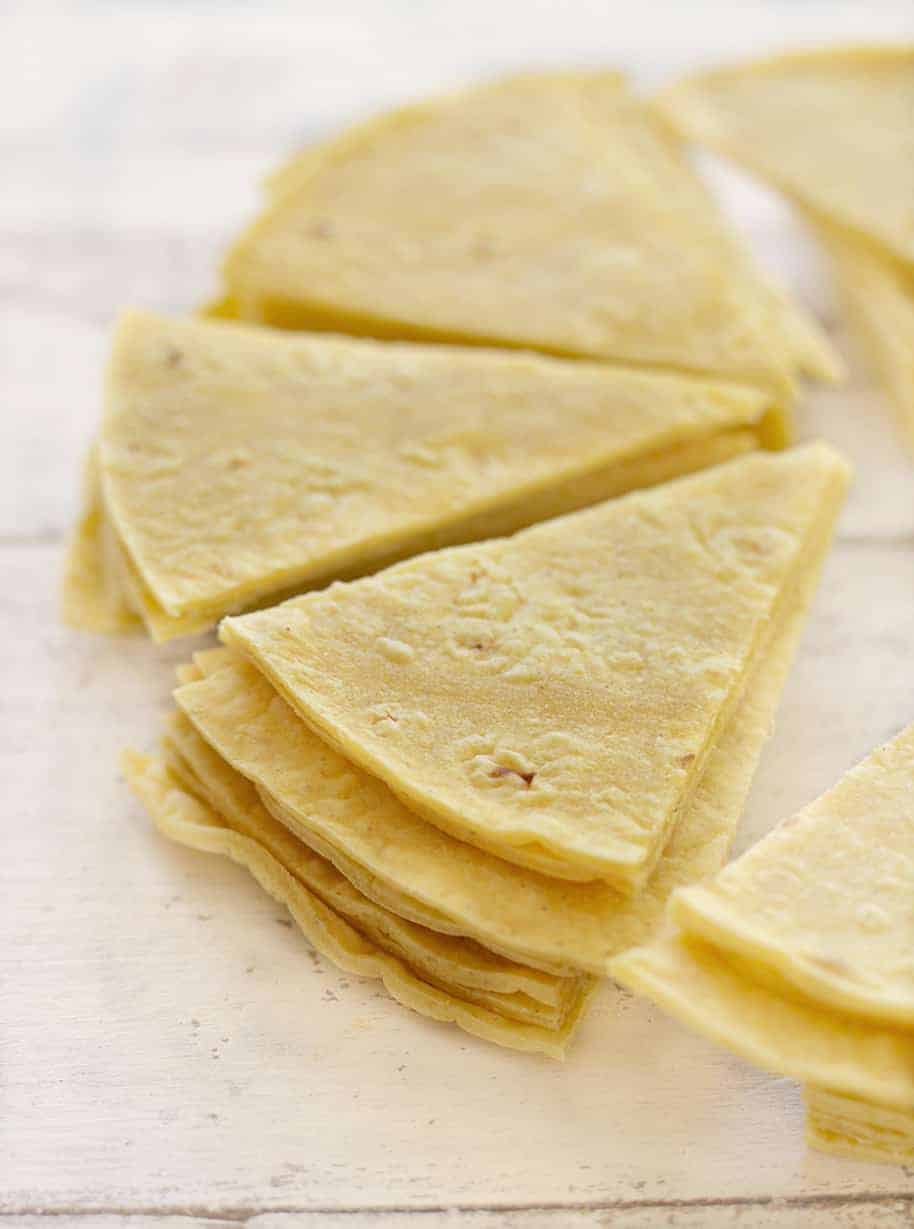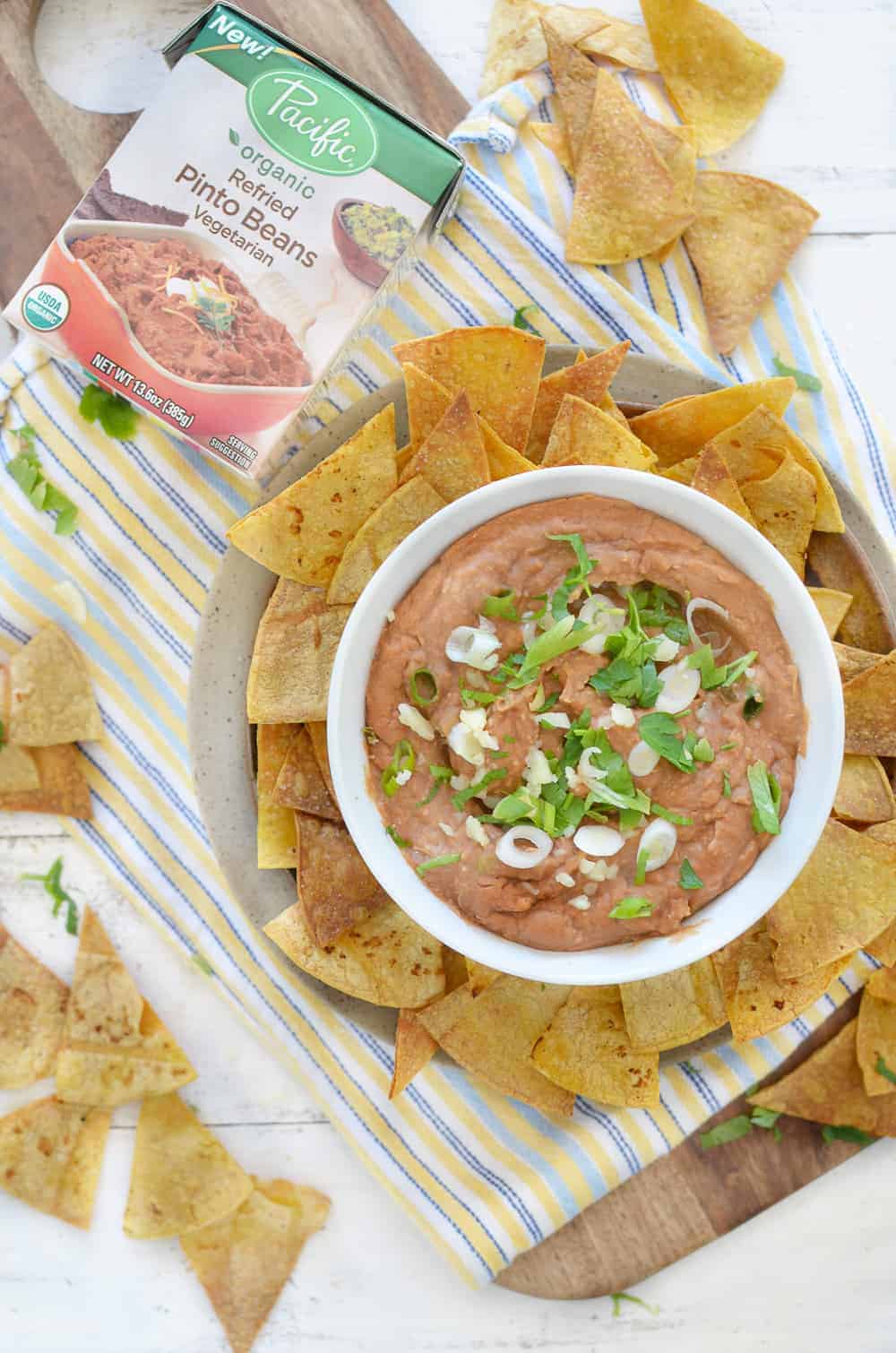 These refried beans are so creamy and taste better than anything I've ever had in a can. Added to a mixture of caramelized onions, cumin and cayenne and this dip is ready for any activity that comes my way this Fall.
For an extra treat, stir in shredded cheese and top liberally with cilantro and scallions. Then, dip to your hearts content.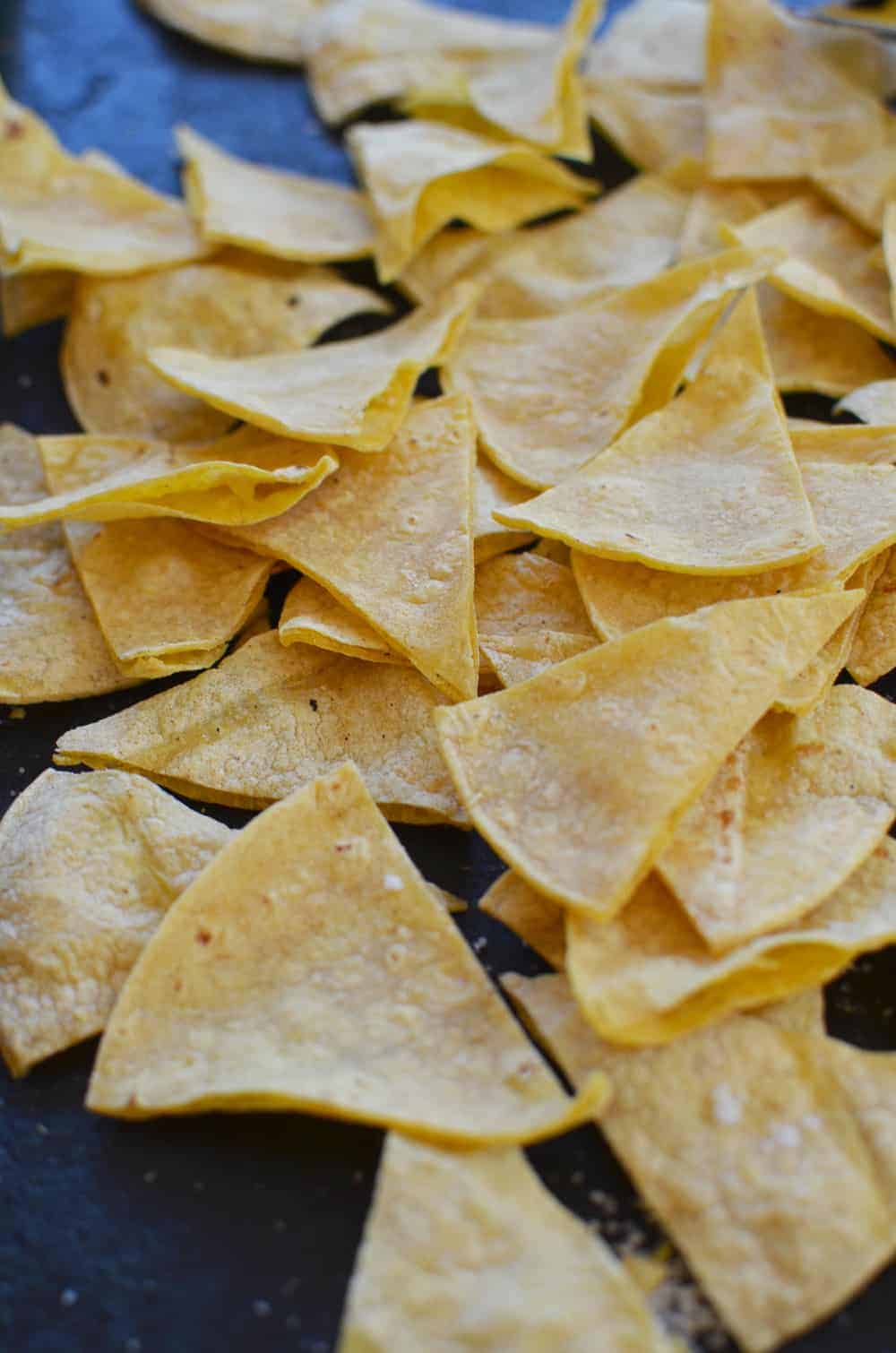 This homemade dip is worthy of homemade tortilla chips. Since I'm eating chips for dinner, I want to control the amount of oil as much as possible. This baked version relies on a light dose of cooking spray, instead of the cups of oil in traditional recipes.
I keep these plain with sea salt but if you wanted to get fancy, you could make spiced chips! A mixture of cayenne, cumin, garlic powder and salt taste amazing on freshly baked chips.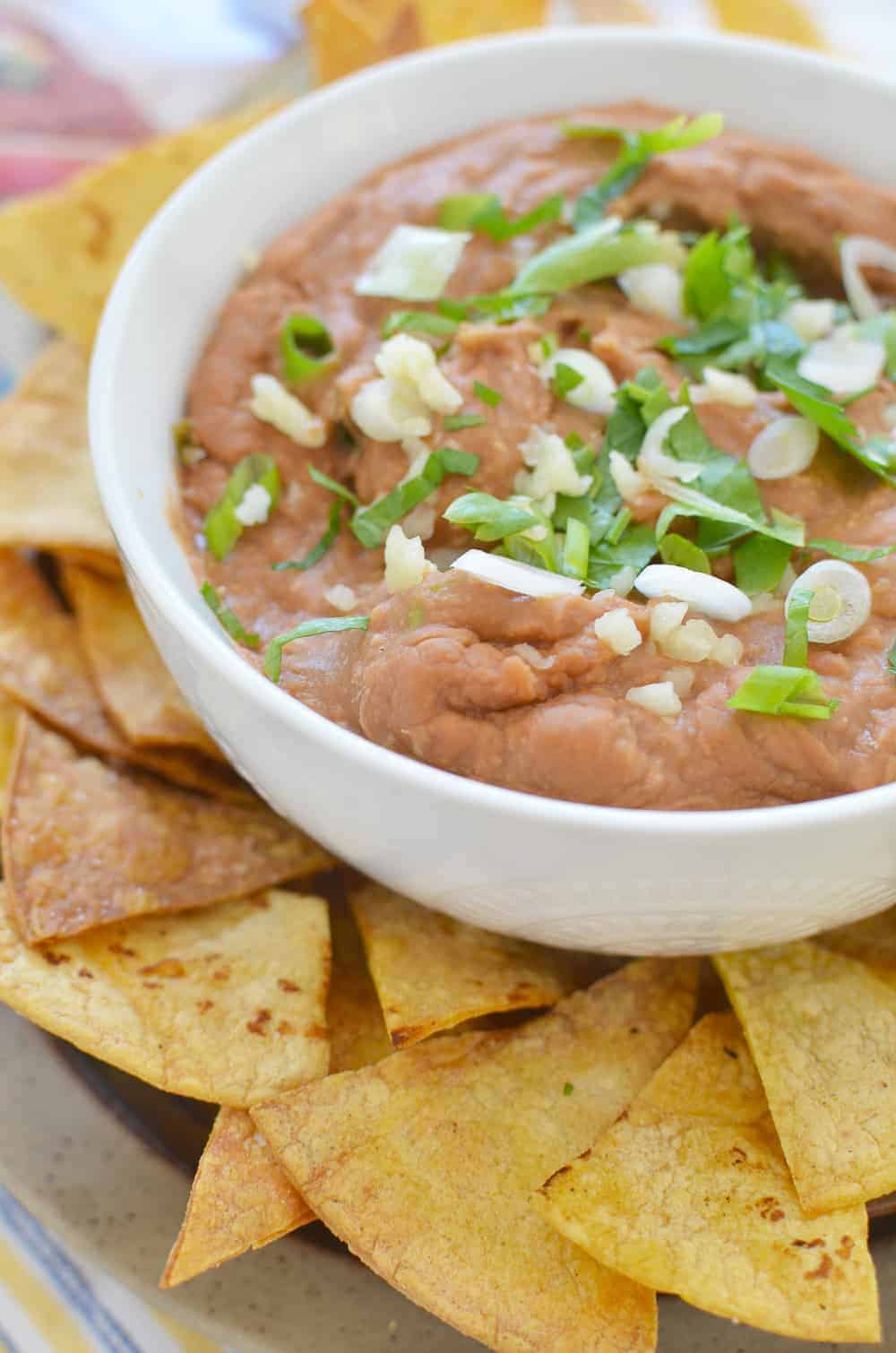 Spicy Bean Dip with Homemade Tortilla Chips
15 minute Spicy Bean Dip with Homemade Tortilla Chips! A must-make for tailgates, football games, and parties! Save this one when you need a fast, healthy appetizer option. #vegetarian #glutenfree
Recipe type:
dip, appetizer, healthy,
Cuisine:
vegetarian, glutenfree
Ingredients
1 tablespoon olive oil
1 cup very finely chopped onion
1 heaping T cumin
½ teaspoon cayenne pepper
1 13.6oz. container Pacific Foods Organic Vegetarian Refried Pinto Beans
1 lime, juiced
¼ cup vegetable broth
½ cup shredded pepper jack cheese (optional, omit for dairy-free version)
Homemade Tortilla Chips
10 corn tortillas
cooking spray
sea salt, for sprinkling
Instructions
Heat the olive oil in a large skillet over medium high heat.
Add the onion and cook for 5 minutes, stirring often.
Add the cumin and cayenne pepper and a pinch of salt/pepper.
Reduce heat to low and cook an additional minute or two until spices are toasted and fragrant. Add the beans, lime juice and vegetable broth and cook until hot, an additional 2-3 minutes.
Stir in the cheese (if using) and serve.
Make the baked tortilla chips
Preheat oven to 400 degrees F.
Stack the tortillas and slice them in ½, then each section into ½, then each section into ½ again so you have 8 slices per each tortilla.
Place in a single layer on a baking sheet and spray with cooking oil, then lightly sprinkle with salt.
Bake for 6 minutes, then flip and bake another 4-5 minutes until toasted and crispy.
Sprinkle with more salt, if desired and serve.
Store any remaining chips in an airtight container.
Disclosure: I am a Pacific Partner. Thanks for supporting the brands the make DK possible.