Grilled veggie kebobs with pineapple, mushrooms, peppers and tempeh! Slathered in a sweet and spicy pineapple-serrano sauce! Served with cilantro rice.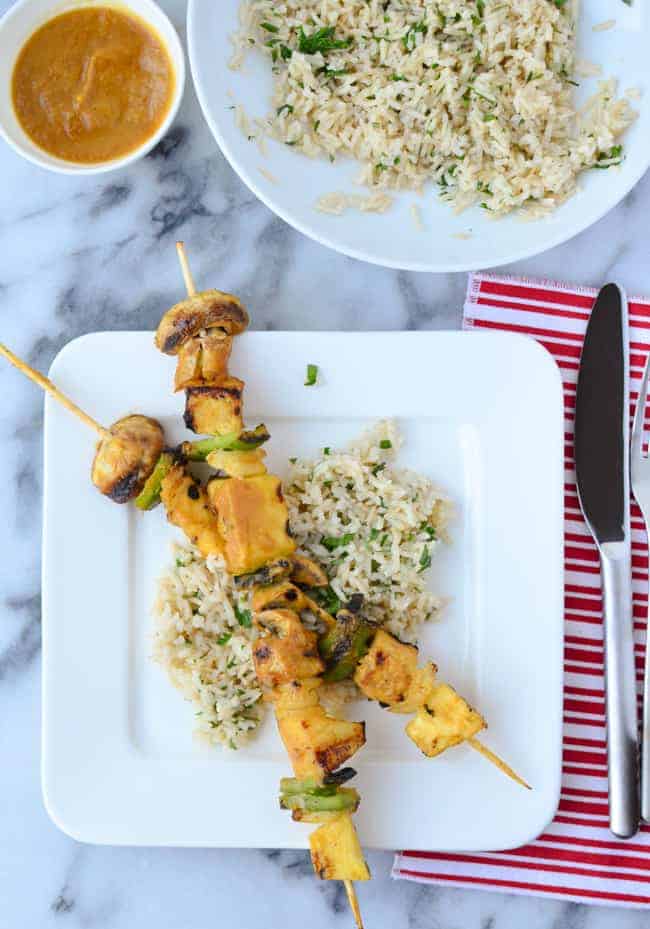 Can we all just take a moment to slow down? To sweetly enjoy the last month of long, warm evenings and the best of summer produce? It is only August after all. And while I am also excited for all thing pumpkin, squash and apple, I'm just not there yet.
Even though another academic semester starts back up again next week, I am still trying to savor the dog days of summer. So until Labor Day, let's promise each other that we won't utter the words fall, crisp, pumpkin or apple. Even on Pinterest. After September 1st? It's go time, but for now, I want to keep celebrating summer.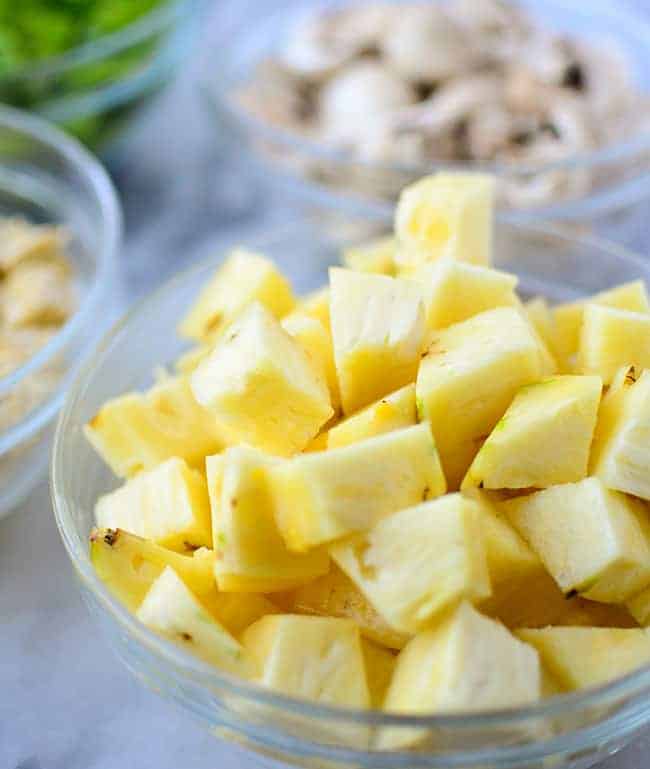 Tropical Tempeh Kebobs are the perfect summer evening meal. Juicy pineapple, crisp bell peppers and tempeh kebobs that taste best when made on the grill and then eaten outside. On the porch preferably, anything to take advantage of sunsets after 8PM.
This is one of my favorite ways to eat tempeh, and it is a great first recipe for anyone who has ever picked up a tempeh package in the grocery store, gazed at it confusedly, and then quickly set it down.
What do you do with tempeh? This recipe.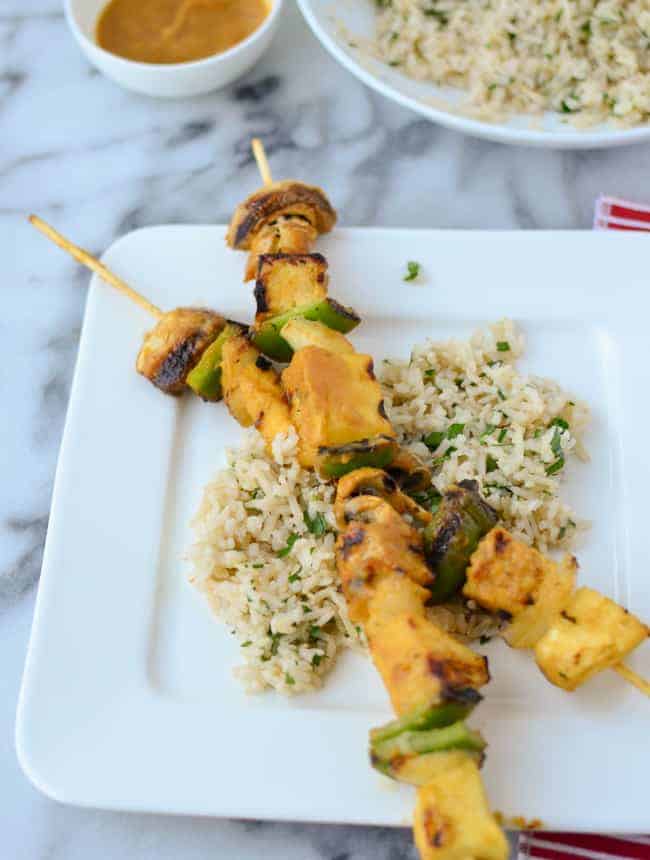 Like last week's tofu primer, I want to introduce you to the simple way of preparing tempeh.
What is tempeh? Technically it's a fermented soybean cake but since that description zaps the fun out of trying it for the first time, we are going to go with something else. I like to describe it as a nutty, dense, protein cake that happens to be BL's favorite meat substitute.
But since even BL wouldn't have tried it unless I made it for him for the first time, let me walk you through these simple steps to prepare tempeh.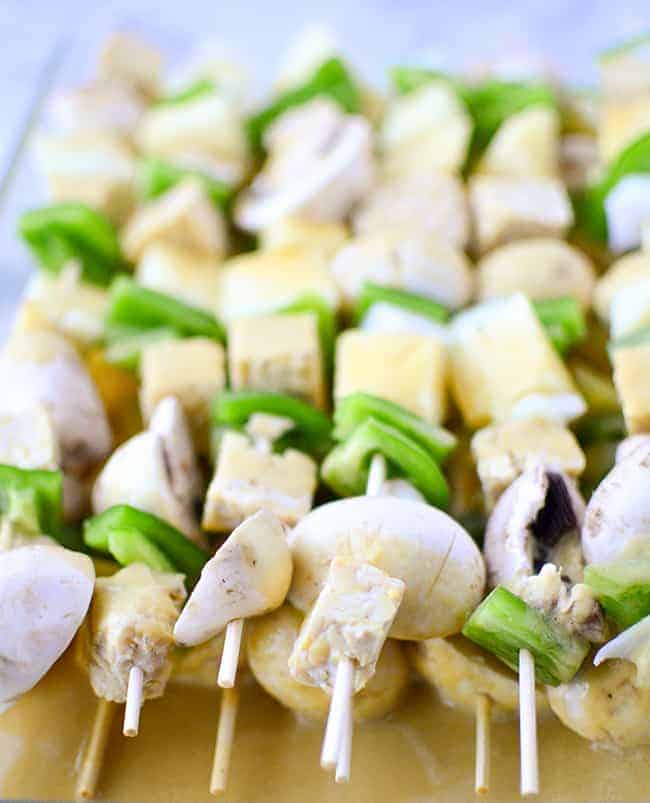 You can find tempeh in most health food store. Naturally, I buy mine at Trader Joe's along with everything else in my life. Our local Safeway, Co-Op and S-MART also carry it, but that could be because we live in California–Land of crunchy granola-eating folk.
Of course, making it from scratch is still my favorite way of preparing it, but that doesn't happen as often as I'd like because… full time job.
Ok, now that you have your tempeh- open the package! Slice it into cubes. If you are using a rectangle, I slice it in 1/2 width-wise and then into smaller cubes from there. Word of advice. Don't try it raw. Raw tempeh tastes nothing like cooked tempeh so don't tempt yourself into sneaking a quick sample because you aren't going to like it.
If I have time, I like to steam my tempeh first. Just like pressing our tofu, steaming the tempeh allows more of the yummy marinade to seep in. Steaming also takes away any bitterness that the tempeh may have. Don't worry, I've skipped this step countless times when I am hangry and don't have the patience for steaming tempeh. But, if you can, I highly recommend this step.
While the tempeh is steaming, make your marinade. Here we are using a sweet and spicy mixture of pineapple juice, serrano peppers and soy sauce. I could eat this sauce straight but decided it was much more civilized to place it on the kebobs first.
Make the kebobs and pour the marinade on top. Let this soak for at least 15 minutes turning once. Again, if you have time you can leave them in longer. I like to allow for about 30 minutes of marinading.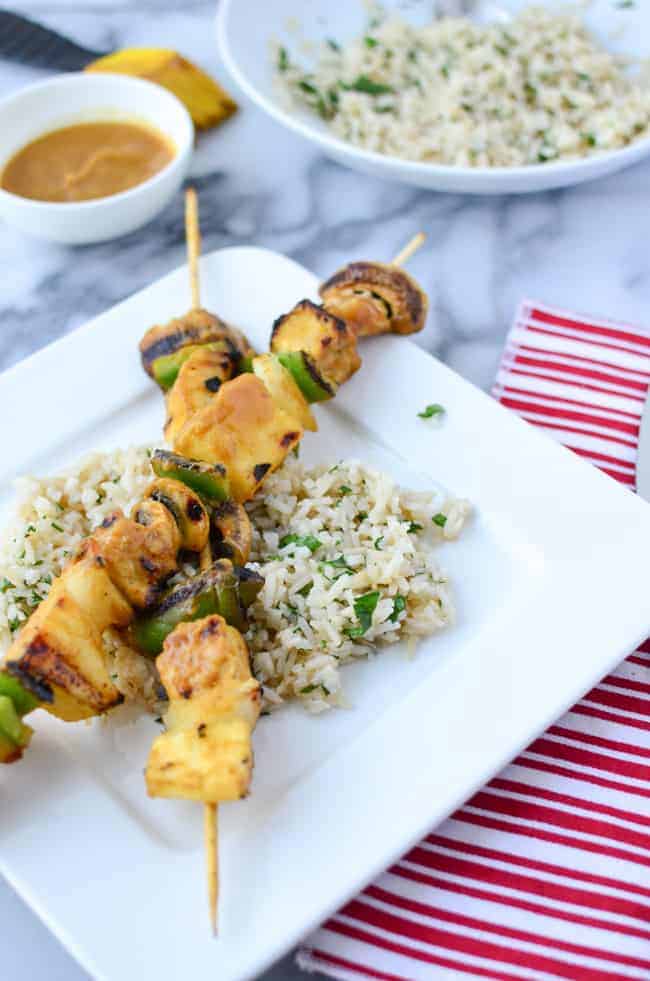 Heat the grill! If you don't have a grill or don't want to fuss with refilling the gas tank, let me introduce you to one of my favorite cooking gadgets- THE GRILL PAN.
How did I live so long without a grill pan? It's what I used in these photos to get those beautiful char marks, and I use it about 90% of the time when I want to grill something.
As I like to say, grilling outside is for the experience. Grilling on a pan inside is practical. You choose your own adventure here.
Steam. Marinade. Grill. Eat!
Benefits of this recipe:
Tempeh is a great source of manganese, copper and magnesium!
Each serving contains 15g of protein and 5g of fiber!
Pineapples are super high in vitamin C, folate and b vitamins!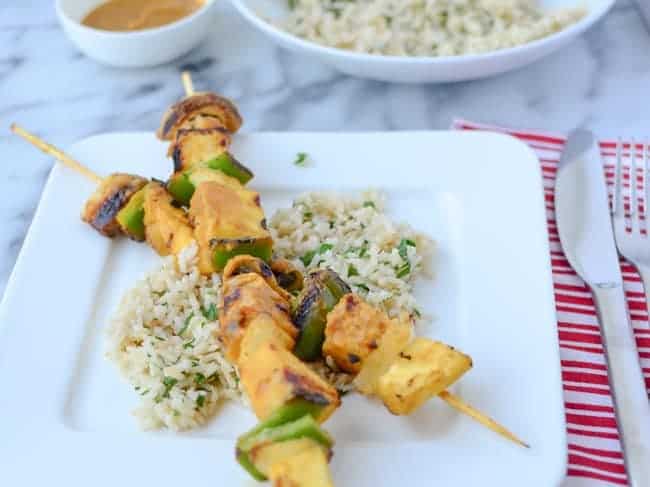 Tropical Tempeh Kebobs
Ingredients
Tropical Sauce:
1½ cups cubed pineapple (see notes if you don't have fresh pineapple)
1 lime, juiced
¼ cup soy sauce
¼ cup olive oil
½ tsp. grated ginger
1 garlic glove
⅓ cup water
½-1 tsp. chopped serrano chili (omit if you don't want it spicy)
Kebobs:
1 package tempeh (8 oz.)
2 cups fresh pineapple cubes
1 green pepper, chopped
8 oz. mushrooms, cleaned and halved
½ white onion, chopped
1 cup brown rice
1 tsp. butter (optional. I use Earth Balance brand)
2 tbsp. chopped parsley or cilantro
Instructions
Set up a steaming apparatus. Add the tempeh to the steaming basket and steam for 5 minutes. (You can skip this step if you're short on time, but it allows the tempeh to absorb more of the marinade.)
In a blender or food processor combine the ingredients for the marinade and blend until smooth.
Make the rice: bring 1 cup brown rice and 2 cups water to a boil. Reduce heat to a simmer, cover and cook for 45-50 minutes.
Using wooden or metal skewers, thread the mushrooms, pepper, pineapple cubes, tempeh, and onion.
Place the skewers in a large pan and pour the marinade on top. Let sit for 20 minutes.
Heat a grill pan or grill to medium-high heat.
Remove the skewers from the pan and add the marinade to a small sauce pan. Bring the marinade to a boil and reduce to a simmer. Cook for 5-10 minutes until thick and reduced.
Add the skewers to the grill and cook for 2-3 minutes per side, using a basting brush to add to the skewers. Rotate the skewers until all sides are cooking, adding marinade as you go. Continue to cook the skewers.
When the rice is done cooking, fluff with a fork and stir in the butter (if using), herbs, and a pinch of salt.
Serve kebabs with rice and remaining sauce.
Notes
1. Taste the marinade once you puree it. If you'd like it sweeter, add a bit more pineapple juice. If you want it spicier, add more serrano chilies.
2. If you use wooden skewers, soak them in water for an our before using.