Simple vegan pizza that taste like Puttanesca pasta! Layers of fresh tomato slices, briny olives and capers and roasted vegetables. Topped with homemade dairy-free parmesan cheese.
Lately, my recipe creations have been in pairs.
I made a Snicker's Milkshake a few weeks ago, followed by another flavor which will be posted next week.
I made granola bars this weekend, and using similar ingredients, created two completely different bars.
And of course, I made vegan garlic-herb pizza last month, and today I'm sharing my vegan puttanesca pizza.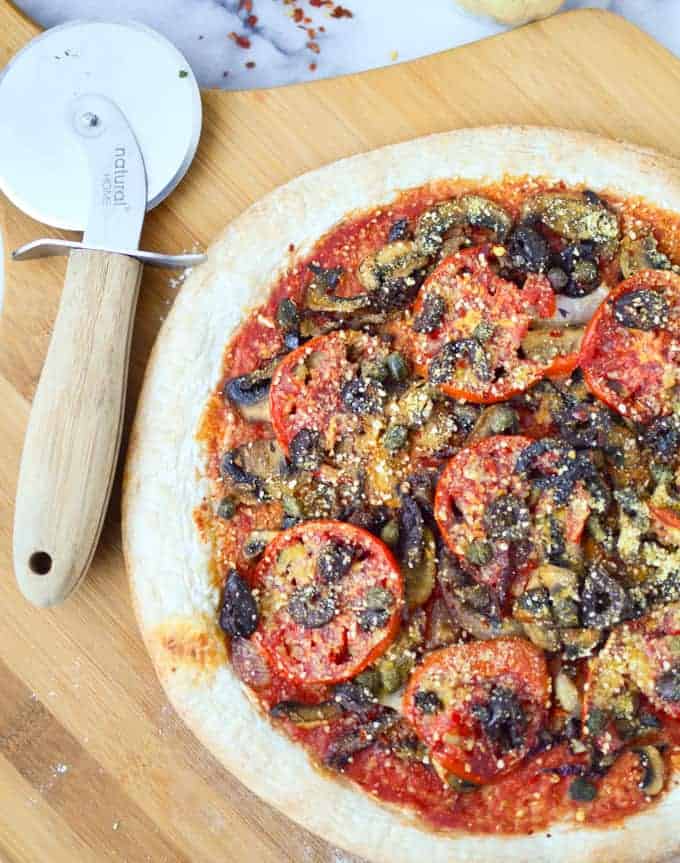 It's like I make something, love it and then immediately look for ways to improve it. Which I suppose is appropriate, since this is how I live most of my life. I am always thinking about the next thing, the next moment, what I would do differently the next time around, etc. Uh, yeah, it's as exhausting as it sounds.
It's a real challenge for me to be in the present, to fully appreciate both the here and now. I'm acutely aware of my hyper-active brain, thanks to my daily yoga practice- and food.
We watched the movie Chef this weekend (PS- so good! Make sure you've eaten beforehand because you are going to drool over every scene), and I felt drawn to the struggles he faced everywhere in his life…besides the kitchen.
I think it's why I spend so much of my free time cooking. The kitchen is my safe space. It's where I can lose myself in rolling out a pizza dough, creating a new sauce, or taste testing multiple batches of granola at once. While I am working on being more present in my day-to-day life, being in the kitchen helps to ground me. So, thank you for continuing to show up day after day and allowing me to share my love with you.
Yummy, healthy, whole-food recipes from me to you. It's what Delish Knowledge is all about.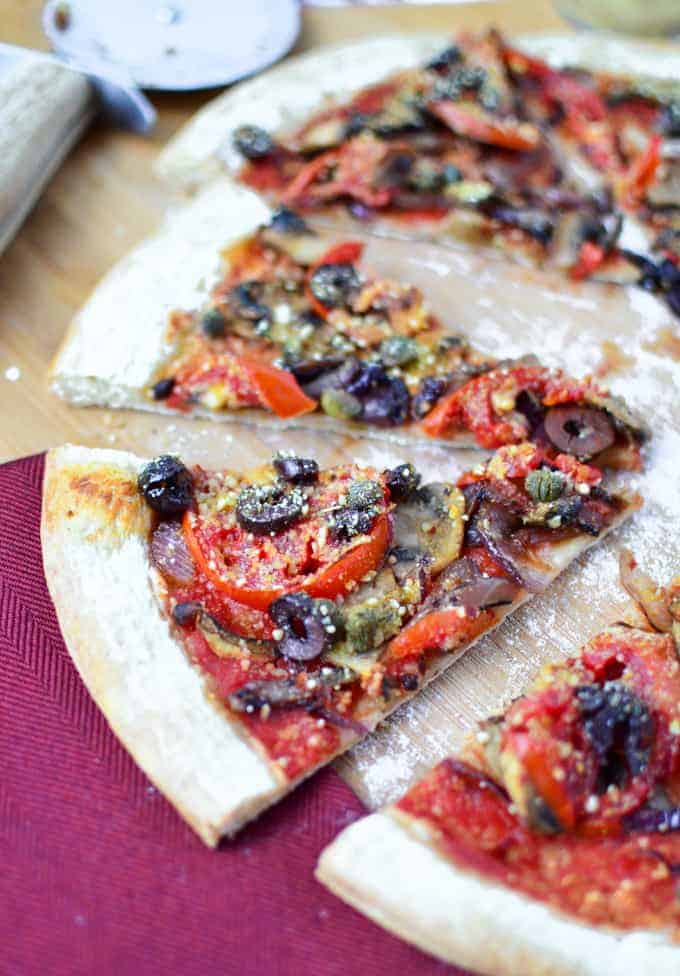 Um, what's this gotta do with pizza?
Nothing. But, you should totally make this one!
Puttanesca ranks as one of my favorite spaghetti dishes of all time so it was inevitable that I would one day recreate those flavors as a pizza.
A smidge of tomato sauce and layers of fresh, thinly sliced tomatoes create the perfect base for briny olives and capers & roasted onions and mushrooms. We then kick it up a notch with crushed red pepper.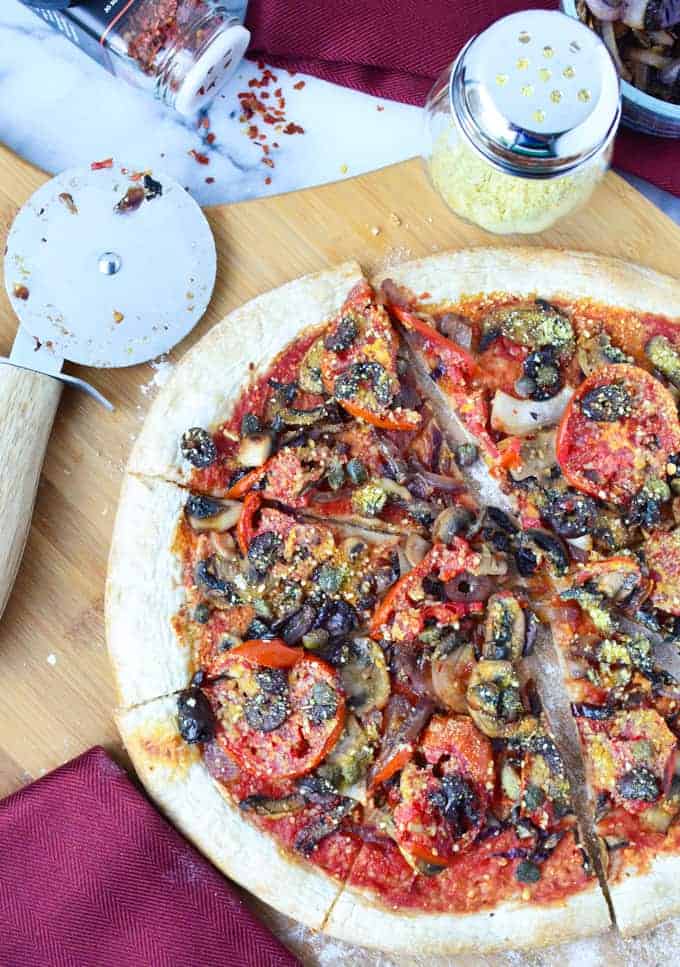 For pizza dough, I'm a loyalist to the Trader Joe's pizza crust in a bag. For less than $2 you get a freshly prepared dough that takes very little effort to roll out and top.
For those of you without a rolling pin (or patience), I recommend Trader Joe's new Organic Frozen Pizza dough. Simply thaw and add whatever toppings your heart desires. Weeknight pizza doesn't get any easier than this.
To recreate the cheesiness of traditional pizza, generously sprinkle on our homemade Parmesan cheese shake: blended cashews, nutritional yeast and garlic salt tastes eearily similar to regular parm.
Roll. Top. Bake. Shake. Vegan Puttanesca pizza is served.
Vegan Puttanesca Pizza
Spicy Vegan Puttanesca Pizza! Fresh dough layered with tomatoes, olives, capers and homemade vegetarian parmesan cheese.
Ingredients
Pizza Dough (I used a plain dough from Trader Joe's)
1 tbsp. olive oil, divided
½ red onion, sliced into very thin ½ moons
½ tsp. crushed red pepper flakes
8 oz. button mushrooms, sliced
3 tbsp. tomato sauce
2 large tomatoes, sliced very thin
¼ cup chopped olives
2 tbsp. capers
2 tbsp. chopped parsley
Vegetarian Cheese for sprinkling: Pulse all ingredients into a powder: ¾ cup cashews, ¼ cup nutritional yeast, 1 tbsp. garlic powder, pinch salt
Instructions
Preheat the oven to 425 degrees F.
Heat a large skillet over medium high heat and add ½ tbsp. olive oil.
Add the red onions, red pepper flakes and pinch salt and cook until translucent and soft, about 7-8 minutes.
Remove the onions from the pan and add the additional ½ tbsp. olive oil.
Add the sliced button mushrooms and saute until browned, about 5-8 minutes.
Remove the mushrooms from the pan and set aside.
Spread out the 3 tbsp. of tomato sauce onto the crust, leaving about 1" around the edge for the crust. Depending on how big your crust is, you may need to add another tbsp. of sauce.
Layer the sliced tomatoes, mushrooms, onions on the sauce. Sprinkle on the olives and capers.
Place the pizza in the oven for 12-15 minutes until lightly browned and golden!
Remove and sprinkle with parsley, more red pepper flakes and vegetarian parmesan cheese shake!