Lasagna sans noodles! Slices of roasted zucchini and eggplant stuffed with herbed ricotta cheese & quinoa! Gluten-free and can be made either vegan or vegetarian! 
We spent the past weekend in one of my favorite places in the country, Lake Tahoe. It's my go-to place when I need a little R&R, and I'm thankful that it's only two hours from our place in Sacramento.
After a particular grueling hike on Sunday morning, BL and I got to talking about food (fancy that!). Mostly about the fact that he would like some healthier food for the next few weeks. Totally agree. While I don't think our menu is unhealthy by any stretch of the imagination, we have been relying on more quick, fast, take-out meals as of late.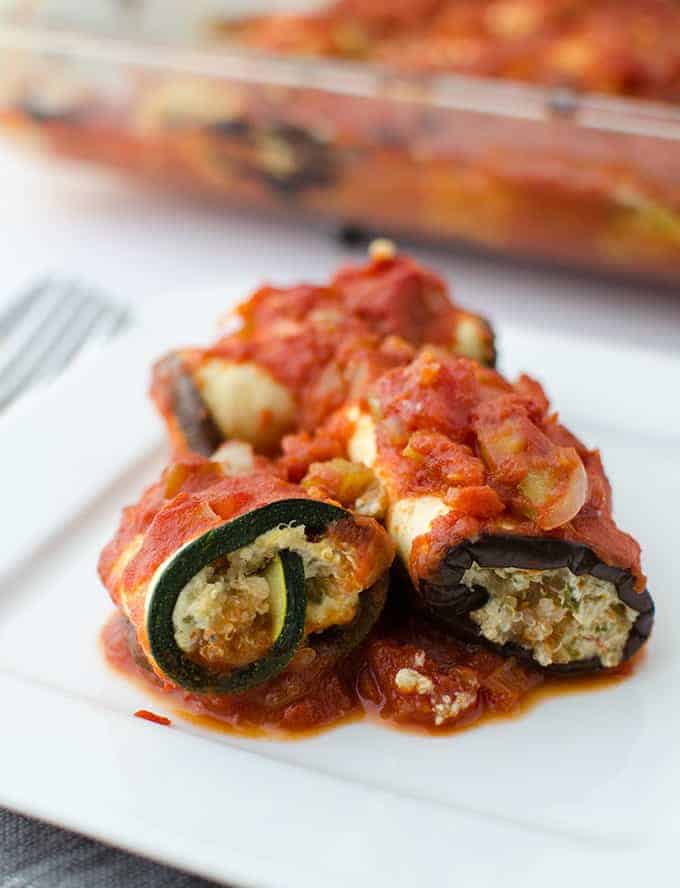 Of course, this conversation came after the fact that I was dying to use up our leftover eggplant & zucchini in lasagna. All ingredients purchased at the Farmer's Market last Thursday,  ready and waiting for me when we returned home on Sunday night. Apparently Lasagna, even my cleaned up version, isn't the way BL was picturing a healthy dinner.
Back to the drawing board. Well kinda. Instead of focusing on traditional carb-heavy lasagna, I pulled out the noodles and replaced them with thin strips of roasted zucchini and eggplant.
Since I'm not a huge fan of the texture of ricotta cheese (Shh! Don't tell my Italian grandmother), I used my favorite high-protein swap: Tofu Ricotta. Don't worry, both versions work fine here so use whichever you prefer. Since I wanted to reduce our pasta intake but still keep some type of grain in, I included a bit of quinoa to be stuffed with the ricotta. Maybe this meal was turning out to be more rollatini and less lasagna. Either way, it was perfect.
Whether it's traditional noodles or veggie noodles, I'm a huge fan of rolling individual noodles instead of layering them. Mostly because of portion control- I need all the help I can get when it comes to overindulging on Italian food.

You are going to love these lasagna rolls! They are
Cheesy
Saucy
Gluten-Free
Vegetarian or Vegan
Lower-Calorie
High-Protein
Low-Fat
Now get rolling!
Vegetarian Lasagna Rolls
Ingredients
1 tbsp. olive oil
1 medium onion, diced
2 garlic cloves, minced
1 bell pepper, diced
1 tsp. dried oregano
¼ tsp. red pepper flakes
1 8 oz. can tomato paste
2 large cans tomato sauce
1 large Italian eggplant, sliced lengthwise
2 large zucchini, sliced lengthwise
2 cups mozzarella cheese (optional, regular or vegan version)
1 cup cooked quinoa
Tofu Ricotta:
16 oz. package firm tofu, rinsed and drained
2 tbsp. white miso
1 tbsp. lemon juice
2 cloves garlic
½ cup parsley, chopped
½ cup basil, chopped
1 tsp. oregano
salt/pepper
Instructions
Make the sauce: In a medium sauce pan, heat olive oil over medium heat. Add the diced onion, minced garlic and a pinch of salt. Cook until soft, about 5 minutes. Add the bell peppers and cook an additional 2-3 minutes. Add the oregano and pepper flakes. Add the tomato paste and stir to combine. Add the tomato cans, bring to a simmer and cook while you prepare the rest of the lasagna.
Preheat the oven to 400 degrees F.
Lay the eggplant and zucchini slices on a baking sheet and cook for 5-6 minutes until soft. Be careful not to burn, you want them to be soft enough to roll but not crispy. Remove the vegetables and reduce the heat to 350 degrees F.
Make the ricotta: In a food processor, combine the ingredients for the tofu ricotta. Pulse a few times until the mixture comes together. You want it to be combined but not pureed.
Spread 1 cup of tomato sauce on the bottom on a 9x13 inch pan.
Spread the ricotta onto the vegetable slices. Top with a pinch of cheese, if using, and quinoa. Roll up from the wide end and place in the pan.
Continue to roll up the rest of the vegetables. Cover with the remaining spaghetti sauce.
If you want it extra cheesy, top with the remaining cheese.
Bake for 30 minutes.
Notes
For vegetarian version, replace the ricotta cheese with the tofu. Remove the miso paste, lemon juice, and only use 1 clove of garlic.