I love the idea of buffalo-sauce coated anything. Seriously, the heat and buttery goodness taste amazing on any food: tofu, tempeh, or straight out of the bottle. BL and I are huge buffalo fans and make nuggets often during the fall for football games. A big pile of those, homemade ranch, and beer is my favorite way to spend a lazy saturday. But, health reasons included, those days are very far and few between.
My sister was visiting a few weeks ago and as a somewhat new vegetarian I was showing her how to use tofu multiple ways. I started of with this version, the easiest and most impressive, lightly fried. As a fellow buffalo sauce freak we decided to make Buffalo Chix Salad because as everyone knows, eating lettuce with your fried tofu makes for a very healthy meal.
Buffalo Chix Salad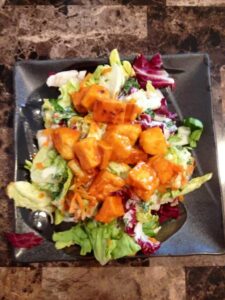 Ingredients:
1 16 oz. container extra firm tofu
1/2 cup corn starch
pinch sea salt
1/4 cup oil
Lettuce- enough for 4 salads
1 avocado
3/4 cup shredded carrots
1/2 cup Buffalo Chicken Sauce (like Frank's)
3 tbsp. Earth Balance Margarine
Ranch Dressing
(I use this version from Morgan at Little House of Veggies. I add lemon juice to it as well. It's so addictive we affectionately call it vegan crack in my house).
Start by pressing the tofu. There are lot's of ways to do this, I just drain the water from the tofu, wrap the block in a kitchen towel, place it on a plate and set a sauce pan with heavy cans on top. Keep it like this for 10-15 minutes while you shred the carrots, prep the salad and make the dressing.
Prep salad: combine shredded carrots, lettuce, avocodo and whatever other vegetables you want.
Make the dressing: follow directions from LHOF.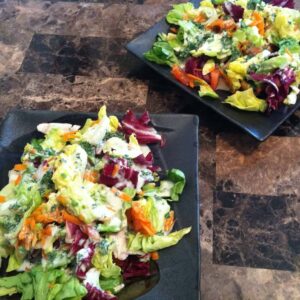 Unwrap the tofu and cut into small, bite size cubes. Combine the corn starch and salt on a large plate.
Heat a skillet, I like my cast-iron pan for this, to medium-high heat. Once the pan is hot, add 1/4 cup canola oil.
Dredge the tofu in the corn starch mixture and place in the skillet. Let cook until golden on one side and flip with tongs, continue to cook the rest of the tofu mixture like this.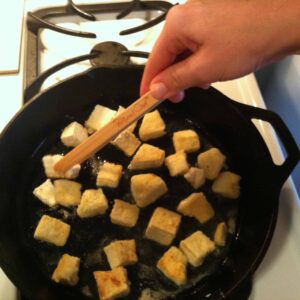 Place on paper-towel to drain when finished.
Melt the butter and combine with the buffalo sauce. Toss the cooked tofu with the buffalo chicken sauce.
Assemble: Salad, ranch dressing, buffalo chix. Dig in and smile.