You know the moment that you've made something amazing? The exact second when you taste something and you start dreaming of self-titled cookbooks, shows, and appearing on the Today Show?
This is that dish.
I'll be honest. It's really hard for me to tell what is 'good' from what is 'eh' sometimes when I craft recipes. I like most of the food I make, but I'm also the same person who thinks a big bowl of steamed kale and brown rice make a fine, fine dinner.
I get that not everyone has those same taste buds.
Sometimes I think the Universe played a cruel joke on me by making me fall head-over-heels for my sweetie.
BL, as I affectionately put it, has the taste buds of a 5 year old.
His favorite meals? Mac N Cheese, Pizza, Chix Nugget Salad, Stir-Fry, Lentil Tacos, Soups. Sure, fine, I love all those kind of foods too. But. When I start getting a little crazy in the kitchen, adding my own spin and spice to favorite recipes, I know he wishes I was making bean burritos instead. The other day he said, in the kindest voice mind you, 'Can we stop putting Curry flavor in everything? I feel like that's all we've been eating lately'
Ummm. Sure.
I could have gone on my Indian kick forever.
But, love is love, so you change it up a bit. You make hearty, not-so-scary, manly yet healthy meals and all is right in the world.
That's exactly what we have here. I knew the second I tasted the sauce that BL was going to love this dish. I did a little jig in the kitchen knowing that I was going to make him oh-so-happy for dinner that night.
Because, if the way to a man's heart is through his stomach, I should be able to experience that once in a while, right?
What he lacks in flavor-adventure, he makes up for in everything else. Shoot this video for me so I can show people how to roll gnocchi like my grandmother taught me? No questions asked.
Try a zillion variations of chocolate chip cookies until I get the perfect one? Sigh. Yeah. He does it all.
Sometimes living with a food blogger isn't always that fun. Sometimes the food is cold because I took too much time photographing. Sometimes we eat at 10PM because I started over 4 times. But when I get it right, I know. If BL loves it, I know everyone else will too.
So, in the spirit of upcoming Valentine's Day, I hope you enjoy this easy, very impressive meal, worthy of anyone you make it for.
How-To Video
We made a video! And it was fun! The worst part is realizing all of the mistakes you made after you've finished filming. Oh well! YOLO.
I hope you enjoy. We have a few more coming in the next few weeks, think hummus, tofu, burgers, oh my!
Homemade Gnocchi with Mushroom Ragu
2 large baking potatoes
1 cup regular flour
1//2 tsp. garlic salt
2 tbsp. dried basil
1 tbsp. dried oregano
1 tsp. salt
Preheat oven to 400ºF. Clean potatoes and poke all over with a fork. Bake for 1 hour until really soft. Remove from oven, let cool and peel skins off.
Using a ricer, rice potatoes and place in a large bowl. If you don't have a ricer, mash until there are as few lumps as possible.
In a separate bowl, combine the flour, dried herbs, and salt. Slowly add the flour to the potatoes and stir into a dough forms. Wrap dough in plastic and place in fridge for 30 minutes.
Unwrap dough and place onto a lightly flour-dusted workspace. Divide the dough in 4 and roll each section into a 1/2 inch thick log. cut the rope into 1″ pieces. Using your pointed and middle finger, place fingers onto a piece of dough and pull towards you. Fold the other side over. You want to make a crevice where sauce can get in.
Bring a large pot of salted water to a boil. Place gnocchi in water and cook until they rise to the surface, about 3 minutes. You will do this in batches, being sure not to overcrowd the gnocchi in the sauce pan. Remove with a slotted spoon and place on a cookie sheet in a warm oven.
Only cook the amount of gnocchi you intend to use. Freeze any additional gnocchi before cooking.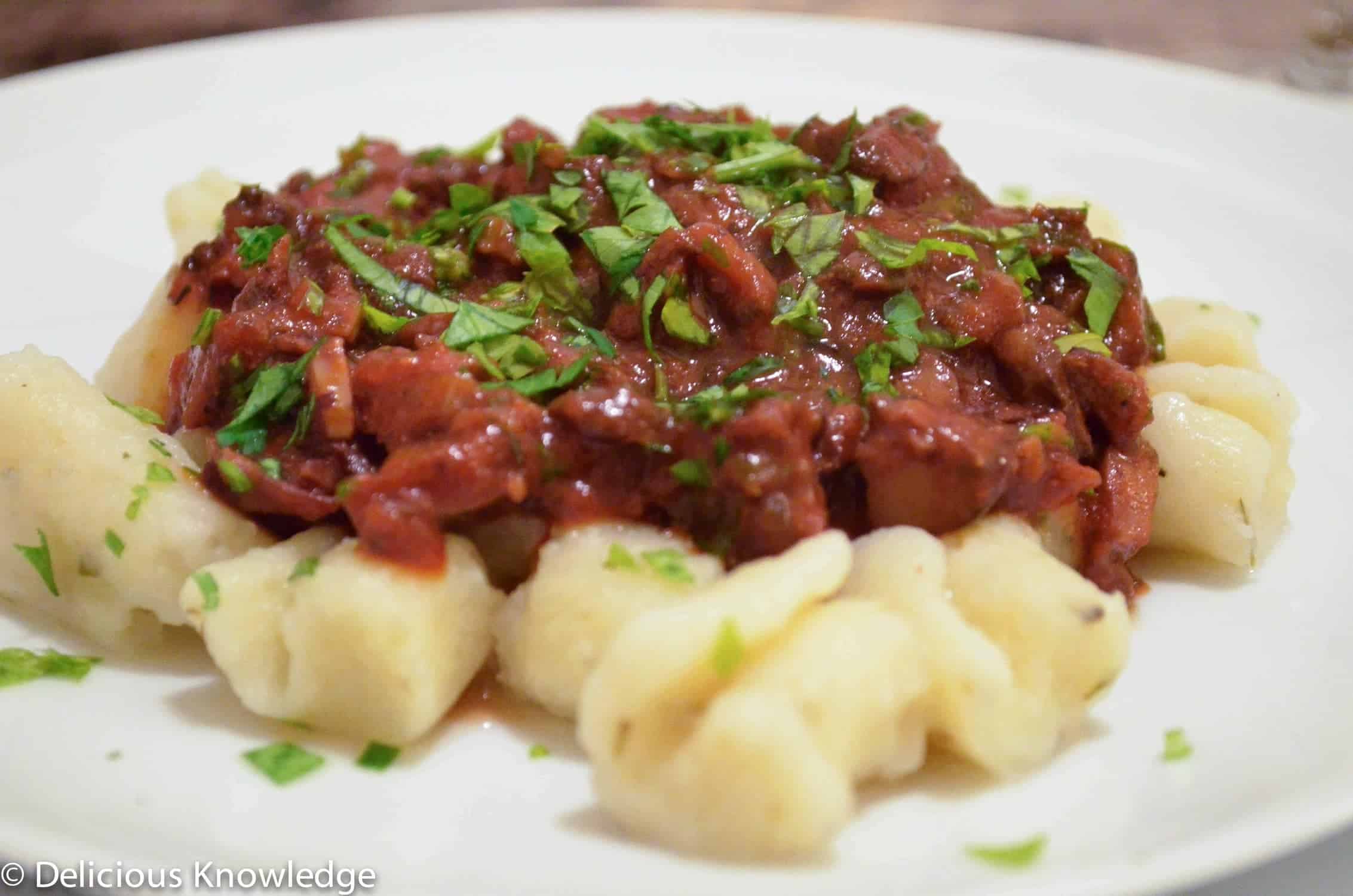 Mushroom Ragu
4 cups mixed wild mushrooms, chopped
1/3 cup olive oil
1 shallot, minced
2 cloves garlic, minced
1 tsp. dried rosemary
1 tsp. dried oregano
1/2 cup tomato puree
1/4 cup red wine
1/2 cup vegetable broth
1/8 cup parsley, chopped
1 tbsp. butter
Heat the oil over medium heat. Add mushrooms, let cook for 10 minutes until reduced and caramelized, stirring only a few times. Season with salt and pepper. Add garlic, shallots, rosemary, oregano and cook for 5 more minutes. Add tomato sauce and red wine, stir and cook an additional 5 minutes. Add vegetable broth, reduce to a simmer and cook for 5 more minutes. Remove from heat. Whisk in 1 tbsp. butter and sprinkle with chopped parsley.
BL approved. After he takes a bite, looks at me and says 'A+' I know we have found a winner.
Whose your tasting partner?