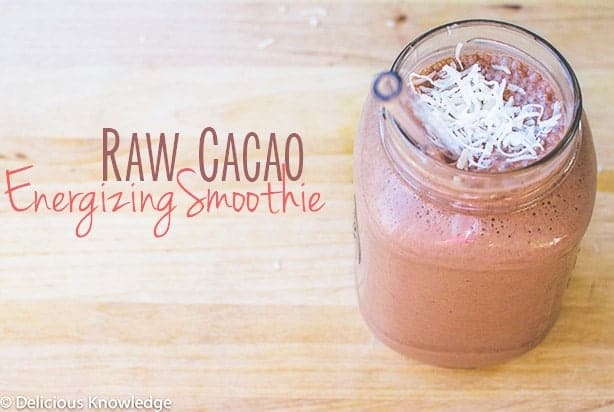 Let's pretend for a moment that the recipe I am about to share with you is not a chocolate milkshake. It tastes like a milkshake, it looks like a milkshake but it is not an actual milkshake.
No, this creamy, chocolate, thick-as-mud shake is actually a blend of frozen banana, coconut milk, almonds and cacao powder. But you can call it a chocolate milkshake if you prefer.
I've been enjoying this raw cacao smoothie before our weekend long runs and it's the perfect zip of fuel that I need. Only two more weeks until our 1/2 marathon and I am really excited to see what impact our training will have on our race times. Although our weekday runs haven't changed much, we've gradually increased our weekend runs by 1-2 miles each week. While the small increases haven't been too challenging, it's a nice way to try and keep my pace consistent with each added mile, a fun little game I play with myself and Map My Run.
For these runs, I need a little something extra before hand to keep me going. A few bad runs have convinced me that while I may not need to eat before I run 3 miles, the story's not the same past the 90 minute mark. Enter this shake smoothie. It's the perfect blend of simple carbohydrates with a little protein and healthy fat for balance. Smoothies are my prefered pre-workout food since they digest easily and don't weigh me down. That's part of the reason I typically forgo fuel before me weekday workouts, I would rather feel hungry than full. If you're looking for more ideas on pre-workout fuel, my list of favorites are here.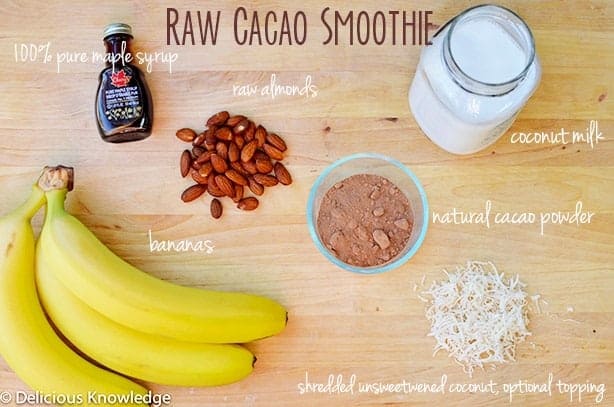 What's your favorite pre-workout meal?

Raw Cacao Smoothie
Author:
Alex Caspero MA, RD
Recipe type:
smoothie, post workout, beverage
Ingredients
1 large frozen banana
2 tbsp. natural cacao powder
3 tbsp. 100% pure maple syrup
1 cup unsweetened coconut milk beverage (I love Silk brand)
¼ cup raw almonds
Instructions
Place all ingredients in a high powered blender and puree until smooth and creamy.
If you want it more icy, add a few ice cubes to the blender.