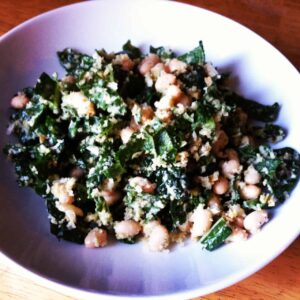 I love kale. Seriously, I do. Besides Swiss Chard, Kale is my favorite vegetable. Hearty and packed full of nutrients, it's the ultimate plant-food. However, I know few share my same sentiments. I often get quizzical looks from my clients when I ask them if they've ever tried Kale. My question is either quickly dismissed with  "Don't like it" or "Don't know how to prepare it."
I gave a talk on Breast Cancer and preventative nutrition last week and was racking my brain on what I could bring for a recipe demo. After playing around in the kitchen a few weekends ago, I came up with this: Raw Kale Ceaser Salad. I figured it was familiar enough for everyone to be willing to try it and also highlights Kale.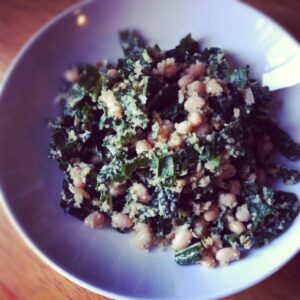 Raw Kale Ceasar Salad
Ingredients:
Dressing:
3 tbsp. extra virgin olive oil
1 lemon, juice and zested
2 garlic cloves
1/4 tsp. salt
1 tbsp. white miso
1 bunch Tuscan Kale
1/4 cup good-quality bread crumbs (or make your own-very easy!)
1 cup white northern (Cannellini) beans (if using canned, drain and rinse)
3 tbsp. grated parmesan cheese (optional)
Rinse and pat dry kale leaves. Stack leaves and roll up like a cigar. Starting at the end, thinly slice "ribbons" of kale, like a wide chiffonade and set aside in a large bowl.
Make dressing:
*Using food processor: Combine all ingredients in a blender/food processor and blend until creamy.
*By hand: Make a garlic paste: thinly mince the garlic and place into a pile. Using the back of a large knife, press the minced garlic down and scrape until a paste forms. Add the garlic to a bowl with the garlic, salt, lemon juice, zest and miso. Mix together and whisk in the extra virgin olive oil until smooth and creamy.
Toss with the kale and let sit for 10 minutes. This allows the kale to "wilt".
Add the rest of the ingredients- the beans, the cheese, and the breadcrumbs. Toss to combine and enjoy!
Per serving (4): 219 calories, 12g fat, 19g CHO, 6g fiber, 8.4g protein
How do you like to prepare Kale?