Spicy Vegan Pad Thai! Spicy pad thai with Sriracha tofu crumbles. Vegan with Gluten Free option.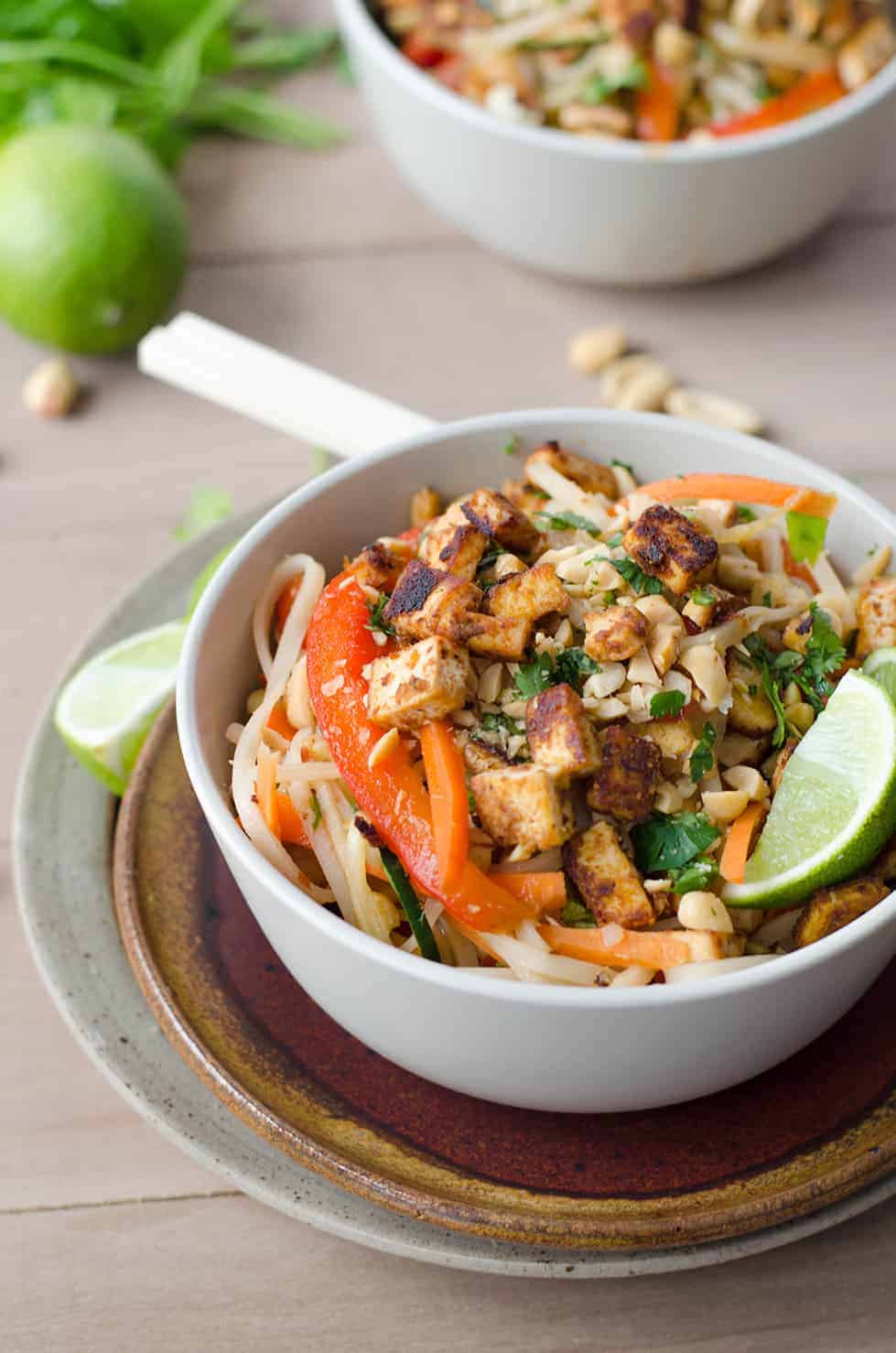 Once again it's Monday morning and I'm here to talk to you about my love of all things NOODLES. I swear, I go through withdrawal symptoms when I haven't had my daily fix of them. I talk a big game, pretending that I crave healthy food after healthy food, but really- I'm just here for the pasta. Guess it's a good thing I have an Italian cookbook coming out this Fall. ;)
I forgot to share my weekly meal plan with you last week; I'm realizing that weeknight dinners are relatively easy to create when we are home on the weekends. Throw in travel or out-of-town guests, and I'm down for the count until at least Wednesday. After freezer leftovers and takeout for the first few nights, I finally got the motivation to head to the store and return to my weeknight dinner duty. It's ironic isn't it? You'd think that as an almost full-time recipe developer, I'd have more weeknight food than I know what to do with. Obviously, I'm missing something.
I finally settled on this one-pot bucatini puttanesca (minus the anchovies) for our Wednesday night dinner after a quick pinterest search- wow, so delicious. One pot is the answer to all my weeknight dinner dilemmas! After a giant bowl of that pasta, I wasn't quite ready to be done with the noodle love, so I whipped up this Spicy Pad Thai the following night.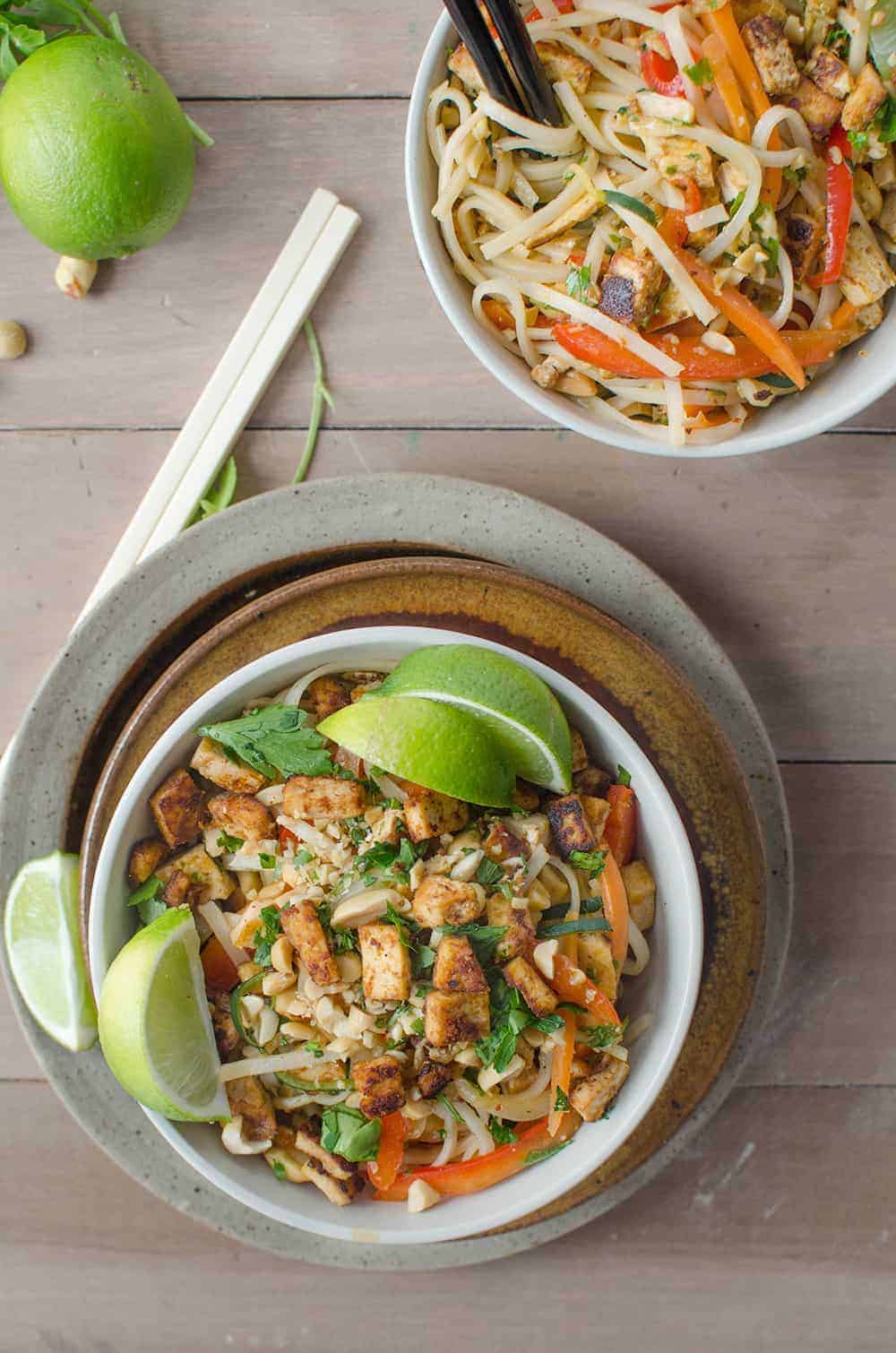 I've clearly been on an Asian influenced kick lately (see here, here, here, here, and here) Six dishes in a month? That's a record- even for me. Maybe it's my subconscious trying to subliminally convince BL that we need to take that trip to Thailand this year…
Ever since making this, I've been craving nothing but. Slurpy, salty noodles with a giant helping of vegetables, fresh herbs and crispy, spicy tofu. It's texture on parade and seriously one of my favorite dishes as of late. (Though, I tend to say that about everything so I clearly cannot be trusted).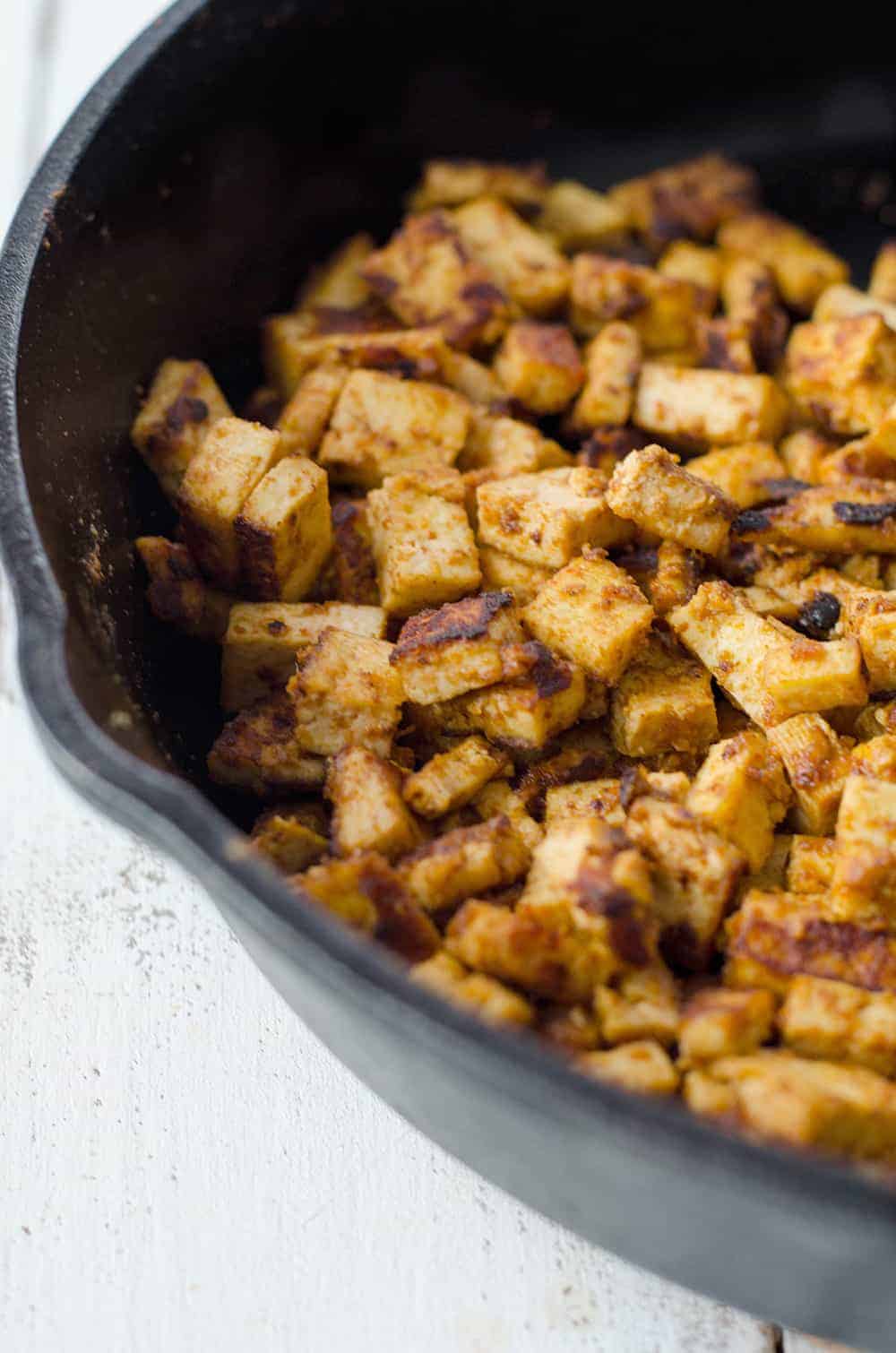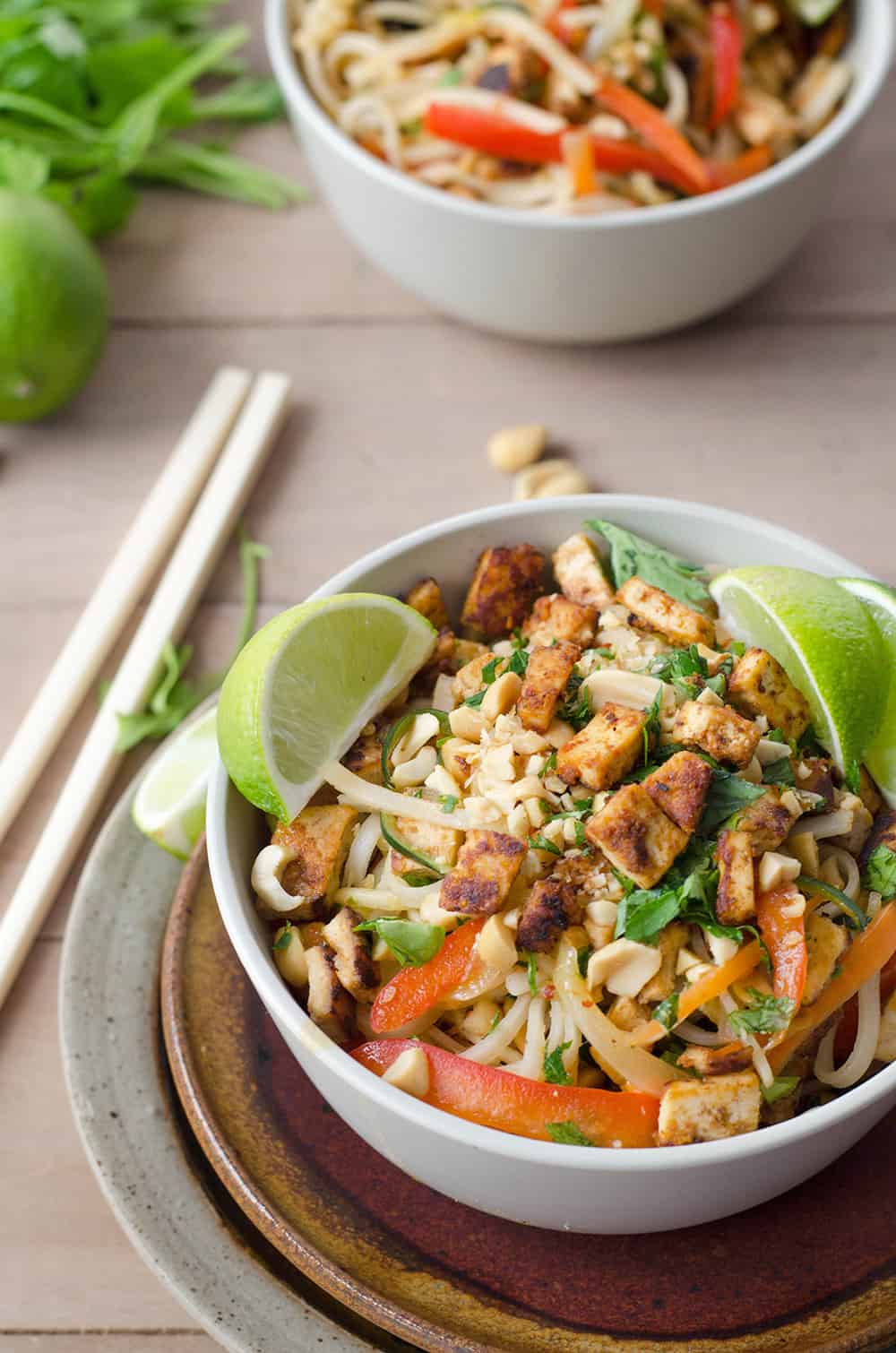 It's a little more work than normal for a weeknight meal, but none of the steps are difficult. In keeping with my sweet mother-in-laws request, I've made sure that all of the ingredients can be found at a normal grocery store. While taking a trip to the International Market is like Christmas for me, I know not everyone feels the same way.
The sauce for the tofu and pad thai is fairly similar, so pull out all of the ingredients to whip them up at the same time. I rely on these glass cups for almost all of my sauces. I measure everything directly into the cups, give a quick whisk and then set aside while I prep the rest of the ingredients. When I'm ready to use them, I can easily pour them into the skillet.
The spicy tofu on top really brings the entire dish together, but if spicy food doesn't agree with you, feel free to omit the Sriracha all together or reduce the amount.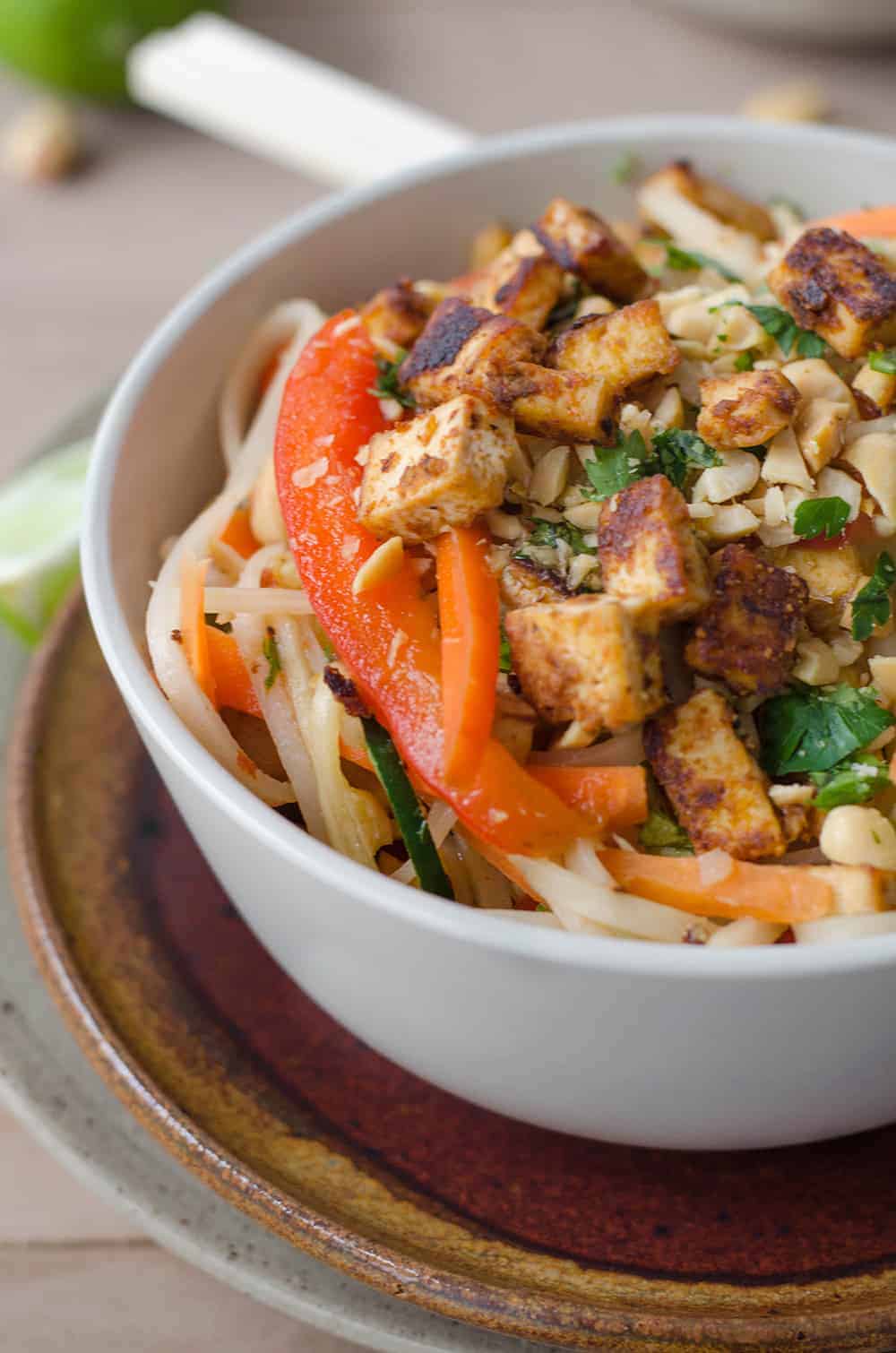 Spicy Vegan Pad Thai
Spicy Vegan Pad Thai! Spicy pad thai with Sriracha tofu crumbles. Vegan and Gluten Free.
Recipe type:
vegan, vegetarian, glutenfree, thai, healthy, dinner
Ingredients
Spicy Tofu Crumbles
1 pound extra-firm tofu, sliced ½" thick
1 tablespoon peanut butter
3 tablespoons soy sauce
1-2 tablespoons Sriracha (or other hot sauce/paste)
2 tablespoons plain rice vinegar
2 teaspoons toasted sesame oil
2 teaspoons freshly grated ginger
Pad Thai
8 ounces brown rice noodles (or rice noodles)
2 teaspoons oil, divided (I used coconut oil)
1 red pepper, thinly sliced
½ white onion, thinly sliced
2 carrots, thinly sliced
1 Thai chili, finely chopped
½ cup peanuts, chopped
½ cup cilantro, finely chopped
Spicy Pad Thai Sauce:
3 tablespoons soy sauce
3 tablespoons fresh lime juice
1 tablespoon Sriracha (or other spicy sauce, less if you don't want as much heat)
3 tablespoons brown sugar
3 tablespoons vegetable broth
1 teaspoon garlic-chili paste
2 garlic cloves, minced
Instructions
Place the uncooked noodles in a bowl of cold water to soak.
Make the Tofu Arrange slices in a single layer on a paper towel lined plate and cover with a few more paper towels. Press down firmly on tofu with your hands to get rid of any excess liquid.
Heat a large non-stick or cast-iron pan over medium heat. Add the tofu, in a single layer, and cook, turning once until lightly browned on each side, about 5-7 minutes.
Remove from oven and finely chop.
Whisk together the ingredients for the tofu crumbles: peanut butter, soy sauce, Sriracha, rice vinegar, toasted sesame oil and ginger. Pour over the tofu crumbles and let marinate while you prepare the rest of the ingredients.
Make the Pad Thai
Whisk together the ingredients for the Pad Thai sauce and set aside.
Heat a large skillet or wok over medium heat and add 1 teaspoon of oil. Add in the vegetables (red pepper, onion, carrots and chili) and cook until just tender, about 2-3 minutes.
Transfer to a dish and set aside.
Add the remaining teaspoon of oil to the pan and add the drained noodles (they should be soft by now) and stir fry for a minute, stirring often.
Add in the sauce and stir-fry for another minute or two until the sauce starts to thicken and stick to the noodles. Add the vegetables and stir together until just combined. Stir in the peanuts, cilantro and divide among 4 bowls.
Add the marinated tofu crumbles to the skillet and stir fry for another 2-3 minutes until tofu is crispy and sauce is absorbed into the tofu. Divide among the 4 bowls and serve immediately.
Notes
For gluten-free version, substitute Tamari for soy sauce
More vegan Asian-inspired weeknight meals: