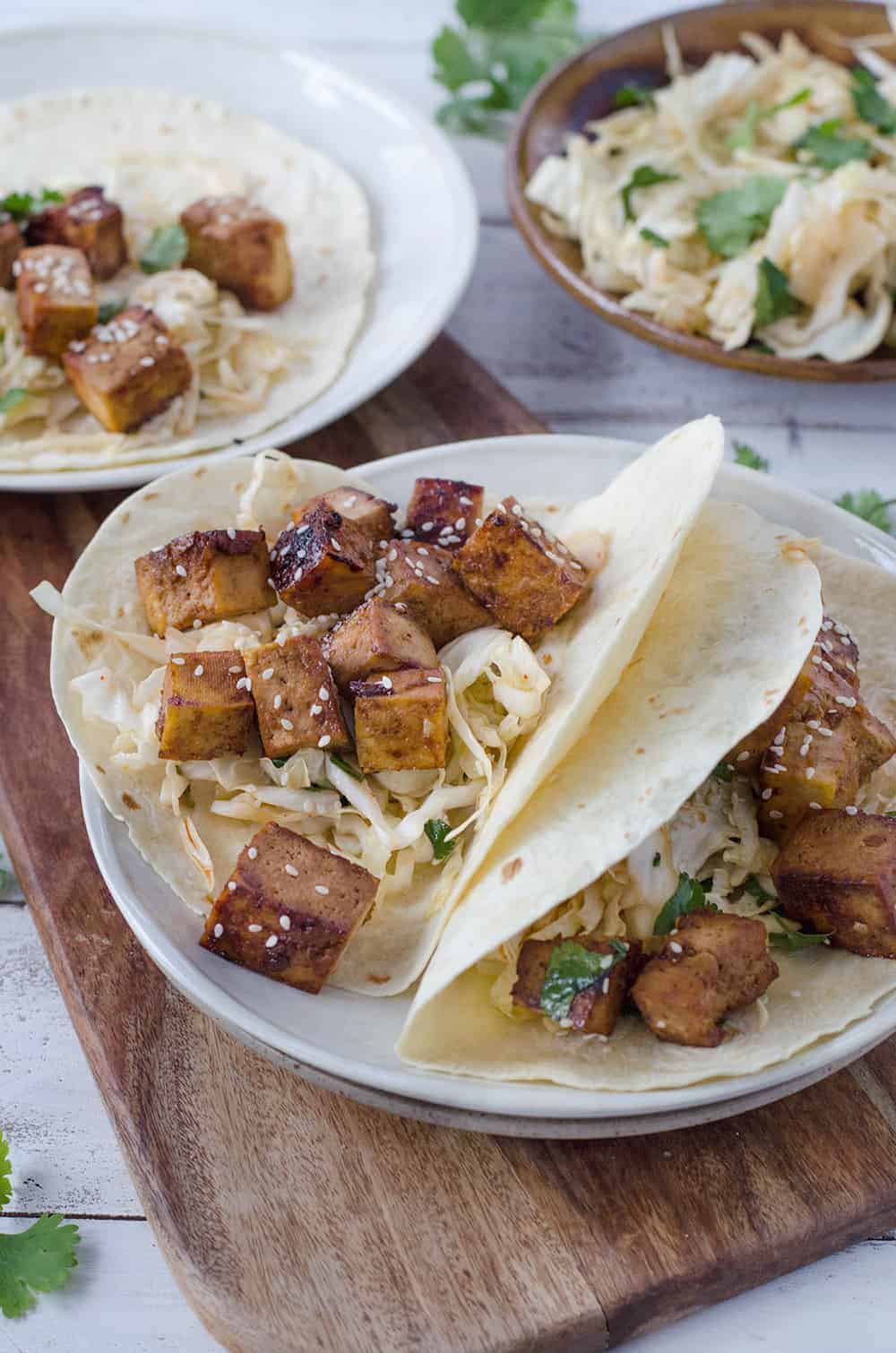 Everything I know about Korean food, I've learned from Bon Appetit. On second thought, that's true for most exotic food. If it's not Italian, then I've been taught by Bon Appetit, Food Network, eating or some combination of all three.
My intense love for Mexican food? Crafted by years of eating at every taco truck and taqueria in Northern California (or at least if feels that way). Isa taught me how to prepare tofu, make cashew cream and love tempeh. And my monthly subscription to Bon Appetit opened a door into the Asian world: one filled with different types of dark soy sauce, fermented black beans, daikon radish and now, gochujang sauce.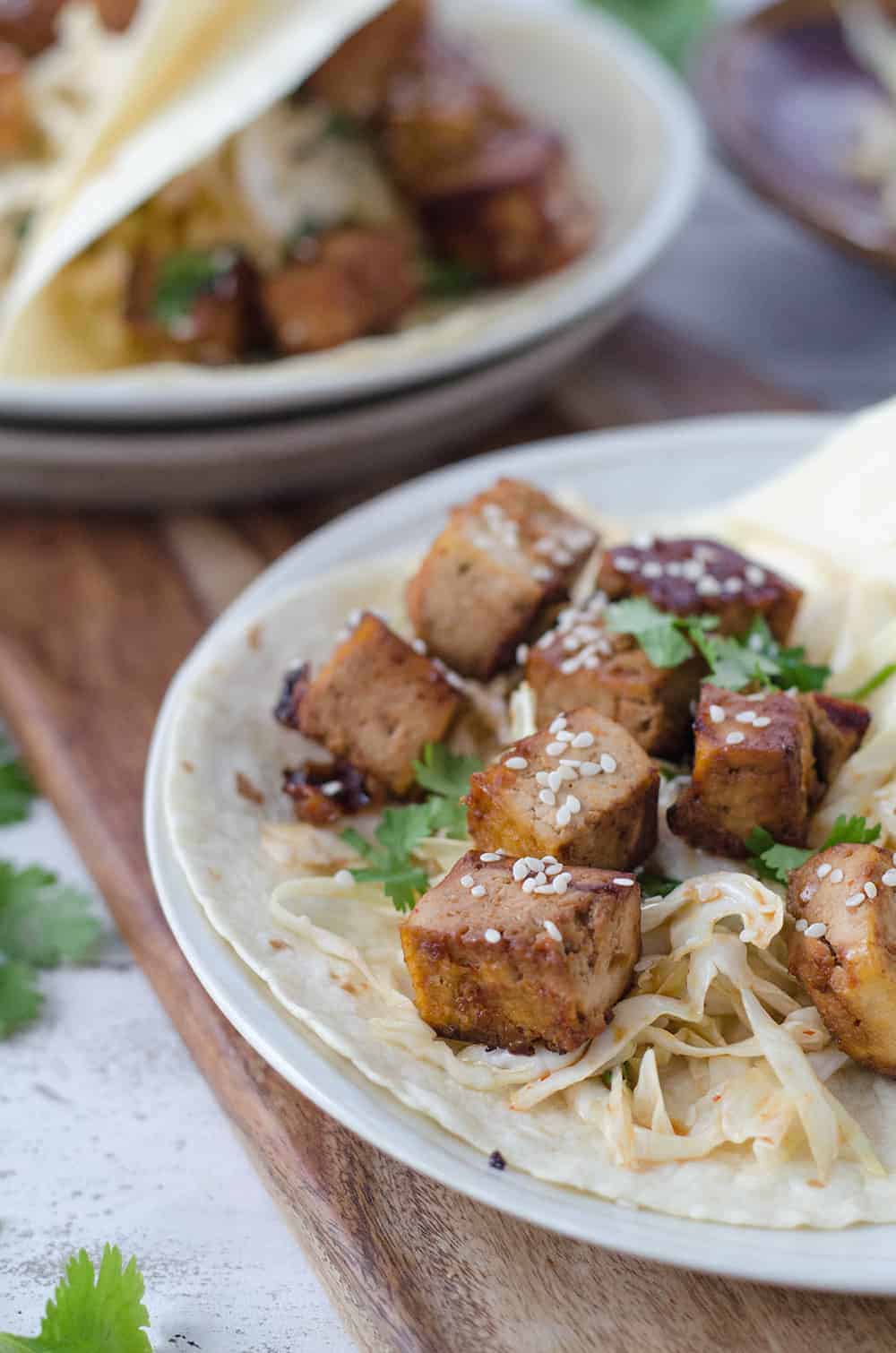 For this month's Recipe Redux, we were challenged to cook with a new-to-us ingredient, one that we haven't used before. Perfect timing! I went a little crazy at the international market last month and am now the proud owner of four kinds of thai chilis, two hot curry powders, green tea soba noodles and gochujang- the Korean pepper sauce I'd been hearing so much about.
In my limited research, I knew that gochujang was a funky, spicy, slightly sweet paste with lots of umami undertones. If miso and Sriracha had a baby, it would be gochujang. At least that's the way it seems to my limited taste buds. As a vegetarian living in the midwest, I haven't exactly been exposed to much Korean food. But I know flavor when I taste it, and my gochujang sauce was loaded with it.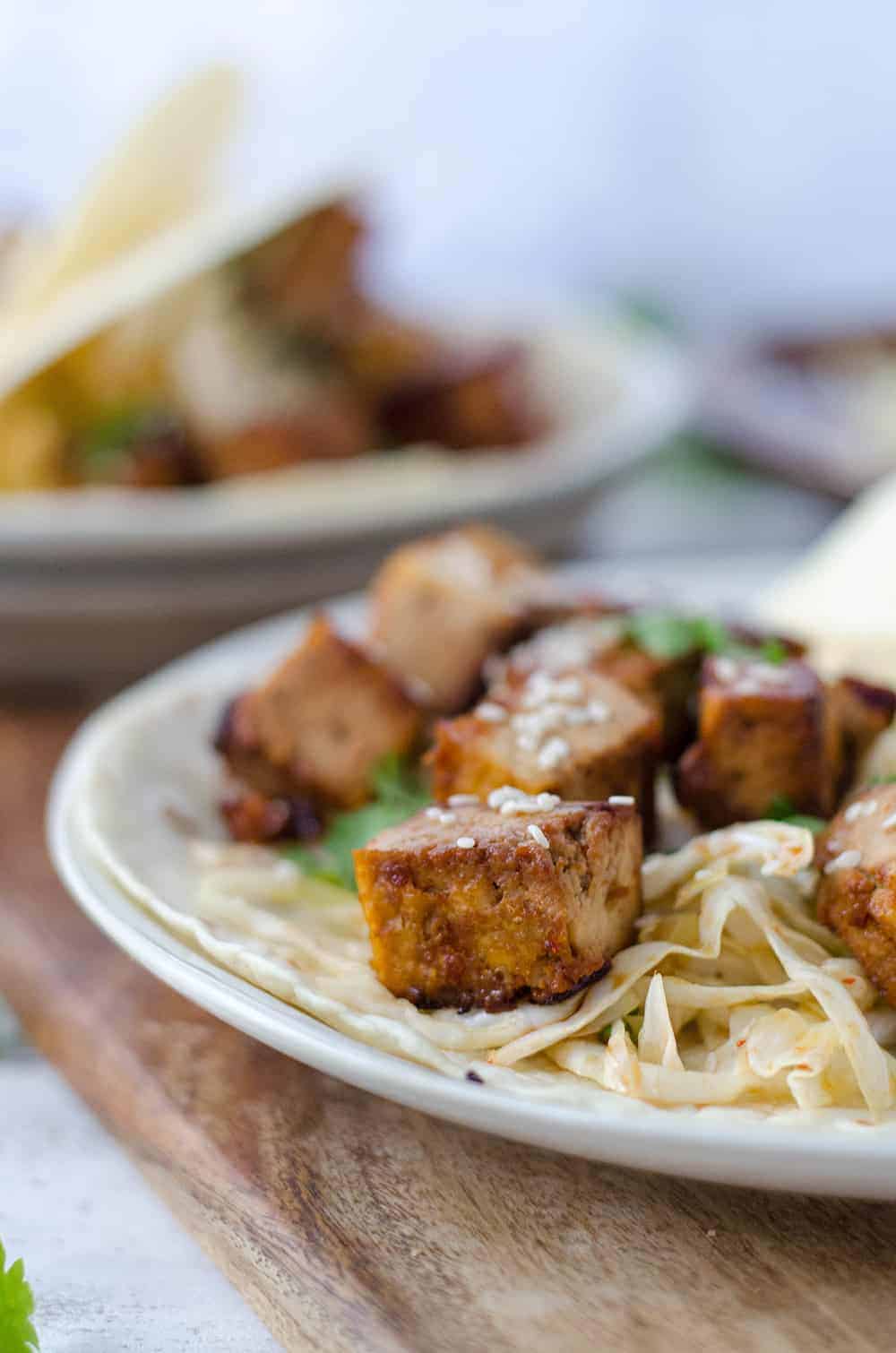 I'm playing fast and loose with the Korean taco title, so please excuse my limited knowledge of actual Korean cuisine. In the same way I call anything with salsa Mexican or kalamata olives, Mediterranean; my food is delicious though not always politically correct.
Whatever you call these tacos, know that they are highly addicting. I ended up eating two while I was photographing them and then another a few hours later. The gochujang tofu is the star, caramelized in just enough spice to warrant the giant pile on of a quick cabbage slaw. Yes, the tofu takes a little more time to prepare than other methods but it's worth it. Baking, marinating and then sautéing creates seared tofu nuggets that burst with flavor.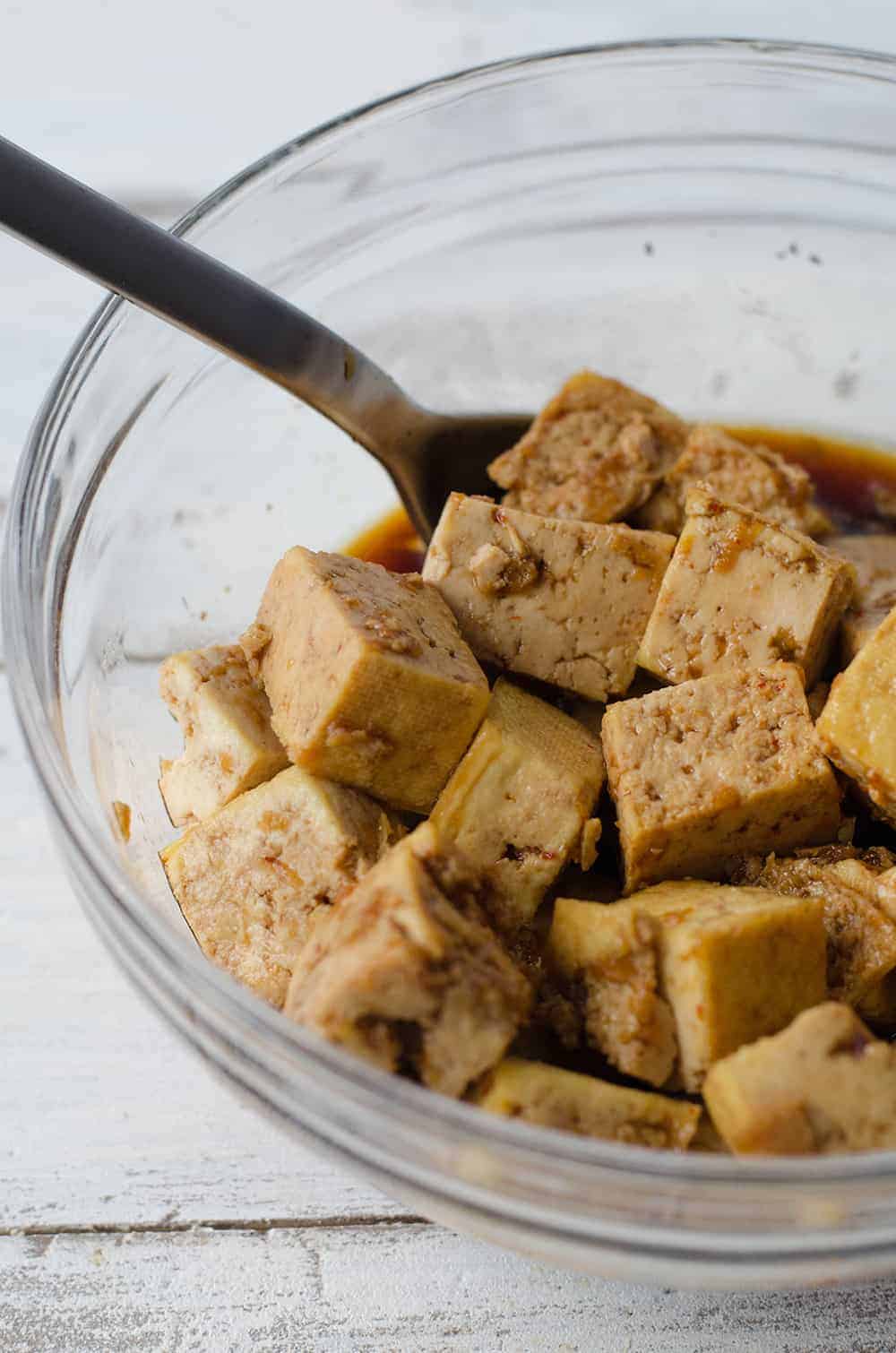 The best part!? You don't have to be a regular at an Asian food mart or International grocery store to get your hands on the unique sauce! When I spied a bottle of it at Walmart the other day, I knew this trend had gone mainstream. If gochujang sauce has now found it's way to wally-world in St. Louis, you know this is bigger than a Bon Appetit cult darling.
What new ingredients are you loving!? Enjoy more recipes from fellow #reduxers below!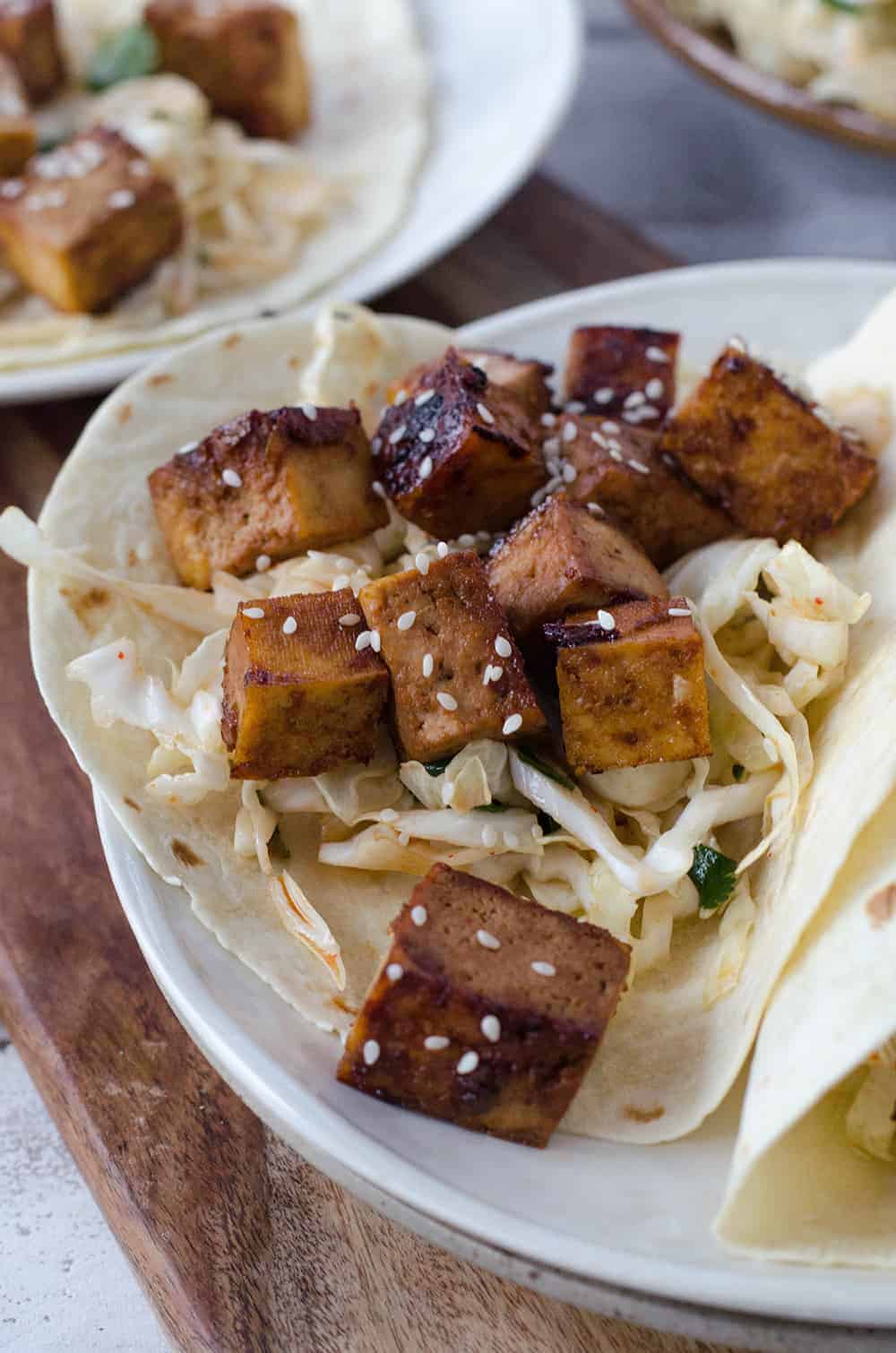 Korean Tofu Tacos
Korean Tofu Tacos! Crispy, Spicy tofu with a refreshing, cooling slaw. Must try this vegan dinner recipe!
Recipe type:
dinner, healthy, recipe, vegan, vegetarian, tofu
Ingredients
16 oz extra firm tofu, pressed and drained
Marinade:
½ cup low-sodium soy sauce
2 tablespoons brown sugar
1 tablespoon toasted sesame oil
1-2 tablespoons gochujang sauce (depends on spice level)
3 cloves garlic, minced
2 tablespoons mirin (can sub rice wine vinegar)
Slaw:
1 tablespoon gochujang
1 tablespoon maple syrup
1 tablespoon toasted sesame oil
3 cups shredded napa cabbage
2 scallions, minced
¼ cup finely chopped cilantro
6-8 Flour tortillas, for serving
Instructions
Preheat the oven to 400 degrees F. Cube tofu and place in a single layer on a non-stick baking sheet and cook for 25 minutes. If you aren't using a non-stick baking sheet, lightly spray with cooking spray. Remove from oven and place in a shallow bowl.
Whisk together the ingredients for the sauce: soy sauce, brown sugar, toasted sesame oil, gochujang sauce, minced garlic and mirin. Toss with cooked tofu and set aside for at least 15 minutes to marinate.
Make the slaw: toss together remaining gochujang sauce, maple syrup, toasted sesame oil, cabbage, scallions, cilantro
Heat a large non-stick skillet over medium heat. Add the tofu and sauce and cook until crispy and most of the sauce is absorbed.
Divide the slaw among the tortillas and top with tofu.