Slow Cooker Red Beans and Rice! This vegan and gluten free meal is so satisfying- perfect for chilly days!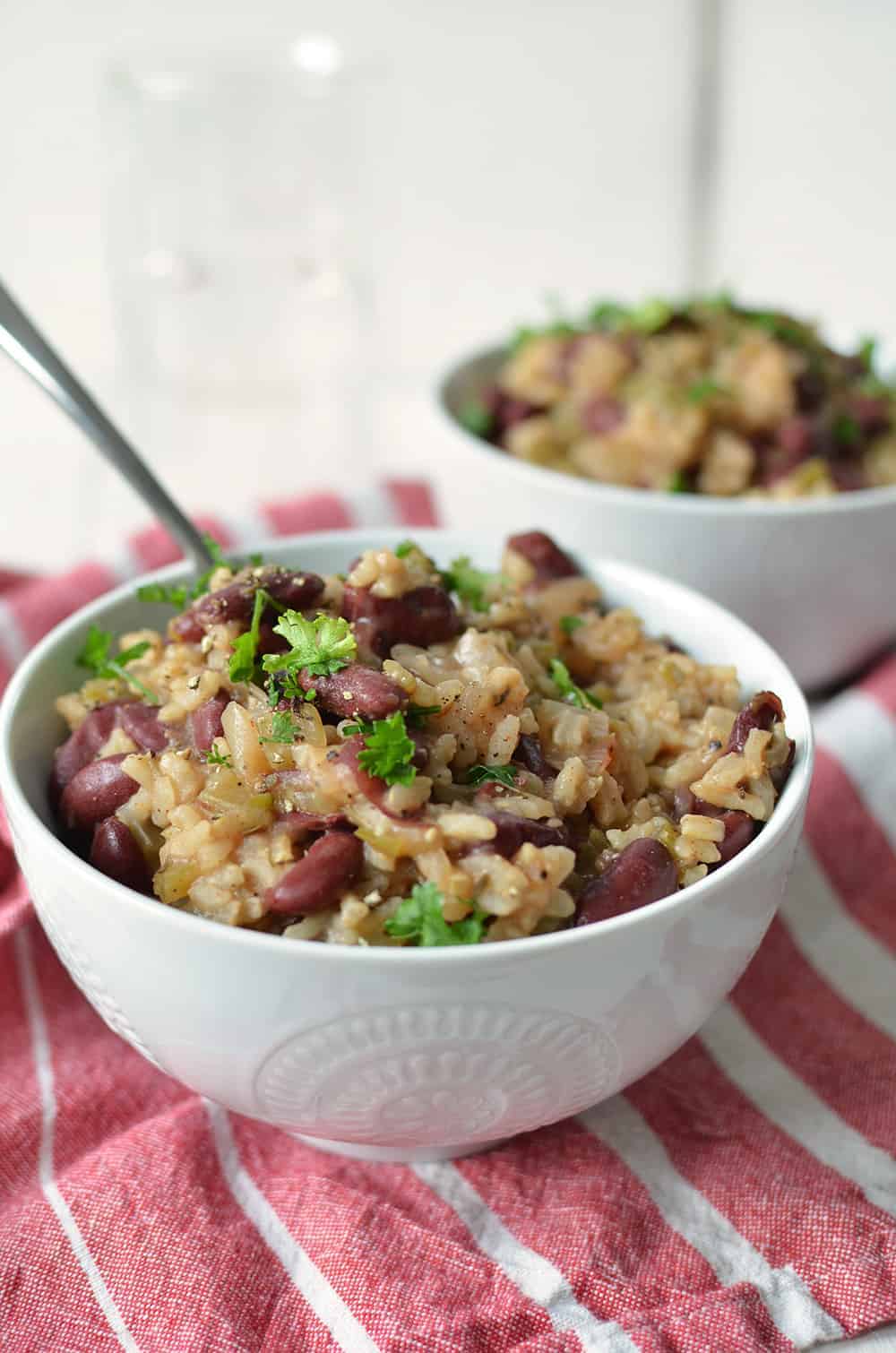 When will I get tired of posting slow-cooker recipes? I vote never. Don't you love meals that are easy (hi, crockpot) and comforting (hi, rice)?
Consider this your new I don't feel like cooking but I want something that's stick to my ribs cozy yet not covered in butter, cream or cheese. It's like a rice casserole for the adult crowd, smoky beans and creamy rice that takes all of five minutes to throw together. Maybe ten if you're also watching Curb Your Enthusiasm re-runs and have to take laugh breaks. I've seen every episode at least 5 times and I still crack-up at the parts I know are coming. Larry David and I have some kind of nerdy neurotic kinship that I will gladly double my meal prep time in order to endure.
Um, onto the red beans and rice.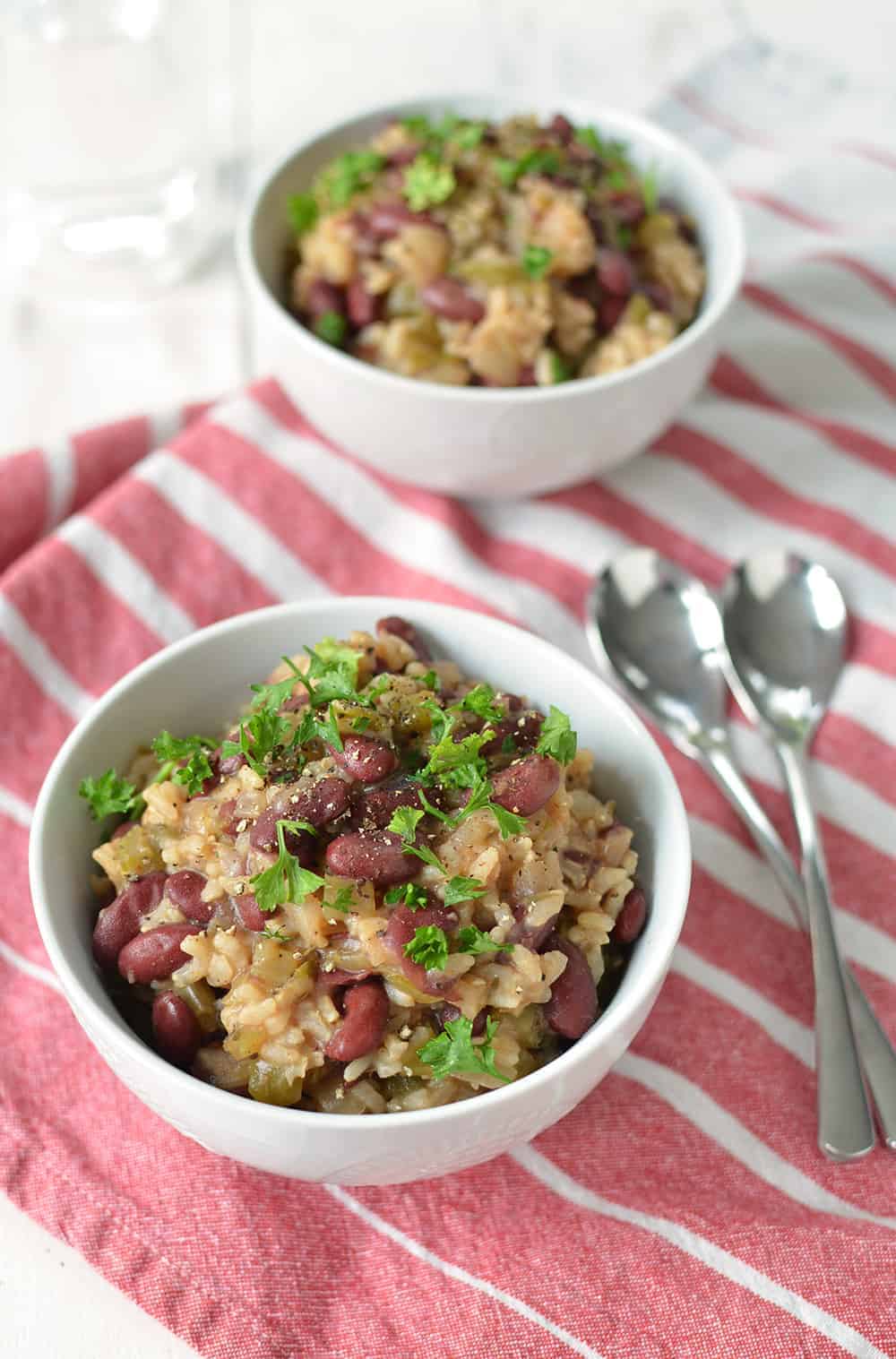 RB&R (red beans & rice) was one of those meals that we had all the time growing up, not exactly music to my 10-year-old ears. And with good reason; dried beans and rice are dirt cheap and simple for a family a 5. Easy for my mom, temper-tantrum worthy for me whenever I found out we were having this for dinner.
As I write this, I'm fairly sure this is exactly the same sentiment my kids will feel about my dinners. Like, whyyyyy mom are we having this kale thing again? Because it's good for you, now eat up.
Because of this childhood dinner table trauma, I've blocked out red beans and rice as any possible meal idea. Until I pulled out my slow-cooker out of the basement last week and suddenly memories of rustic beans and rice came flooding back.
Making it in the crock-pot was even easier that I thought it would be. After a quick google search to confirm that it would work, I added in uncooked rice after the beans had simmered and let cook for another hour or so until the rice was cooked and absorbed all the flavorful broth. If you do go this route, make sure you have enough broth (2 cups) remaining in the crockpot. If you decide to make the rice on the stove, reduce the broth by 1/2 for cooking.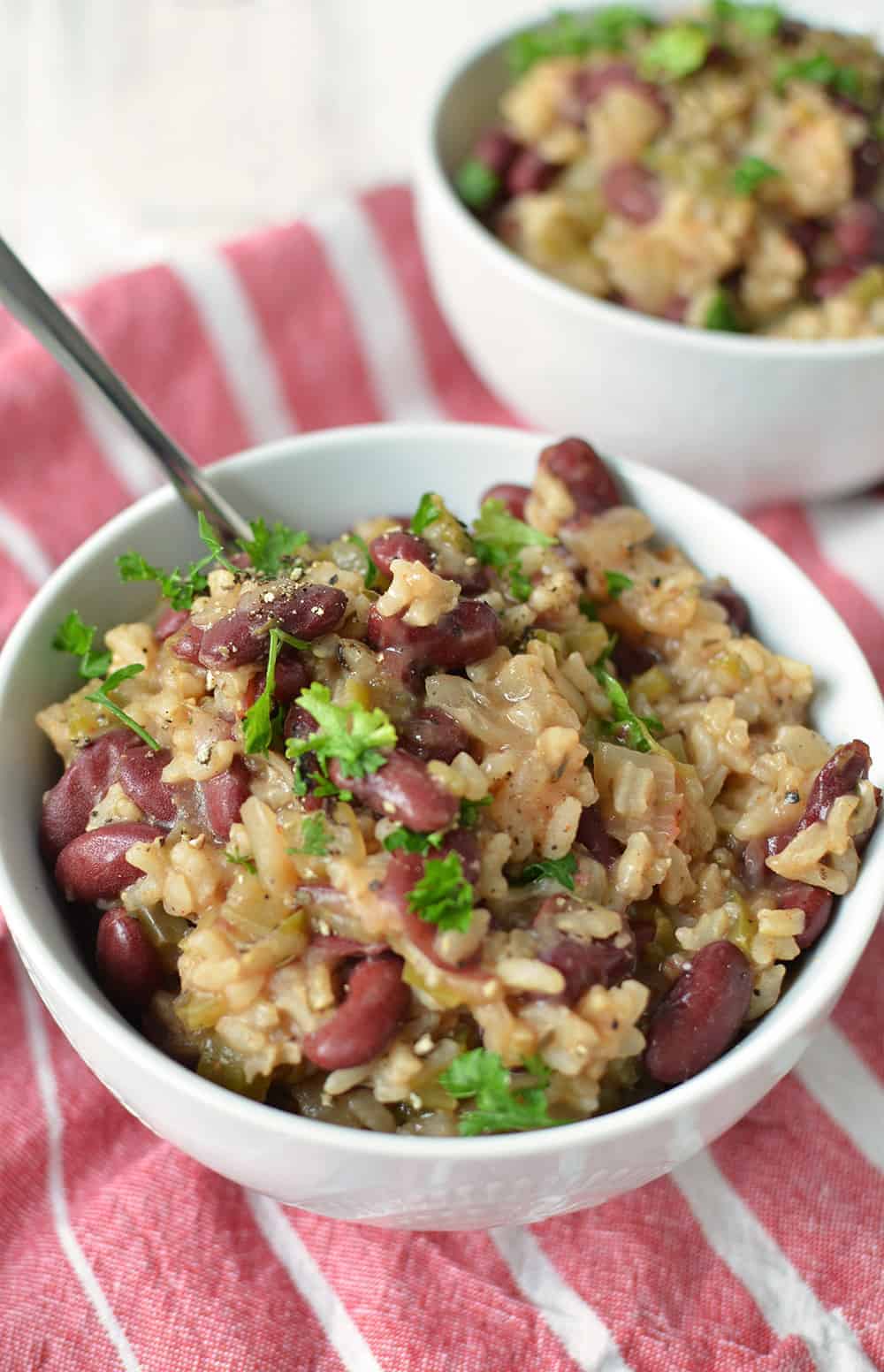 Slow Cooker Vegan Red Beans and Rice
Recipe type:
slowcooker, crockpot, vegan, glutenfree,
Cuisine:
dinner, entree, main
Ingredients
2 15 oz. cans red beans, drained and rinsed
1 cup finely chopped onion
1 cup chopped green pepper
1 cup chopped celery
2 tsp. dried thyme
3 cloves garlic, minced
2⅓ cups vegetable broth
1 bay leaf
1 teaspoon smoked paprika
¼ teaspoon cayenne pepper
1 cup rice
Instructions
Place the red beans, onion, green pepper, celery, thyme, garlic, vegetable broth, bay leaf, smoked paprika and cayenne pepper in a slow cooker and cook on low for 4-5 hours.
Stir in the rice, pinch of salt and pepper, and increase heat to high and cook for 1-2 hours depending on the rice you use (see notes) .
Notes
Depending on the type of rice you use, it should cook in 1-2 hours on high. I used a sprouted blonde rice and it cooked in 40 minutes. Brown rice should take roughly 2 hours.

If you decide that you don't want to add the rice into the slow cooker, reduce the liquid to 1 cup and cook rice on it's own.