Southwestern Quinoa Stuffed Peppers! Vegetarian and Gluten-Free! These protein packed peppers are so easy to put together and perfect for busy weeknights. Save these to make later!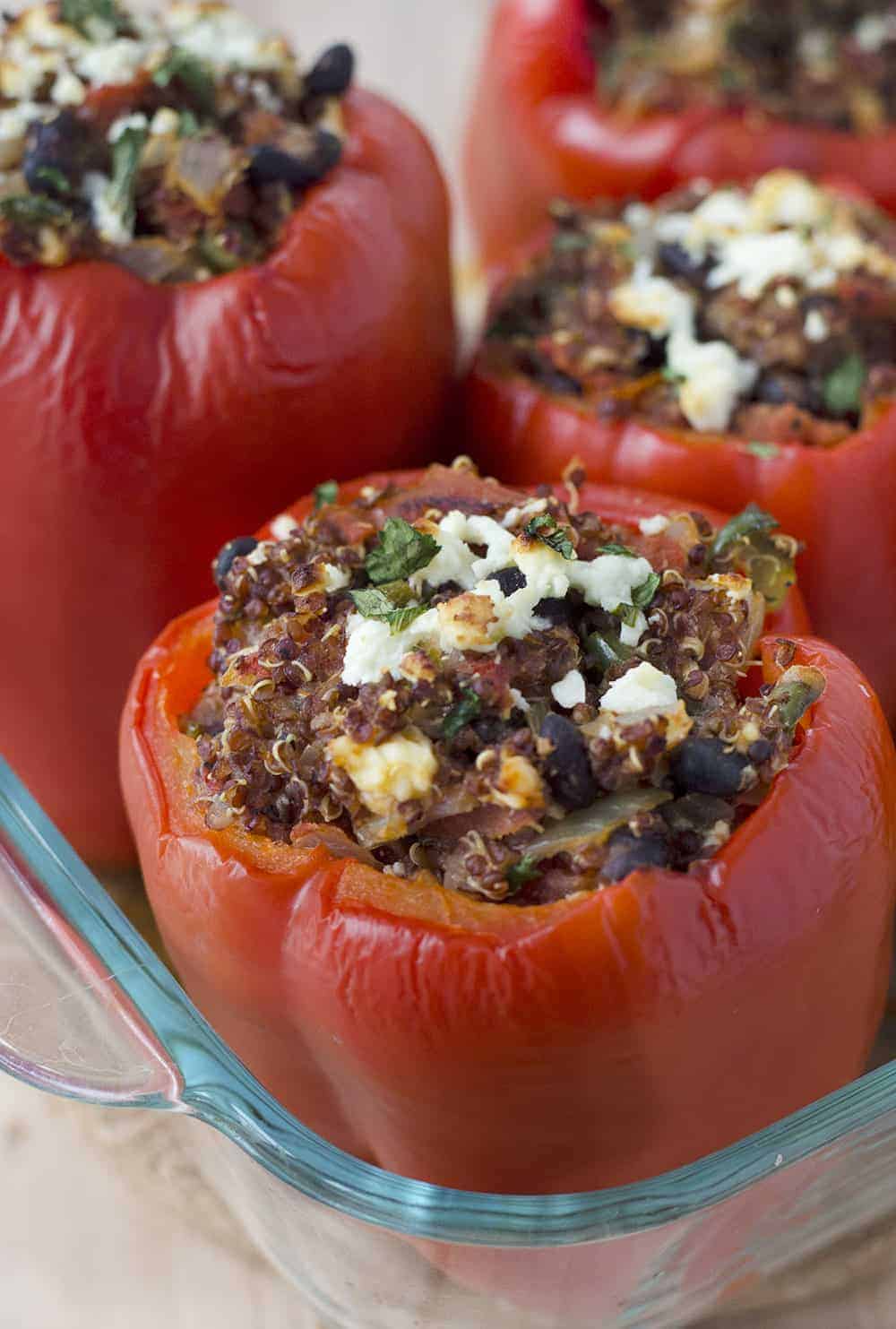 These peppers were inspired by my desire to create more hearty, make-ahead dinner options that are both filling and substantial. Since 2016 has been my year of the weeknight dinner, I've been hard at work creating dishes that are ready in 30 minutes or less or ones that I can prep in the morning to enjoy that evening or tuck away in the freezer for more hectic days.  I created these Lentil & Couscous Stuffed Peppers a few weeks ago for Food Network's blog and BL and I have been talking about them ever since.
Since I will always have a soft spot for Mexican food, I landed on these Southwest stuffed peppers as another option to the above Mediterranean ones. Packed with protein (14g) per pepper, these are a great plant-based entree that will satisfy just about everyone. BL and I polished these off in no time, with multiple requests to make them again soon.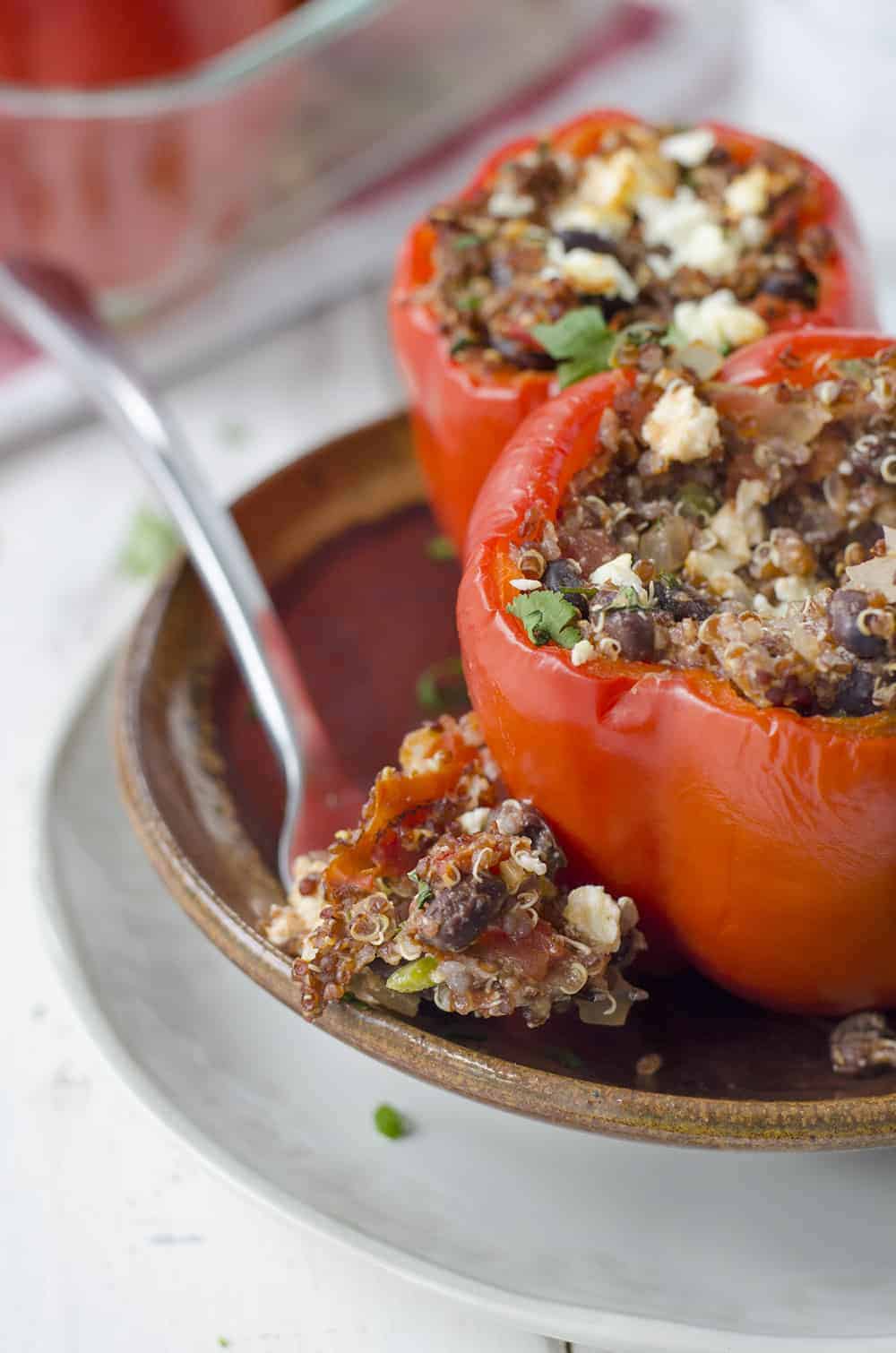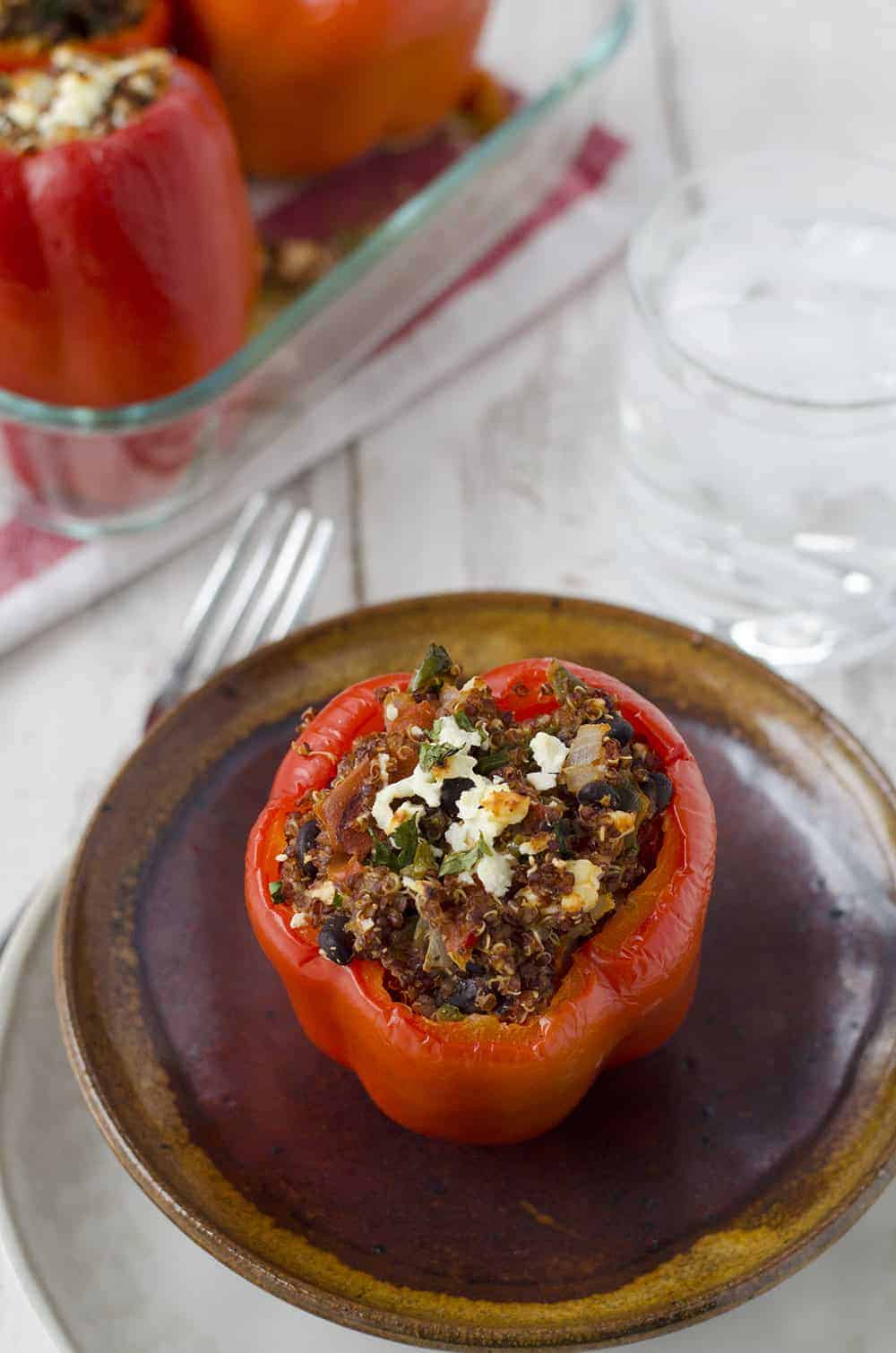 These take about an hour to fully come together, but the hands-on time is fairly minimal. Once the quinoa is cooked, combine with the rest of the ingredients, stuff and bake. For a make ahead option, either prepare the filling ahead of time or stuff, cover and freeze unbaked. You can bake right from frozen, adding on 15-20 minutes to the total cook time.
To make these entirely plant-based and vegan, remove the cheese. Personally, I think the added feta really adds depth and texture, but I bet they would still be great with a few slices of creamy avocado placed on top after baking.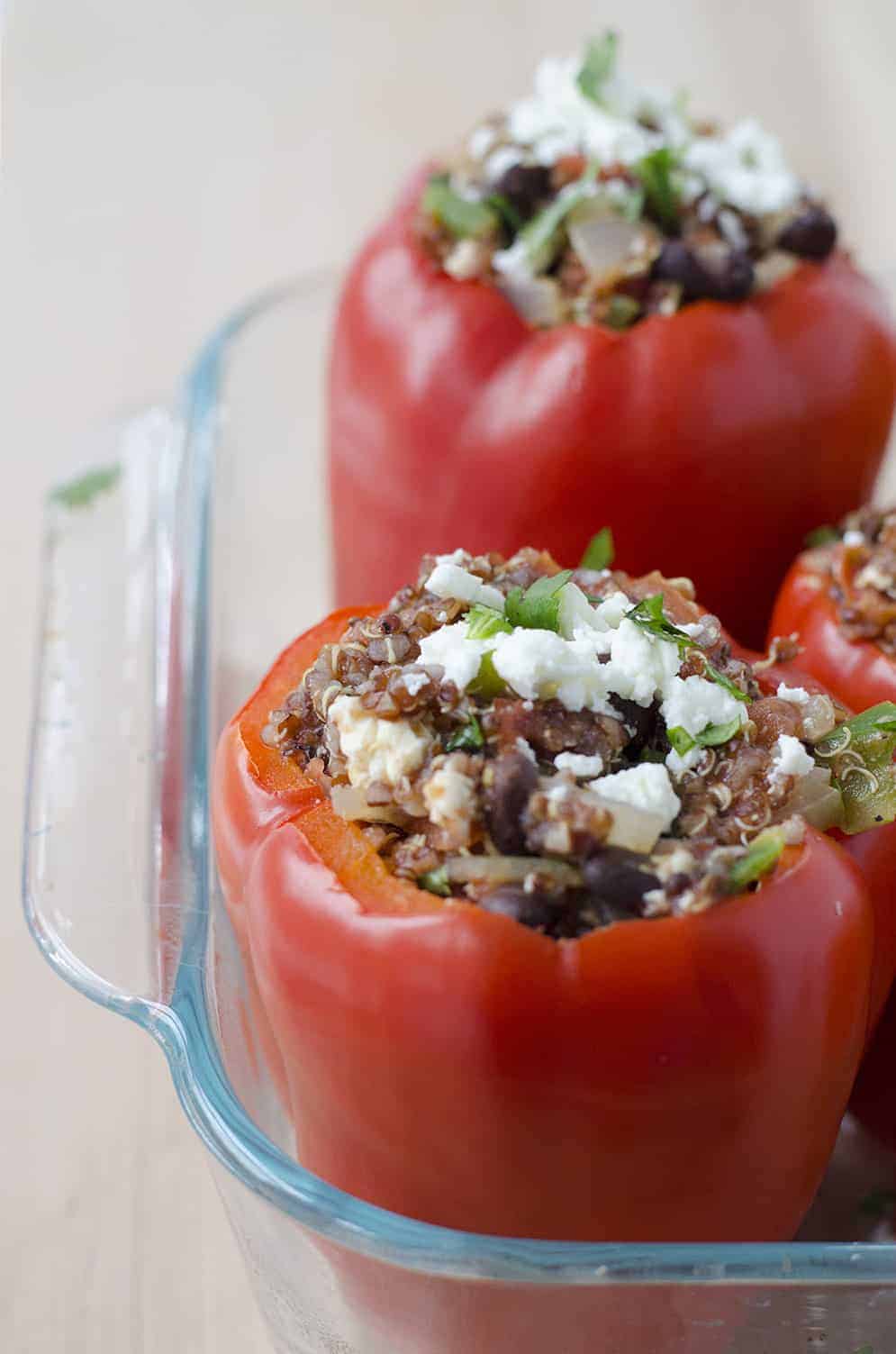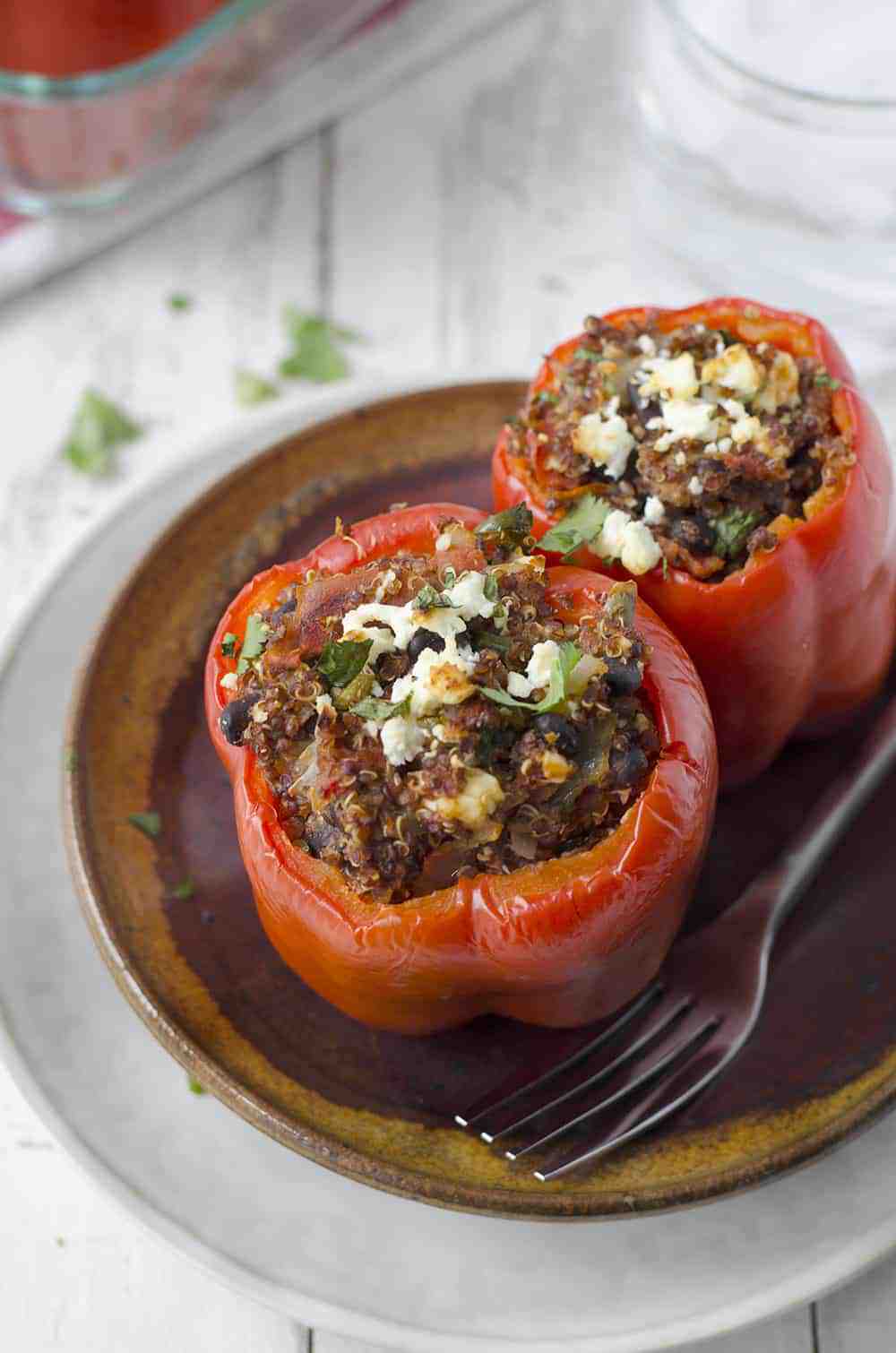 Southwestern Quinoa Stuffed Peppers
Southwestern Quinoa Stuffed Peppers! Vegetarian and Gluten-Free! These protein packed peppers are so easy to put together and perfect for busy weeknights.
Recipe type:
dinner, healthy, vegetarian, glutenfree
Ingredients
6 red bell peppers
1 cup quinoa (red or white)
2 cups water (or low-sodium vegetable broth)
1 teaspoon olive oil
1 white onion, finely diced
2 jalapeños, diced
2 garlic cloves, minced
1 15 oz. can fire-roasted tomatoes
1 15 oz. can black beans, rinsed and drained
1 teaspoon ground cumin
¼ teaspoon smoked paprika
½ cup vegetable broth
⅓ cup chopped parsley
salt/pepper
1 cup crumbled feta cheese
Instructions
Cut thin slice from stem end of each bell pepper to remove top of pepper. Remove seeds and membranes; rinse peppers.
If necessary, cut thin slice from bottom of each pepper so they stand up straight.
In large pot, and add enough water to cover peppers. Bring the water to a boil then add the peppers and cook for 2-3 minutes. Drain and set peppers aside.
Alternatively, place peppers and water in a microwave-safe bowl. Cover and microwave on high for 2-3 minutes or until crisp-tender; set aside.
Preheat the oven to 350 degrees F.
While the peppers are cooking, combine the quinoa and water in a medium pot and bring to a boil. Reduce heat to low, cover and cook until quinoa is fork-tender, about 12 minutes.
Heat a large skillet over medium heat. Add the olive oil and onion and cook until onion is tender, about 5 minutes. Add in the jalapeños, garlic, tomatoes and juice, rinsed and drained black beans, cumin, paprika and cooked quinoa.
Stir together, add the broth and let simmer until broth is completely absorbed.
Stir in the parsley and feta, season to taste with salt and pepper if needed.
Place the peppers in a baking dish and divide the filling among the peppers. Cover with foil and place in the oven and cook for 15 minutes. Remove foil and cook an additional 10 minutes.
For an extra treat, sprinkle a bit of the feta on top of the peppers once you remove the foil for a bubbly, cheese crust.
Remove and serve!
More Gluten-Free Meal Options: