Vegan and Gluten Free Thai Curry Bowls! Layers of rice, mango, kale, carrots, peppers and the BEST red curry Thai sauce!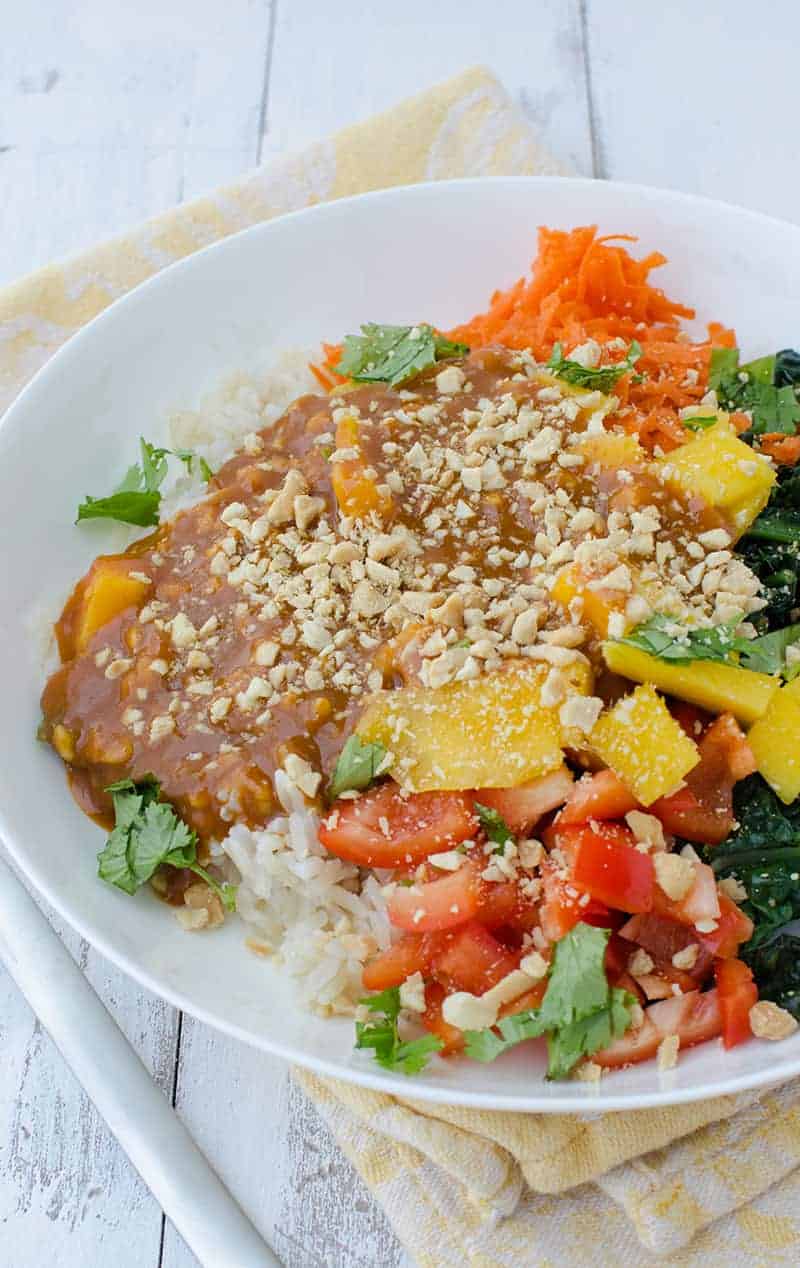 Yes, it's three days before Thanksgiving, and I'm posting Thai food. I know, I know. While every food blogger is posting on biscuits, stuffing, and green bean casseroles, I am dreaming of warmer weather and spicy Thai peanut bowls. Forgive me?
It's not that I don't like traditional Thanksgiving foods, I do, but- I need a break. Moreover, I need a spicy break. Something that doesn't involve sweet potato or sage. We had our Friendsgiving last week and after overdoing it on mashed potatoes and mushroom gravy, I wanted something that didn't resemble traditional holiday fare.
Curry Peanut Bowl to the Rescue!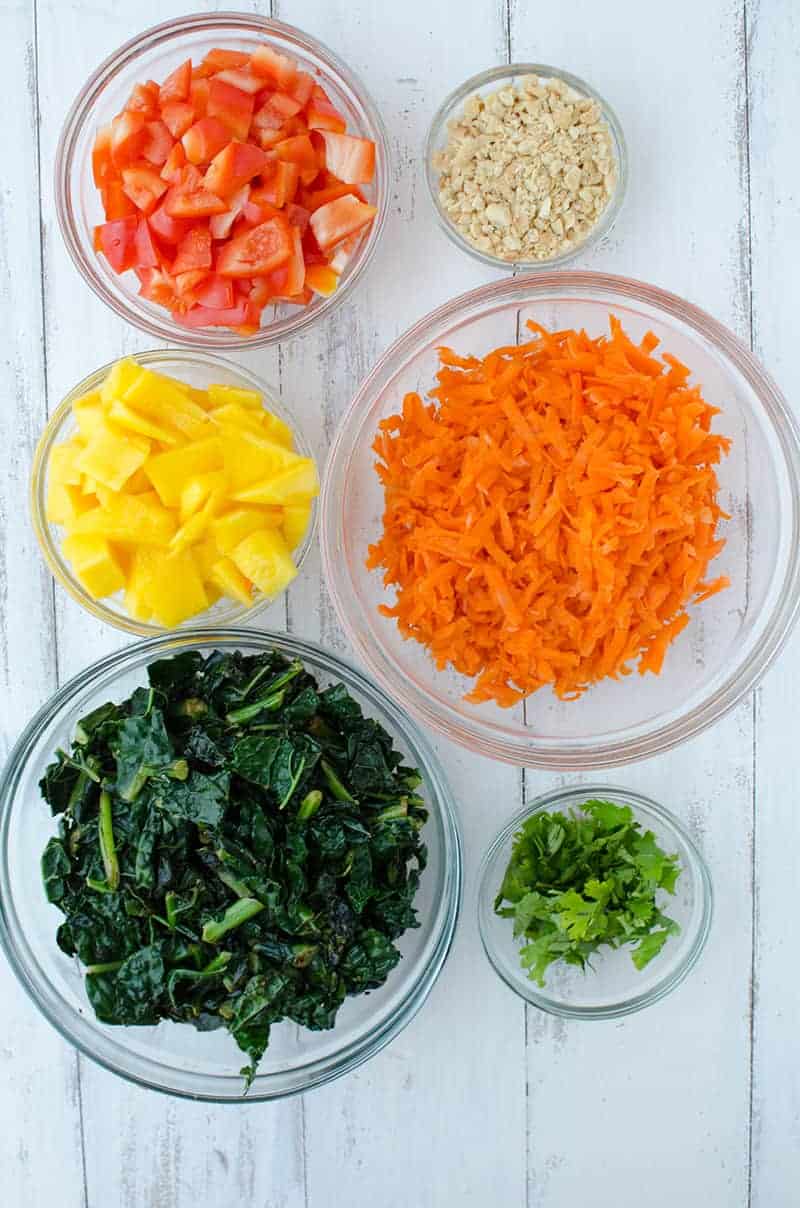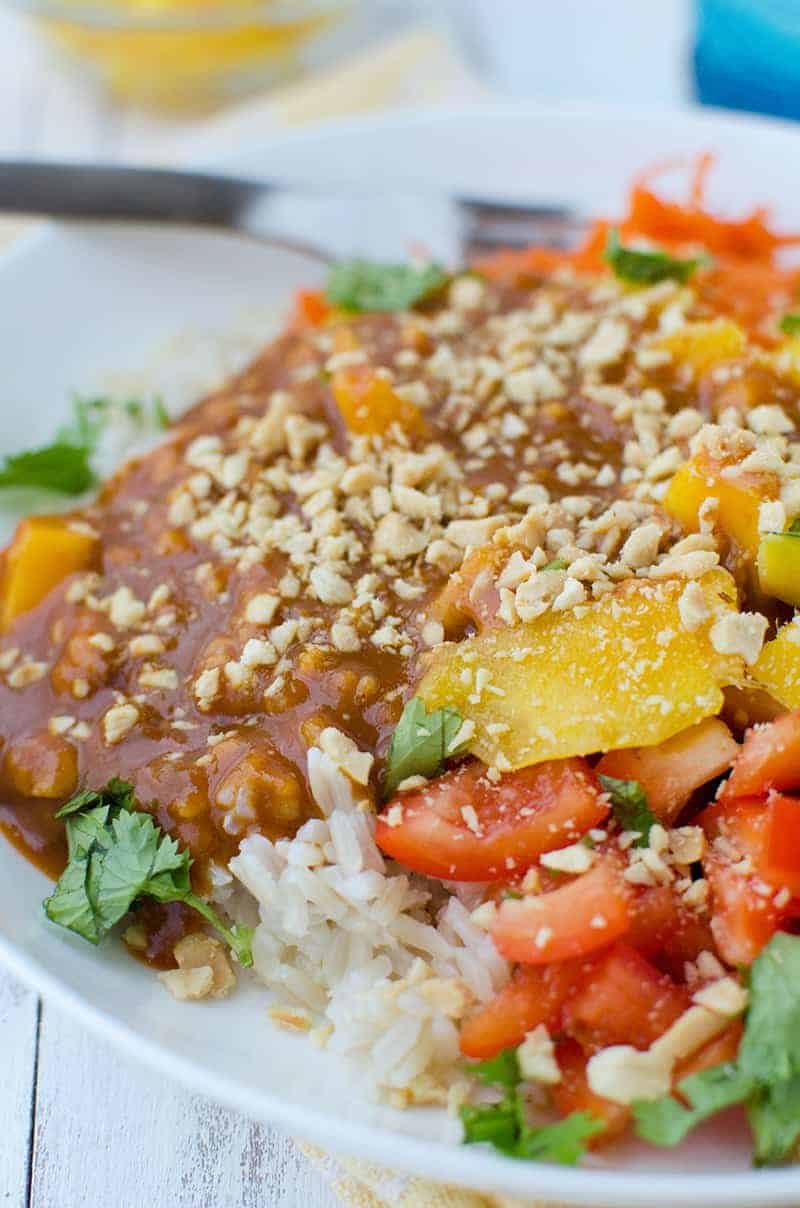 Besides containing 4 servings of fruits and vegetables in every portion, this bowl is packed with texture! Crunchy shredded carrots, sweet, juicy mango, al dente brown rice, crisp red bell pepper and kale.
Then, we top everything with a spicy-sweet red curry peanut sauce. Then, we eat and eat and eat until we are ready for more Thanksgiving flavors in a few days. I need breaks like this. I am not the person who can eat one thing repeatedly and never tire of it, hummus excluded. I crave variety in my life as much as I do in my diet, which is why I am so drawn to dishes like this. Every bite of this bowl is a new experience, depending what ingredient ends up on your fork!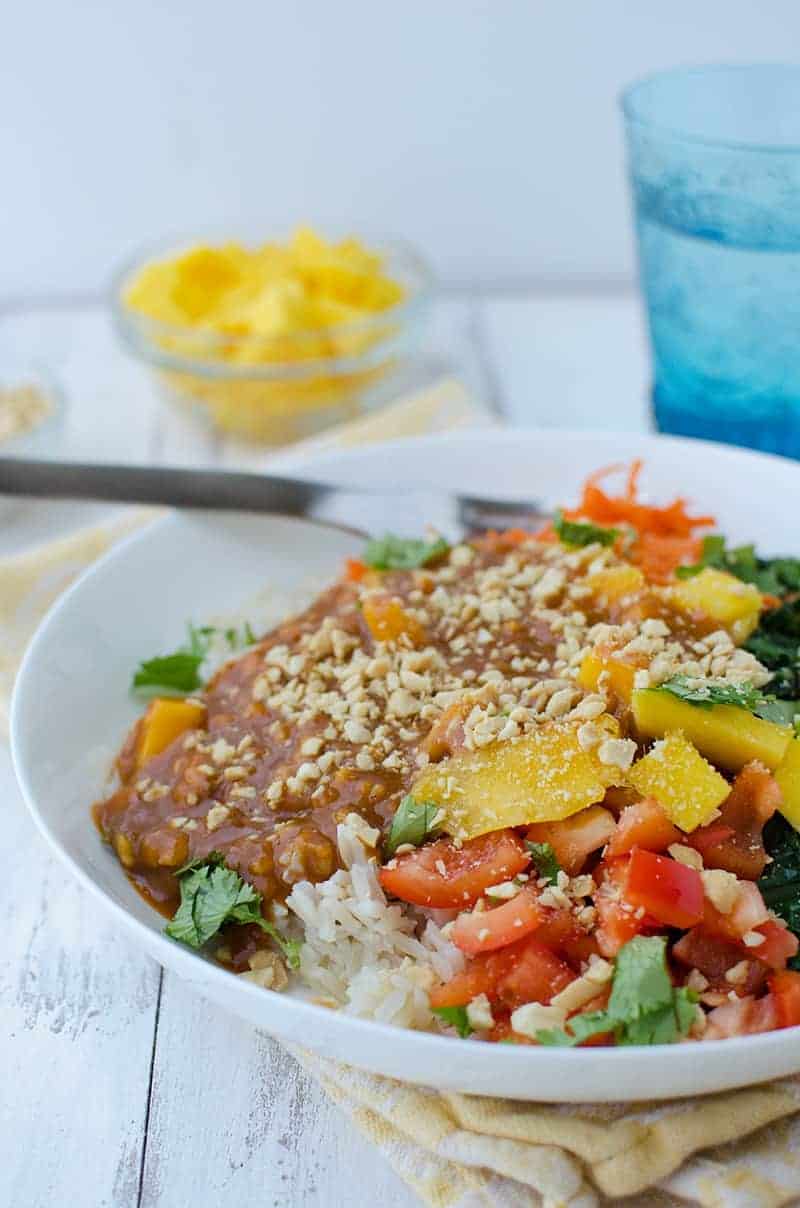 This sauce! I cannot get enough of this curry sauce, which I adapted from Lindsay's Red Curry Sauce. A little peanut, a little salty, a little spicy. You know how I feel about my sauces, and this is no exception. For a quick snack/meal, I've been eating this sauce with steamed broccoli and leftover rice.

Thai Vegetable Curry Bowl
Thai Vegetable Curry Bowl! Layers of brown rice, kale, carrots, peppers topped in the BEST red curry sauce. Vegan and Gluten-Free
Recipe type:
dinner, main, lunch, salad
Ingredients
1 can light coconut milk
1 tbsp. peanut butter
2 tbsp. red curry paste (I like Thai Kitchen brand)
1 tbsp. soy sauce
½ tsp. toasted sesame oil
1 lime, juiced
3 tbsp. maple syrup or brown sugar
1 garlic clove, minced
⅓ cup peanuts, crushed
1 bunch kale, chopped
2 large carrots, shredded
1 large red bell pepper, chopped
1 mango, chopped
2 cups brown rice, cooked
Extra crushed peanuts and cilantro for garnish, optional
Instructions
In a medium sauce pan, bring the coconut milk to a simmer over medium heat. Whisk in the peanut butter, curry paste, soy sauce, sesame oil, lime juice, maple syrup and minced garlic clove. Continue to whisk over medium heat until sauce is reduced by half and thick enough to coat the back of a spoon. Add in the crushed peanuts and set aside.
While the sauce is cooking, steam or lightly saute the kale.
To serve, place ½ cup brown rice, ¼ of the kale mixture, ¼ of the shredded carrots, ¼ of the red bell pepper and mango. Serve with sauce and garnish with extra chopped peanuts and cilantro.