Vegan Eggplant Gyros! Za'atar seasoned eggplant stuffed into warm pita and topped with juicy tomatoes, crisp cucumbers, and the BEST hummus-dill sauce. You've gotta try these!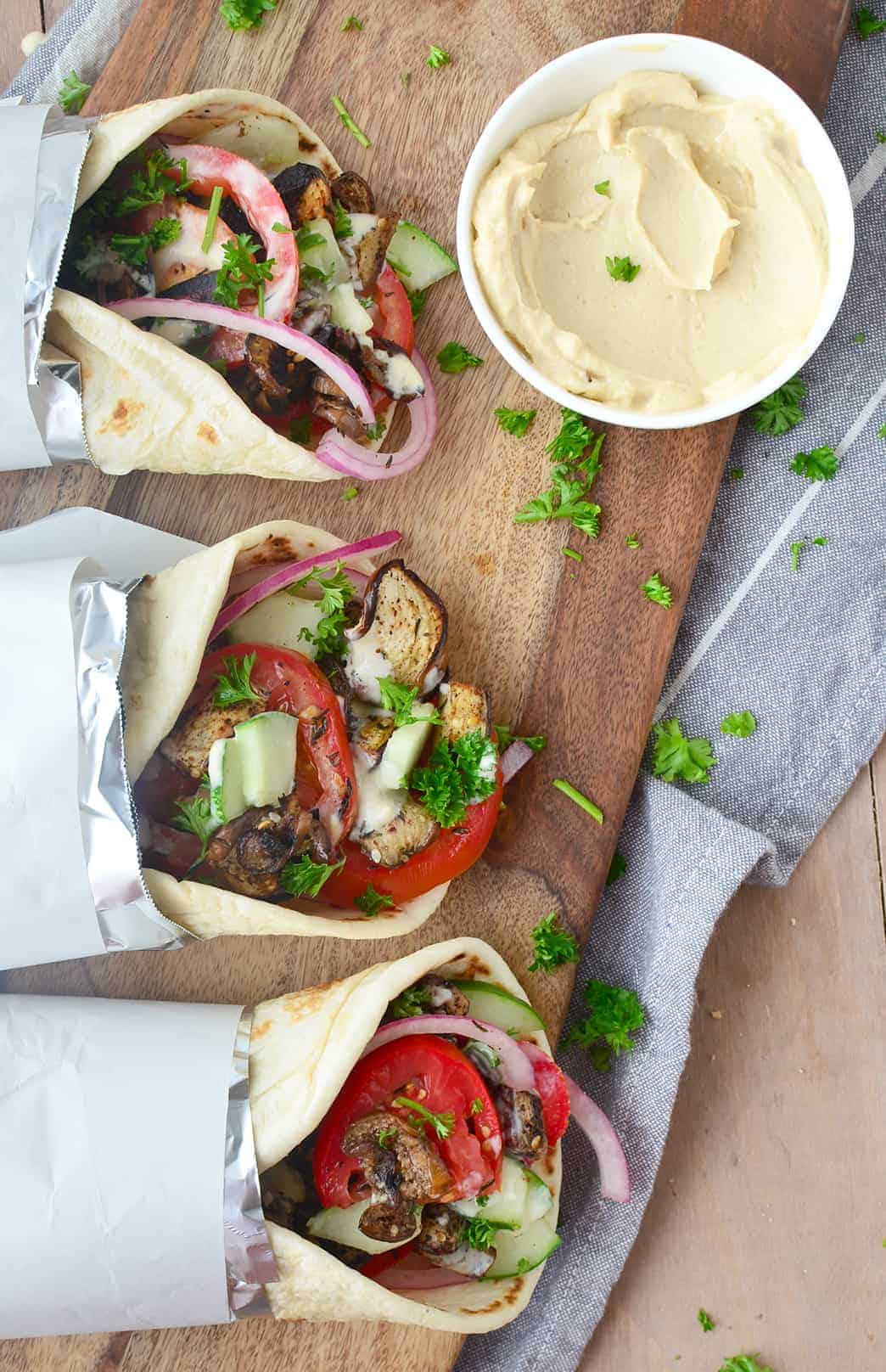 It's about to get weird.  Yep. We're making Gyros outta eggplants.
Move over meat, eggplant has taken center stage. As a long-time vegetarian, I am always looking for plant-based alternatives that mimic the same meaty, savory texture that meat provides. While I love the usual suspects: lentils, beans, and tofu, my favorite meat substitutes are actually vegetables.
These eggplant gyros are a vegetarian's everyone's dream. You don't have to be a meatless eater to love these babies. Lightly fried za'atar eggplant stuffed into warm pita pillows and topped with juicy tomatoes, crisp cucumber, pickled red onions and parsley. Even folks who typically turn their nose up at eggplant will salivate.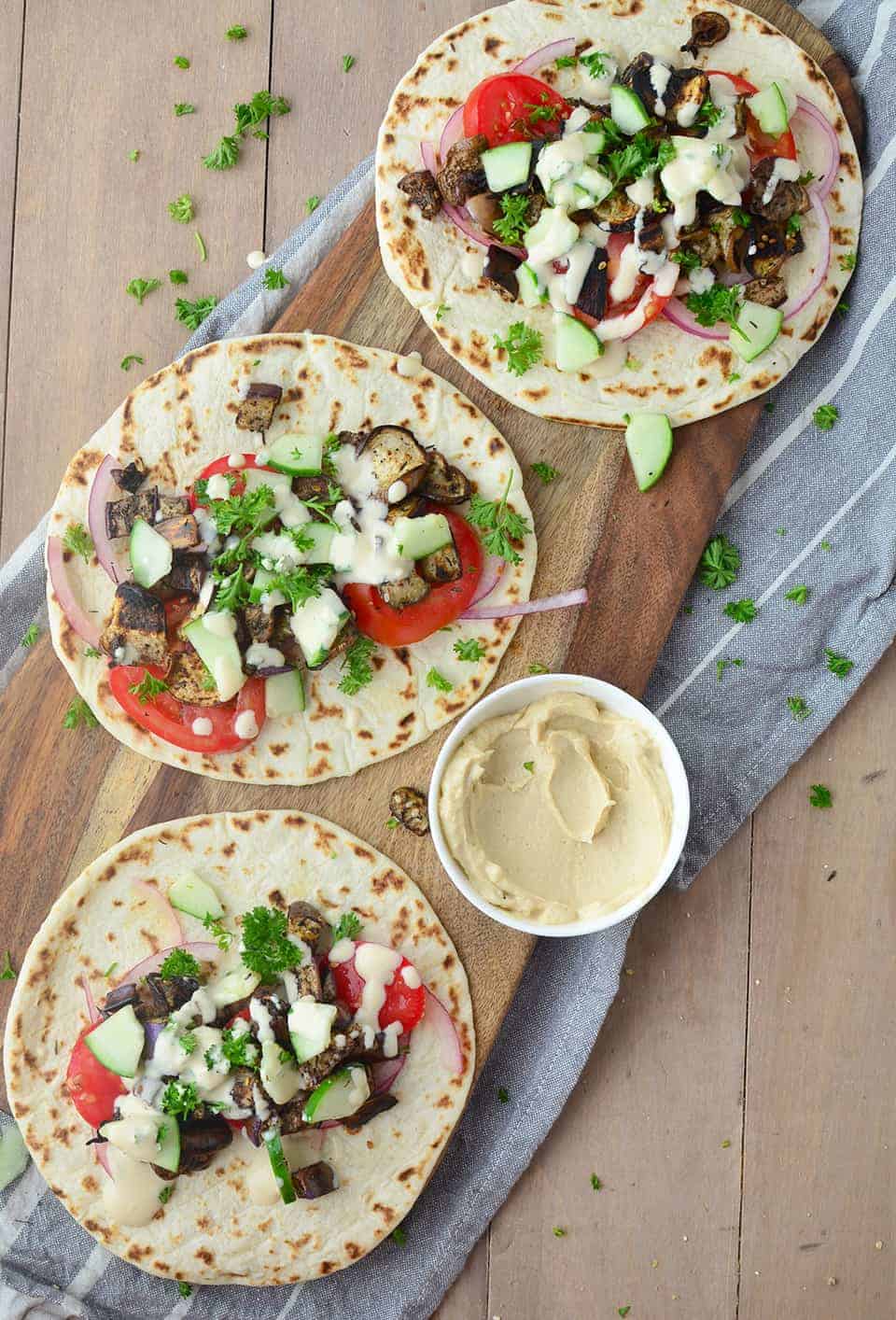 The inspiration for these sandwiches came a few weeks back when I was visiting a friend at the Lodi Farmers Market. In addition to Lodi being one of the cutest towns, it sure knows how to throw a street party.  Every Thursday evening throughout the summer, Lodi's downtown streets are converted to endless rows of vendors selling everything from wine, olive oil, berries and vegetables.  Throw in a variety of food trucks alongside beer tents and acoustic music, and it's a fun way to socialize while also stocking up on just-picked produce.
In other words, I never want to leave.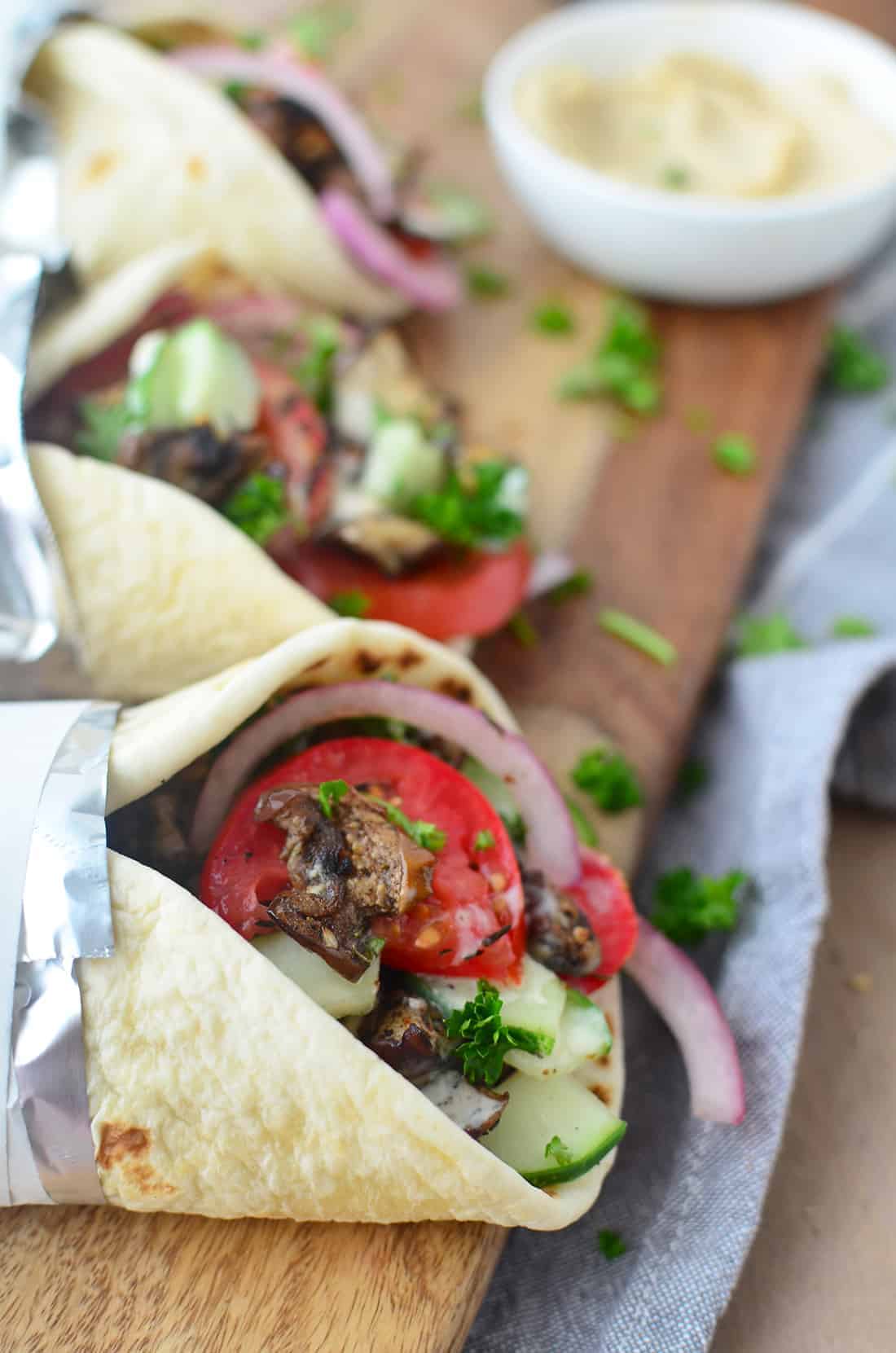 Drawn in by the garlic-on-everything aroma, we decided to grab a bite to eat from the local Greek food truck. Crispy Falafel, freshly-made hummus, warm pita. Drool. Since I put hummus on my hummus, there really wasn't any doubt on where I would be sourcing my dinner.
Half-way through stuffing my face with falafel while watching my friend go to town on her gyro, I realized that I have never had a gyro. Like, ever. Since my mission in life is to make vegetables just as appealing (if not more so) than their non-veg counterparts, I ran back to a vendor stall to pick up a few more ingredients: eggplants, tomatoes and cucumber. After all, we had a vegetarian gyro that needed to be made.
Maybe it's because I don't have anything to compare it to, but this gyro completely blew me away. It's packed with incredible flavor, texture, and ALL the vegetables (again).  It's not your traditional gyro, but what's not to love?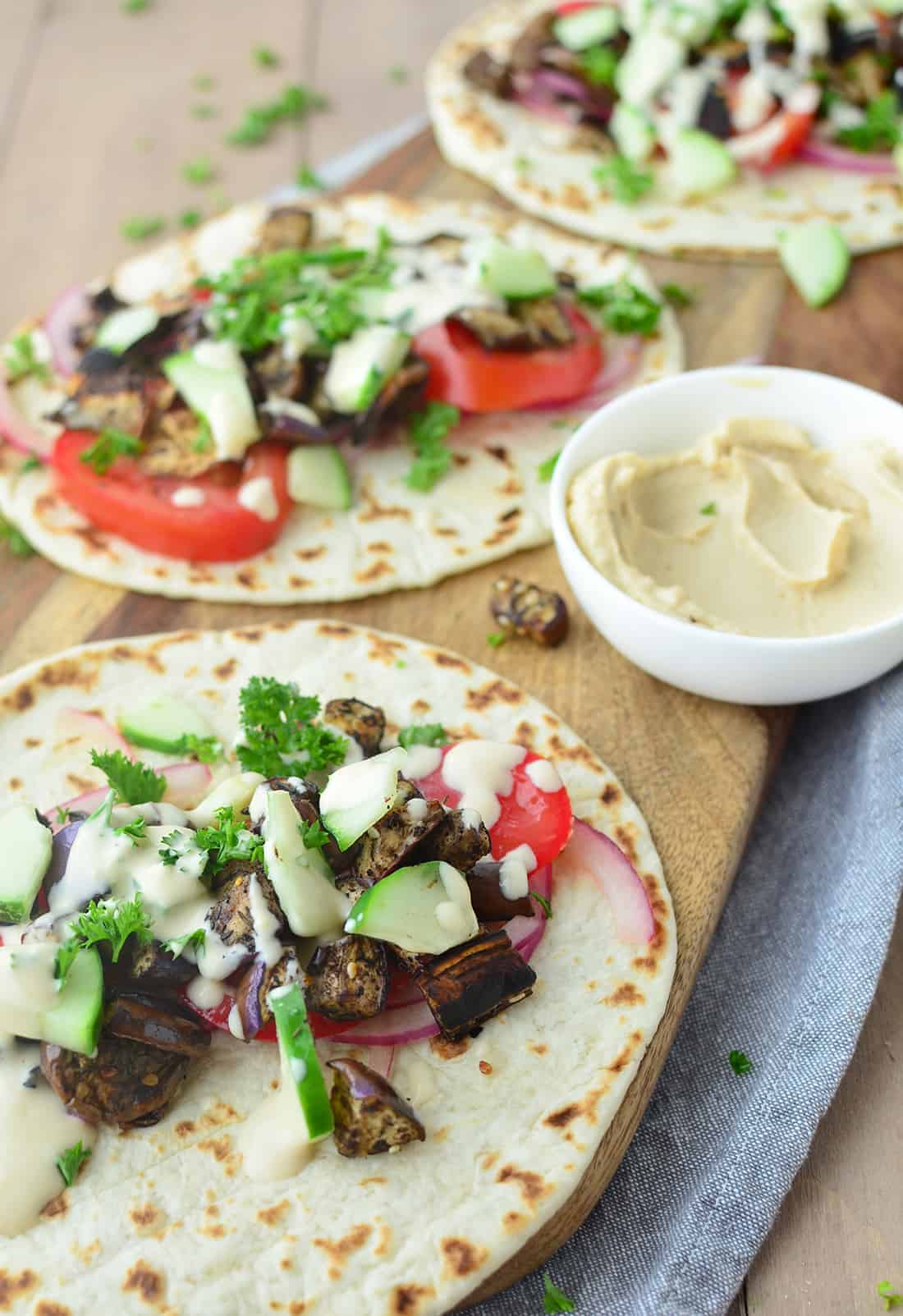 This sandwich is exactly what summer food is all about: low fuss, handheld, and in-season. It's also the perfect submission to share for this month's Recipe Redux theme, "Fresh from the Garden."
While I don't have a garden of my own (Yet! We get the keys to our new house tomorrow!!), I rely on my weekly CSA and endless trips to the farmers market to keep up my supply. Don't get me wrong, I'm the same gal who will freely buy butternut squash in April, but I really love trying to eat as much as I can in-season.
Living in California's central growing valley for the last 8 years made seasonal eating rather easy.  While I'm trading in my flip flops for a Cardinals baseball hat, I'm still on a mission to source as much produce as I can locally. Because really, when vegetables taste this good, what else do you need?
Ready for more vegetable-centered dishes? Check out the full link-up below!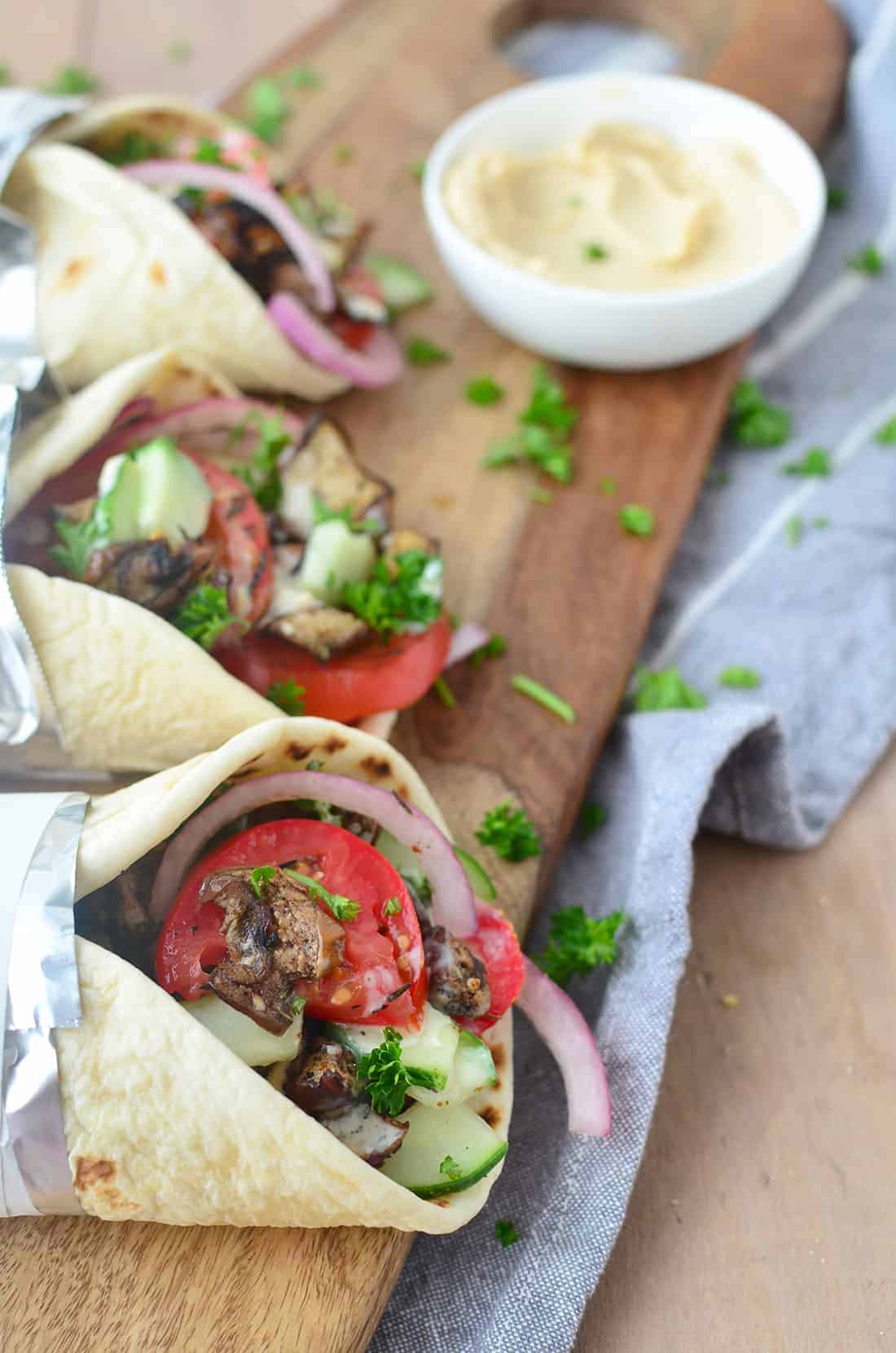 Vegan Eggplant Gyros
You'd never guess this was vegan! Meaty eggplant gyros stuffed with vegetables, herbs and the best hummus sauce.
Recipe type:
dinner, lunch, healthy, eggplant, gyro
Ingredients
2 eggplants, cubed (about 4 cups uncooked, it will shrink down significantly when cooked)
1 tbsp. oil
2 tbsp. za'atar
1 tsp. oregano
salt/pepper
1 large tomato, sliced
½ cup red onions, very thinly sliced
2 tbsp. red wine vinegar
½ cup cucumber, thinly sliced
⅓ cup parsley, chopped
4 pita flatbreads
Hummus Sauce:
⅓ cup hummus
1 large lemon, juiced
2 cloves garlic, minced
1 tsp. dried dill
Instructions
Place the eggplant in a large bowl and rub with olive oil, za'atar seasoning and oregano until well coated.
You can either roast or use the skillet to cook, both work! If you are doubling the recipe, then I recommend roasting.
To roast: Place the eggplant in a baking dish and roast at 400 degrees for 30 minutes until very soft.
To saute: heat a bit more oil in a large cast iron skillet (or other non-stick skillet) over medium heat. Add eggplant and cook for 10-15 minutes until very tender.
Combine the very thinly sliced onion and vinegar in a bowl. Let sit while you cook the eggplant and make the hummus sauce. Drain before serving.
Combine the ingredients for the sauce: hummus, lemon juice, garlic, dill and a pinch salt/pepper. Set aside.
Make the gyros: pile the onions, cucumber, tomato, cucumber and cooked eggplant on the flatbreads. Drizzle with hummus sauce and eat immediately.